William Gibb Punches Cougar To Save Dog From Attack Near Whitecourt Tim Hortons
WHITECOURT, Alta. — William Gibb didn't know what was thrashing around in the dark, clawing at his dog, but he was going to save his pet.
The electrical subcontractor from Red Deer, Alta., was driving northwest with his brother Thomas on Boxing Day to get to work in Grande Prairie. About 6:30 p.m., they stopped at a Tim Hortons in Whitecourt to meet a friend for coffee.
Gibb let his two dogs out of his truck for a bathroom break near a wooded area at the back of a parking lot and it wasn't long before he heard one of them crying in pain.
He quickly ran into the trees, where his five-year-old husky Sasha was on the ground.
"I saw this thing on top of her,'' said the 31-year-old. "So I ran over and punched it in the head, thinking maybe it was a coyote or something.''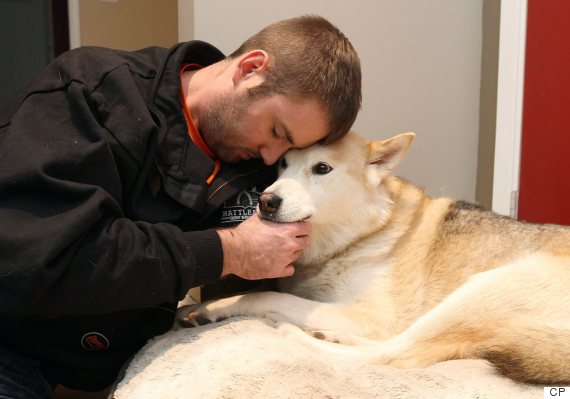 William Gibb cuddles up with his five year old husky named Sasha for a portrait at home on Wednesday, December 28, 2016. Gibb rescued Sasha from the jaws of a cougar, beating it with his fists and a stick outside a Tim Hortons in Whitecourt, Alta. (Photo: Jeff Stokoe/The Canadian Press)
When the animal jumped off, Gibb said, he realized it was a cougar.
"I backed it up into a tree and was swinging at it some more and screaming for my brother and my buddy, Travis, to come over and get the dogs.''
He saw Sasha bleeding and twitching on the ground and scooped her up but she bit him on the hand, thinking he was the cat, he said. When the dog later recognized her owner, she ran off.
Gibb continued to fight the cat.
"I was still throwing punches toward the cougar. The cougar was kind of pawing back at me.''
Gibb said he wasn't hurt by the cat — not even scratched — and got his other dog Mungo, an Alaskan malamute, back into the truck.
He then grabbed a big stick to go back after the cougar again. But by that time, his brother and friend had corralled Sasha and were yelling that she was hurt badly.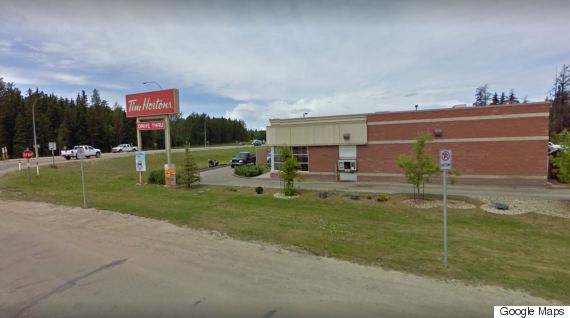 A screengrab of the Tim Hortons where the cougar attack occurred. (Photo: Google Maps)
Gibb said they quickly drove to a veterinarian clinic and, as they waited, called RCMP.
Mounties notified wildlife officers but arrived first at the restaurant, said Sgt. Tom Kalis.
"We had to proceed just to make sure it didn't attack anyone else,'' he said.
The cougar was still in the trees and officers saw it was crouched and ready to pounce, he added, so they shot and killed the animal.
"I was still throwing punches toward the cougar. The cougar was kind of pawing back at me."
"It continued to be a menace.''
Kalis said wildlife officers checked the area for other cougars but found none. Tests are being done to make sure the dead cougar is the one that attacked the dog, he said.
Sasha suffered two large cuts on her chest, four puncture wounds on her neck and other cuts and scrapes, said Gibb. The veterinarian stitched her up and she's now resting at home in Red Deer.
Gibb said he adopted the dog a few years ago from a rescue group and would do anything for her.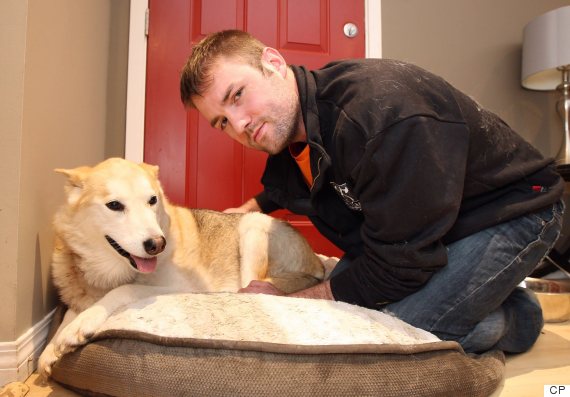 William Gibb cuddles up with his five year old husky named Sasha. (Photo: Jeff Stokoe/The Canadian Press)
He was never scared of the cat, he said.
"It was all about protecting her.''
Also on HuffPost:
Andre Hartman has the coolest job title in the world: Shark Whisperer. He can put these bad boys in a trance! Read more here.

Motivational speaker Tom Willis, who was born without arms or hands, recently got to fulfill a longtime dream at the San Diego Zoo when he fed a giraffe with his toes. He said the "salami-like tongue" felt "firm and moist."

This orphaned cat -- named Kitler -- couldn't get adopted in July because the dark fur under her nose resembled the moustache of Nazi tyrant Adolf Hitler. Finding felines that bear a striking similarity to Der Fuhrer became a semi-popular internet meme with websites like "Cats That Look Like Hitler" popping up.

Lolong, a 21-foot 4-inch crocodile, has given residents of Bunawan, Philippines something to be proud of -- and possibly to fear. They claim the huge reptile is the world's biggest croc. Hunters sought the beast after it reportedly attacked residents and livestock.

Motala is a 50-year-old Thai elephant that got a new prosthetic leg this year to replace a previous fake appendage. She had been a working pachyderm used for moving trees when she lost a front leg in 1999 by stepping on a land mine that was left over from conflict along the Thailand-Myanmar border. But it was only in 2006 that specialists built her first manmade limb, which has been replaced several times due to fluctuations in her body weight.

Meet the world's bravest dentist. Dr. Doug Luiten performed a root canal on a full-grown, 300-pound Siberian tiger at the Alaska Zoo in October. The procedure on seven-year-old Kunali was a success. The big cat's large teeth required the zoo to procure oversized equipment for the procedure. Kunali endured the broken tooth for four or five years, zookeepers said.

Authorities killed 49 exotic animals near Zanesville, Ohio that were released from a wildlife sanctuary by their owner shortly before he committed suicide in October. Law enforcement officials killed rare Bengal tigers, lions, wolves, bears and a baboon that wondered the rural area. The potential danger from the prowling forced local schools to cancel classes, but there were no human injuries reported. Neighbors had complained about Terry Thompson's menagerie before, saying that animals were noisy and occasionally escaped.

Emergency responders in Gothenburg, Sweden had an unusual problem in September when an apparently drunken moose trapped itself in a tree. Police believe that the moose became inebriated by eating too many fermented apples.

Hollywood turned its attention to Winter, a six-year-old dolphin in Florida, who got a prosthetic tail as a calf after getting caught in crab trap. Doctors feared she would die, but the manmade tail did the trick. The tail was fodder for a big-screen tale. The film about Winter, "Dolphin Tale," was released in September and starred Morgan Freeman, Ashley Judd and Harry Connick, Jr.

Wildlife officials removed Shirley, an orangutan, from a Malaysian zoo in September, because she developed an unhealthy smoking habit. A Malaysian wildlife official said Shirley wasn't addicted, but often became agitated without having a smoke. Visitors encouraged her unhealthy habit by tossing flaming loose butts into her enclosure to see her imitate the humans puffing away. You know what they say -- monkey see, monkey do.

Protective pet-owner Brooke Collins punched a bear in the snout that had her dachshund Fudge clenched in its jaws. Fudge suffered minor injuries and the Alaska woman said she realized it was dangerous to fight a bear, but she wanted to rescue her dog.

Talk about a rich bitch! Trouble attained fame as Leona Helmsley's pet Maltese that inherited $12 million when Helmsley, the widow of hotel and real-estate mogul Harry Helmsley, died in 2007. A judge later reduced the canine's fortune to $2 million, but she lived out her days with round-the-clock care in Florida. She was 12.

Bowser Beer was recognized as the world's first beer for dogs by the World Record Academy. The canine brew is made without hops, carbonation and alcohol. Browser Beer is sold in 40 states and is safe not just for pets, but also for thirsty humans.

New York artist Olga Horvat started designing demon-deterring accessories for owners of hell-raising pets after she adopted Princess, a possessed pure-bred poodle who brought horrible bad luck to the Horvat family.