Annapolis Valley Senior Hiker Allegedly Sexually Assaulted By Teen On Public Trail
KINGSTON, N.S. — A 14-year-old boy has been charged with sexually assaulting an 80-year-old woman while she was walking on a public trail in Nova Scotia's Annapolis Valley.
The woman was hiking alone in East Kingston at about 2 p.m. Thursday when she was approached by a youth who was masturbating, RCMP Cpl. Jennifer Clarke said Friday.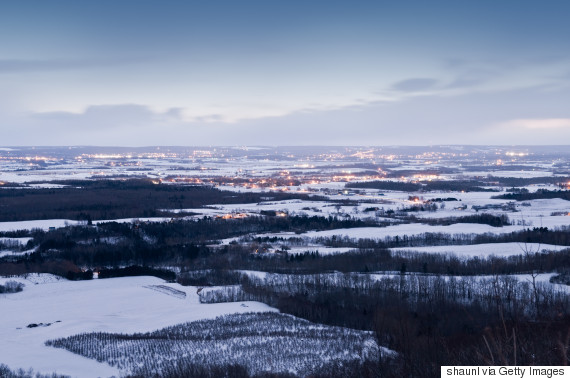 winter view of Annapolis Valley, Nova Scotia in the evening. (Photo: ShaunL/Getty Images)
"He pushed her down and sexually assaulted her,'' she said. "She was able to struggle and get away and get help.''
Police say the attacker tried to force her to perform oral sex on him, and attempted to remove her pants, but she managed to flee.
Officers say they responded with what they described as a dragnet of police members and a police dog service. Clarke said that led them to a home, where the teenager was arrested a short time later.
Police say the teenager, from Kingston, appeared in Kentville provincial court Friday to face charges of assault and sexual assault.
He was released from custody, but is due back in court on Jan. 26.
Also on HuffPost:
7 Apps and Devices For Women's Safety
This app lets you make a fake call when you're on a blind date. In case you're in trouble, the Guardian Alert button notifies friends and family of your location and what's happening. The app is available for iPhone and Android

This app is like the Pinterest of personal safety apps - apart from GPS tracking and alarm features, the user community updates and informs you on how safe an area is. The directory option helps you find emergency location numbers. Available on iPhone and Android

This app understands that you probably don't have the time to swipe your phone, locate the app, and tap the alarm or alert option. It triggers an alarm system that messages your contacts when you unplug your headphones, or shake the smartphone vigorously. Available for Android phones.

This Bengaluru-based app primarily lets you chat with local business. After hearing about the Uber rape case, they've started a pilot program with Koramangala Police Station to let the user connect with the police over chat, and report any incidents with photographs and location data.

This Webby award winning app is the best location sharing app there is - it can be used to coordinate a social night out with a group of friends, and can be used in a variety of situations. It's available on all major smartphone platforms.

Need to take on a dozen or more assailants? A black belt in martial arts may help, you can always leave molesters in tears with a can of pepper spray. Available online at Healthkart.com

You'll need a permit for this - Nirbheek is designed & manufactured by the Ordnance Factories Organization in Kanpur. Named after the Delhi gang rape victim, this single-shot revolver fires 6 rounds, and is effective upto a range of 15 metres. It costs Rs. 1,40,646, and has sold over 300 pieces since being launched earlier this year.