Sarah Hoffman Fat-Shamed By Postmedia Headline
In case anyone is confused about the definition of the term "micro-aggression," this headline from Postmedia should clear things up:
We expect this kind of casual misogyny from our right wing politicians but from a newspaper? This is shameful. #ableg pic.twitter.com/HH37CSuM6f

— Duncan Kinney (@duncankinney) January 5, 2017
No, this isn't a headline placed on a story about weight loss or dieting. It's one about the Alberta government's ongoing work to reduce health procedure wait times.
The headline, combined with a pull quote next to a picture of Health Minister Sarah Hoffman, is "spectacularly insulting" and a form of "casual misogyny," according to critics on social media.
The headline riffs the name of Weight Watchers, a company that specializes in weight loss products and services.
The headline appeared on the article in a print edition of Calgary Sun earlier this week. Online, a different version ran: "NDP vow to cut wait times a work in progress."
Editor Jose Rodriguez took to Twitter to apologize Wednesday, conceding the print version was a"mistake" and a "poor attempt at a pun."
@ryanjespersen I wasn't a fat joke. It was a pun on wait times. A mistake. I will apologize to the min and ask what she'd like done

— jose rodriguez (@JRodriguez403) January 5, 2017
This is not the first time Hoffman's weight has been the focus of criticism.
Last June, the vice president for Alberta's Progressive Conservative party called Hoffman "our morbidly obese health minister" in a Facebook post.
"I would assume then that if health is the chief concern, that all sodas, candy, processed sugar products…and fast foods…should then follow?" wrote Jordan Lien.
He was questioning the NDP government's decision to ban the sale of menthol tobacco at the time.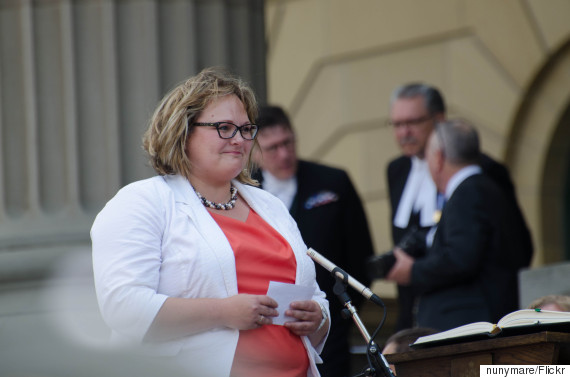 Alberta Health Minister Sarah Hoffman appears at the swearing-in ceremony for the Alberta NDP government on May 24, 2015. (Photo: Connor Mah/Flickr)
His comments were quickly condemned by his interim leader Ric McIver, who said, "All Albertans are must be respected. All Albertans must be treated with dignity."
'Does the weight of a cabinet minister make he or she less valuable?'
Michelle Bellefontaine, a legislative reporter, was particularly offended by the headline. The CBC Edmonton reporter expressed her frustration in a series of tweets about how women are often attacked over vanity.
You know what #ableg? I weigh too much. According to BMI, I should be at least 40 pounds lighter than I am now.

— MichellBellefontaine (@MBellefontaine) January 5, 2017
Does that make me a bad journalist? Less lovable to the people who care for me? I think these are relevant questions #ableg

— MichellBellefontaine (@MBellefontaine) January 5, 2017
Does the weight of a cabinet minister make he or she less valuable? #ableg

— MichellBellefontaine (@MBellefontaine) January 5, 2017
We all have our stories. Whenever you see a 'heavy' woman, know she has tried. But also ask yourself, WHY DOES IT MATTER?#ableg

— MichellBellefontaine (@MBellefontaine) January 5, 2017
Does weight make a reporter or a cabinet minister less valuable? Isn't intelligence and experience more important? I think so. #ableg

— MichellBellefontaine (@MBellefontaine) January 5, 2017
I hope my 20 years experience as a reporter and my passion for #ableg is more important than how I look in skinny jeans. Just sayin' #ableg

— MichellBellefontaine (@MBellefontaine) January 5, 2017
Like Us On Facebook
Follow Us On Twitter
Also on HuffPost:
7 Ways To Deal With Body-Shaming Friends
It's easy to get wrapped up in a cycle of body-shaming gossip when it's a normal activity in your social circle. But instead of spreading cruel words about friends because of the way they look at school or even in their new Facebook profile picture, spread kind words instead. Even if you're not comfortable telling your friends to stop, you can leave the conversation or choose not to participate.

The wonderful thing about friends is that they're there to be supportive and make you happy! If body-shaming friends are getting you down, try spending more time with people who make you feel great -- and see what a big difference it makes!

Your friend might not even be aware that her body-negative talk is making you uncomfortable. Make sure to have an honest conversation with her about why this upsets you, and ask her her to try to limit her comments when she's around you.

Making fun of someone because of what they weigh or how they look -- even if it's yourself -- is a form of bullying just as serious as any other. Be a part of the solution rather than the problem by instituting a no-tolerance policy around negative body-talk.

The most important thing to realize is that you have the power to reject the influence of a body-bullying friend and choose instead to love yourself. When you look in the mirror, be conscious of your negative thoughts and try to find things that like about the way you look -- eventually, your flaws won't bother you so much anymore. Remember that nobody can take away your power unless you let them!

If your friends continue to engage in negative behavior that makes you you feel bad about yourself, you may want to create some distance from that friend. If the friendship is truly toxic, think seriously about whether it's bring more good or bad into your life -- if the negatives truly outweigh the positives, it might be time for the two of you to part ways.

If your friend is exhibiting signs of an eating disorder, contact a parent, school counselor or trusted adult as soon as possible. Eating disorders are serious illnesses that can take lives -- don't wait to seek help. You can also call the eating disorder helpline at 1-855-585-3146.