Trudeau: Sask. Oil Spill A Reminder To Be 'Mindful' Of Environment
STOUGHTON, Sask. — The Saskatchewan government says it has confirmed which pipeline leaked 200,000 litres of crude oil on First Nation farmland.
It says it belongs to Calgary-based Tundra Energy Marketing Ltd.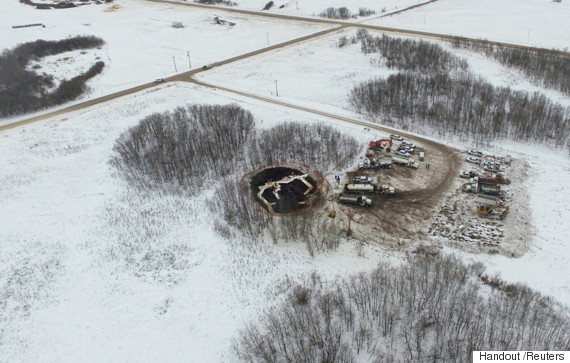 The site of an oil pipeline spill is seen in an aerial photograph provided by Indigenous and Northern Affairs Canada, near Stoughton, Sask. (Photo: INAC/Handout via Reuters)
The company has been leading cleanup of the spill near Stoughton in southeastern Saskatchewan.
The government says so far 174,000 litres of oil have been recovered and 185,000 cubic metres of contaminated soil removed.
It says further assessment and cleanup, including excavation work, will follow until the site is restored.
Tundra confirmed on its website that it is the operator of the pipeline and is working with regulatory bodies and the Ocean Man First Nation to determine the cause.
Leak discovered by band member
Chief Connie Big Eagle said a band member who worked in the oil industry detected the smell of oil days before the leak was discovered.
The member eventually found the site of the spill contained in a small slough and reported it to officials on Friday.
She said emotions among the 540 band members range from disappointment to anger.
"Many of our people grew up in the oil industry and have made their careers in the oil industry and currently work in the oil industry, so there's lots of knowledge," she said in an interview Tuesday.
"I don't know about things returning to normal, as far as the environment goes, but I know we're all co-operating at this point, ensuring it's cleaned up properly and no further damage is caused to the land or the environment."
Trudeau: we need to do a better job
Prime Minister Justin Trudeau was asked about the leak at a stop in Saskatoon early Wednesday evening.
"I think this highlights the expectation that Canadians have that while we grow the economy, while we create good jobs, we also are responsible and mindful of the impact on the environment, that we expect high standards of response to accidents but we also do a better job of being proactive on ensuring that our communities and our land is safe and protected."
Trudeau said the handling of the spill and the investigation is the province's area of responsibility, but the federal government is there to support the province in any way if needed.
He said federal Environment Minister Catherine McKenna has been in touch with Saskatchewan Environment Minister Scott Moe on the latest leak.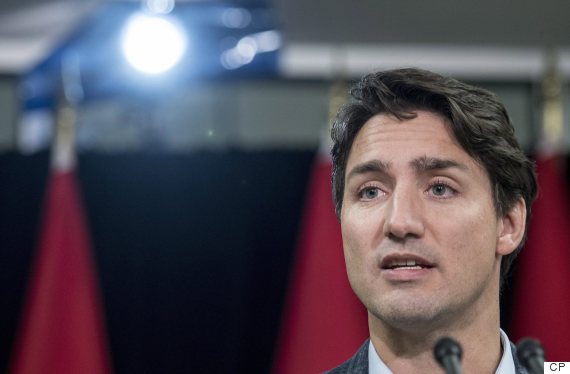 Prime Minister Justin Trudeau speaks to media in Saskatchewan on Wednesday. (Photo: Liam Richards/The Canadian Press)
Tundra has said it immediately notified government officials and residents when the leak was reported and began removing surface oil with vacuum trucks.
Tundra is a subsidiary of grain and energy conglomerate James Richardson & Sons, Ltd., of Winnipeg.
The Ocean Man spill is almost as big as a 225,000-litre leak of heavy crude oil and diluent from a Husky Energy (TSX:HSE) pipeline into the North Saskatchewan River last July.
The leak forced the cities of North Battleford, Prince Albert and Melfort to shut off their water intakes from the river and find other water sources for almost two months.
Husky said it spent about $90 million responding to the spill, which it said was caused by shifting ground.