15 Restaurants In Halifax You Have To Try
A city known for its seasonally-inspired meals, local ingredients and casual spots that don't intimidate customers, Halifax offers up some of the East Coast's most flavourful food.
Chef Craig Flinn of Chives Canadian Bistro says these attributes make the city's food scene what it is, and now more than ever, chefs are taking on new challenges and appealing to younger restaurant-goers.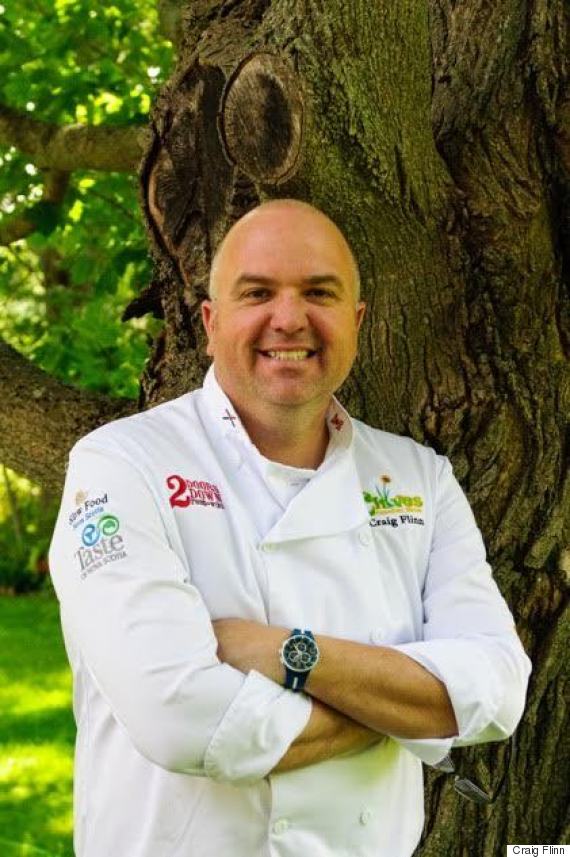 Chef Craig Flinn of Chives Canadian Bistro.
"Pretentious fine dining continues to be less and less visible, and even long established culinary icons are renovating and changing their feel to entice a younger crowd that celebrates food and dining in a different way," he tells The Huffington Post Canada.
As for what exactly makes Halifax's food and drink scene so distinct, it's the city's eagerness to join trends (and do them well) that is unmistakable. Right now, Flinn says craft beer is currently an "explosion" and the city is creating some delicious pizzas with local ingredients.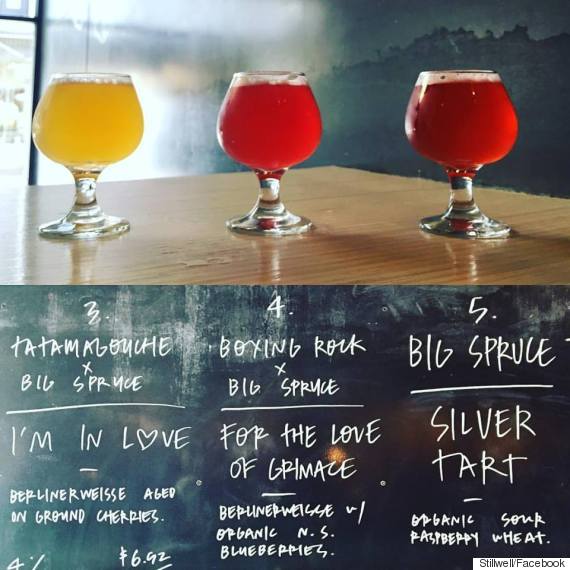 Stillwell, one of Flinn's favourite places in the city, has a beer garden opened seasonally in downtown Halifax.
He adds he would also love to see more small, independently-owned restaurants of every variety.
"As much as the entrepreneurial spirit is strong in Halifax, the big box and corporate restaurant model still thrives," he tells The Huffington Post Canada.
"In order to compete we need to excite the consumer here with new ideas and creative restaurants owned by chefs and young entrepreneurs who are focused on quality."
Below, we talk to some local foodies and experts to find some of the city's best eats. Whether you're a tourist or a local, make sure you check out the best Halifax has to offer.
Gio
Location: 1725 Market St.
Type of food: Fine dining
On the menu: Seafood, house cured meats, local cheese and a long list of desserts.
Price point: Lunch starts at $12; dinner ranges from $22 to $46.
The vibe: A restaurant located in the Prince George Hotel, Gio is definitely one of those places you save for special occasions. According to author and former East Coast food critic Liz Feltham, here you find "the city's movers and shakers at lunch."


Battery Park Beer Bar
Location: 62 Ochterloney St.
Type of food: Beer and bar food
On the menu: Everything from sharing plates to midnight eats and a variety of beer, obviously.
Price point: Bar snacks start at $5; dinner mains start at $17.
The vibe: Susan Downey Lim, tour director of Taste Halifax Tours, says the spot is great for local goods. "Small well-done plates that work with beer [and] so local that they forage their own ingredients," she says.


Chives Canadian Bistro
Location: 1537 Barrington St.
Type of food: Contemporary and seasonal
On the menu: Everything from steakhouse cheeseburgers to lamb wellington to buttermilk biscuits baked daily.
Price point: Appetizers start at $9; entrees start at $22.
The vibe: According to The Coast, locals love this bistro because of its use of seasonal ingredients, and of course, local goods. And yes, you need to try those biscuits.


The Kitchen Table At Ratinaud
Location: 2157 Gottingen St.
Type of food: Local goods
On the menu: Eight-course tasting menu.
Price point: $85 for the full tasting.
The vibe: Intimate and super unique, The Kitchen Table only has 20 seats and they must be booked online ahead of time. Note, you can also bring your own wine. "You can eat and learn all about how each dish was made and where the ingredients are from," Lim adds.


The Bicycle Thief
Location: 1475 Lower Water St.
Type of food: Contemporary Italian
On the menu: Main entrees include beef tenderloin, Brome Lake duck legs and Italian seafood stew.
Price point: Appetizers start at $12; entrees range from $22 to $33.
The vibe: According to Fodor's Travel, this chic restaurant is also another popular one in Halifax. "You could start with local mussels or a generous salami board, then shift into '2nd Gear' with authentic minestrone, a lobster and fish chowder, or one of the handmade pasta dishes," the site notes.


Cha Baa Thai Restaurant
Location: 1546 Queen St.
Type of food: Thai
On the menu: Five types of salads, duck curry and more than 25 seafood dishes.
Price point: Curries start at $12.95; rice dishes start at $13.
The vibe: Feltham notes even though the city has multiple Thai restaurants, this one tastes the most authentic and has the most flavour.


The Brooklyn Warehouse
Location: 2795 Windsor St.
Type of food: Seasonal Canadian
On the menu: The dinner menu changes on the daily, but you can find everything form a wild mushroom and black garlic tart to crispy confit chicken leg.
Price point: First course starts at $12; second course starts at $20.
The vibe: Sasha O'Connor, recipe developer and owner of gluten-free and dairy-free bakery Lively Bakery in Bedford, N.S., says the restaurant has a "great atmosphere, rustic interior, [and a selection of] local beers and wines."


The Wooden Monkey
Location: 1707 Grafton St.
Type of food: Vegan and allergen-friendly menu with local goods.
On the menu: A mix of a menu: everything from raw tacos to pizzas to local seafood.
Price point: Starters at $6.95; entrees range from $23 to $32.
The vibe: Another downtown favourite, The Wooden Monkey is super cautious of allergies, noting gluten-free options, as well as ones made with dairy or nuts on their menu. "This is less a restaurant and more a lifestyle," says Feltham.


The Coastal Cafe
Location: 2731 Robie St.
Type of food: Breakfast and brunch
On the menu: Breakfast plates featuring everything from eggs to sweet potato gnocchi to maple bacon.
Price point: Plates start at $10.
The vibe: Lim says the brunch is amazing. "Get the huevos and add spicy chicken." And if you are heading to the cafe, it is only open from 9 a.m. to 2 p.m. Thursday to Tuesday.


Studio East Food+Drink
Location: 6021 Cunard St.
Type of food: Global fusion
On the menu: A south east Asian-infused late night menu, brunch and full dinner menu.
Price point: Appetizers start at $3; mains start at $16.
The vibe: "[This] well known Halifax chef makes amazing Asian flavour combos," Lim says. The spot also offers up a variety of local drinks and house-made cocktails.


Salvatore's Pizzaiolo Trattoria
Location: 5541 Young St.
Type of food: Italian
On the menu: Pizzas, of course, as well as sandwiches, homemade garlic bread and salads.
Price point: Pizzas start at $9.45; "hero" sandwiches start at $4.45.
The vibe: Lim says this is the best pizza place in town and has been around since the '80s. "Pizzas come with only three ingredients so it doesn't take away from the true flavour of the pizza," she adds.


Field Guide
Location: 2076 Gottingen St.
Type of food: Local goods and cocktails
On the menu: One sharing menu featuring cheeses and oysters, and a cocktail menu.
Price point: Sharing menu ranges from $3 to $22; cocktails start at $12.
The vibe: Lim says you're definitely in for a modern and throwback type of vibe. The cocktails are good and the food is fun, she says.


Rhubarb Restaurant
Location: 8650 Peggy's Cove Rd.
Type of food: Seafood and pizza
On the menu: Classics like thin crust pizzas and popular dishes like Nova Scotia fish and chips.
Price point: Pizzas are $16; dinner menu entrees start at $14.
The vibe: O'Connor says the restaurant can be found on your way to Peggy's Cove, and has everything from homemade chocolates to local paintings on the wall to a friendly East Coast atmosphere.


Sushi Nami Royale
Location: 1535 Dresden Row, Suite 132.
Type of food: Sushi
On the menu: Nigiri sushi, fusion rolls, maki rolls and sushi pizza.
Price point: Appetizers start at $4.95; maki starts at $5.50.
The vibe: Flinn says he goes here because of the consistency. "The sushi is generally done very well in our city."


The Canteen
Location: 22 Portland St. (as of Feb. 6).
Type of food: Sandwiches
On the menu: Menus at The Canteen change, so you can expect everything from seafood-stuffed sandwiches to daily take-home meals.
Price point: Sandwiches start at $10; salads start at $3.
The vibe: "My wife and I love comfort food and a very well done sandwich, and Renée Lavallée's restaurant never fails," Flinn says.
With files from Rebecca Zamon