Calgary Police Officer Jennifer Magus Ward Publicly Quits, Citing Sexual Harassment, Bullying
Calgary's police chief says that for now he won't accept the resignation of a female officer who broke down in tears at a public meeting over sexual harassment and bullying she says she faces on the job.
Const. Jennifer Magnus Ward, a 14-year veteran of the force, tried to tender her resignation at the Calgary Police Commission hearing Tuesday.
After she finished her presentation, police Chief Roger Chaffin moved in and put his hand on her shoulder while Ward shook her head no and sat down.
Ward read from a statement at the meeting outlining how she had decided to stand up for other members as well as civilian staff who were trying to seek "equality and justice"'
This veteran #Calgary police officer publicly quit over bullying and harassment at work: https://t.co/dS4DFxwMJF #yyc pic.twitter.com/QnUNc0W8Mv

— Calgary Herald (@calgaryherald) February 1, 2017
She and another officer went to former chief Rick Hanson with their concerns, which led to a human resources audit in 2013.
She said she thought the CPS would hear their concerns and complaints and act to remedy the problem, but instead she said she was "blamed and disliked for taking a stand for what was right.''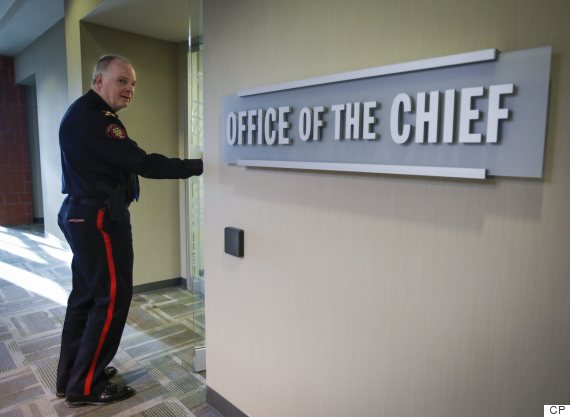 Calgary's police chief Roger Chaffin says that for now he won't accept the resignation. (Photo: The Canadian Press)
"Maybe I didn't always say the right things or maintain political correctness but I stand by the ... article I wrote," she said.
Police commission chairman Brian Thiessen said the efforts of Ward in raising awareness of sexual harassment in the workplace is going to result in significant change.
"I think she is going to achieve a great amount of change, I think she has already moved the needle incredibly far ahead," said Thiessen, adding "it is a No. 1 priority of the commission, and therefore the service, because of her actions and those like her.''
"Maybe I didn't always say the right things or maintain political correctness but I stand by the ... article I wrote."
Chaffin said the department is working toward addressing issues of sexual harassment in the police force.
Outside the gathering, he told reporters he wants to have a chance to talk to her about her concerns.
"It's not the way you would accept any letter of resignation from an employee. You can see how emotionally charged she was, and the difficulty in that presentation. We will wait some time and circle back to her to talk to about this."
Also on HuffPost:
Tales Of Sexual Harassment At Work
When it comes to sexual harassment in the workplace many picture the blatant sexism of the "Mad Men" era, however, workplace harassment (sadly) comes in all forms. From an unwelcome sexual comment to inappropriate physical touching, sexual harassment should be reported every time, yet it's not always so easy for victims to speak up. With allegations of sexual assault spanning various workplaces -- including (but not limited to) the fashion industry and tech startups -- it's no surprise that workplace harassment is still common, even when it's not making front page news. In 2011, the U.S. Equal Employment Opportunity Commission received 11,364 complaints of sexual harassment, 84 percent of which were filed by women and 16 percent by men. The American Association of University Women also reported that a telephone poll of 782 U.S. workers revealed that of the 38 percent of workers who said they had been sexually harassed, less than half reported their harassment. Inspired by our friends over at Jezebel, we rounded up 11 testimonies found on the anonymous message-sharing app Whisper that speak to the bravery required to report their harassers, but also the relief they feel once they do.

Trigger warning: This article contains information about violence which may be triggering to survivors.