Kevin O'Leary Says High-Profile In U.S. Will Help Him Promote Canada Better Than Trudeau
OTTAWA — He's a household name in Canada and the U.S., and Kevin O'Leary intends to use audiences in both to convince Canadians he's the right man to lead this country.
Millions of Americans watch his reality TV show "Shark Tank" each week, making him a household name in a country that's overhauling all of its international relationships, O'Leary said in a wide-ranging interview with The Canadian Press.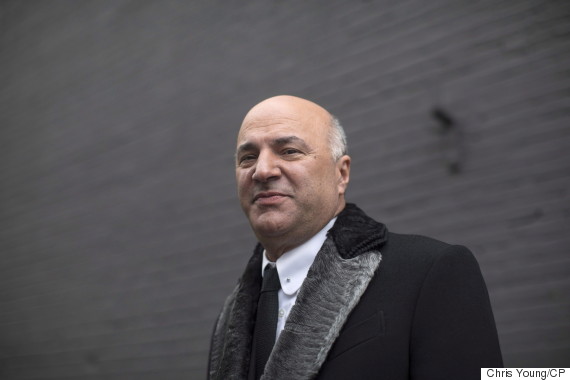 Kevin O'Leary leaves a television studio following an interview in Toronto on Jan. 18, 2017. (Photo: Chris Young/CP)
Case in point: on Tuesday, O'Leary met Conservative MPs, and later glad-handed with party members whose support he needs to become leader; this morning, he was planning to be on the floor of the New York Stock Exchange for the opening bell.
He said he would be talking up the Canadian economy and trade in a way the current Liberal government under Prime Minister Justin Trudeau has failed to do in the weeks since U.S. President Donald Trump was elected.
"This is an opportunity for me to do something I don't believe any Canadians had an opportunity to do," O'Leary said.
"I've built a trust over a decade with them on television, and to be able to explain our relationship in a unique way, in a way that they will trust. Trudeau? I'm better known in the U.S. than he is."
"I've built a trust over a decade with them on television, and to be able to explain our relationship in a unique way, in a way that they will trust. Trudeau? I'm better known in the U.S. than he is."
Those conversations are part of a long game O'Leary said he's playing when it comes to carving out his path to victory in the Conservative leadership race, a campaign that comes to a close May 27 when members choose a permanent new leader.
The moment O'Leary called his now-campaign chair to confirm he would run came just before Christmas, when the federal Finance Department issued a report predicting budget shortfalls until at least 2051, with debt levels exceeding $1.55 trillion.
The thought of his two adult children buried by that kind of debt was unthinkable, O'Leary said.
It's his kids — 20-year-old Trevor and 23-year-old Savannah — that seem to be serving as the touchpoints for O'Leary's nascent political campaign.
He said he intends to win by targeting voters in the 18-to-35 demographic and convincing them to first join the party, and then to back him in 2019 for prime minister.
Story continues after slideshow:
Conservative Leadership Candidates
Federal Conservatives are looking for a full-time replacement for Stephen Harper. Here's who's running to become the next Tory leader.

First elected in 2006, Bernier served as minister of industry and minister of foreign affairs — a position he resigned in 2008 after leaving government documents at the home of an ex-girlfriend with ties to the Hells Angels. A high-profile MP from Quebec, he was reappointed to cabinet in 2011 in the junior role of minister of state for small business and tourism. He's already announced that he's going for it.

Dr. Kellie Leitch, a pediatric surgeon, outgoing minister of labour and minister for the status of women, reportedly has a team in place to mount a campaign. First elected in 2011, Leitch was easily re-elected in the Ontario riding of Simcoe-Grey. Though also considered a Red Tory, Leitch raised eyebrows during the campaign by declaring herself "pro-life" and announcing government plans to introduce a tip line for so-called "barbaric cultural practices."

Chong, who quit the Harper cabinet in 2006 on a matter of principle, is also running. The longtime Ontario MP has earned a reputation as a bit of a "rebel," thanks to his Reform Act and calls for conservatives to do more to fight climate change.

Deepak Obhrai, a former Reform MP from Alberta who was first elected in 1997, is the dean of the Conservative Party caucus. He formally jumped into the race in July 2016.

Andrew Scheer, a Saskatchewan MP who served as Speaker of the House of Commons from 2011 to 2015, joined the race in Sept. 2016. Scheer gave up his Opposition House leader role earlier that month to continue exploring a bid.

The social conservative from Saskatchewan jumped into the race in August 2016. Trost, first elected in 2004, is anti-abortion, anti-same-sex marriage, but is also very fiscally conservative.

The Ontario MP is a former air force captain. First elected in 2012, O'Toole has connections in Atlantic Canada and the GTA, and is seen as more of a fresh face.

The Quebec MP and former public safety minister is the man behind the C-51 anti-terrorism law.

First elected in 2008, Lisa Raitt was perhaps the most high-profile woman in Harper's inner circle. Her name was also floated as a possible contender for the Ontario Progressive Conservative leadership. Raitt served as minister of natural resources, minister of labour, and most recently as minister of transport. While several other Ontario cabinet ministers went down in defeat to Liberals, she was re-elected in the riding of Milton by more than 2,400 votes. Another Red Tory, she has been vocal about the Conservatives' struggle to appeal to women voters.

The former immigration minister and Ontario MP is also running. First elected in 2011, Alexander was defeated four years later. He faced questions over his handling of Canada's response to the Syrian refugee crisis. He also joined Leitch in that ill-fated campaign announcement of a tip line for "barbaric cultural practices."

Saxton was the MP North Vancouver for seven years before losing his seat in 2015. He also served as a parliamentary secretary to two finance ministers and the Treasury Board president.

The bilingual Vancouver businessman unsuccessfully ran for the leadership of the B.C. Conservative Party. He joined the race in Oct. 2016.

An Ontario MP from 2006-2015, Lemieux was defeated in the last election. He is a social conservative and veteran. He joined the race in Nov. 2016.

UP NEXT: Canadian Political Lookalikes

NEXT: U.S. Politicians and their lookalikes

From dentuso

From dentuso

From dentuso

From Lauster123

From dentuso

yosoyeldecider: Who could forget this classic separated-at-birth pair?

emerson7: Jon Stewart's observation
His secret weapon? They've seen him on TV.
"There's no other candidate that connects with the young with the way I can," he said. "They grew up with me; I've been on television forever."
While he's running on an economic platform first, on social issues he said he intends to be where his kids are on the political spectrum. And in 2015, neither of them voted Conservative.
So when his daughter tells him that protecting and championing the rights of lesbian, gay, transgender and intersex Canadians is important, he listens, he said.
And to social conservatives within the party who don't agree, or who don't want to legalize marijuana or permit doctor-assisted dying, he has a simple question: "Do you want to win a majority government?"
How he might lead Canada
He's already providing hints of what life might look like under an O'Leary majority government.
A series of angry letters he's been trading with Ontario Premier Kathleen Wynne, who he blames for destroying the Ontario economy, is partially about setting a tone, he suggested.
Any province that gets in the way of his plan to get the country to 3 per cent growth in GDP will feel the heat, he said.
"Call me when you fix it or suffer the consequences of a prime minister with a big stick," O'Leary said. "There's many many tools you have as a prime minister — you start at transfer payments all the way down."
Since announcing he was joining the race in late January, O'Leary said his campaign has signed up 9,000 members and raised $300,000, an effort he said that dwarfs that of any of the 13 other candidates in the race.
Fundraising numbers released Tuesday show Maxime Bernier raised $586,000 during the final three months of 2016, with Kellie Leitch, the next closest candidate, came in at more than $355,000.