"an open, welcoming country that stands by its citizens."
She accused the tweet of "perpetuating fear and division" and dishonouring the memory of the victims of Sunday's mass shooting, in which six people were killed.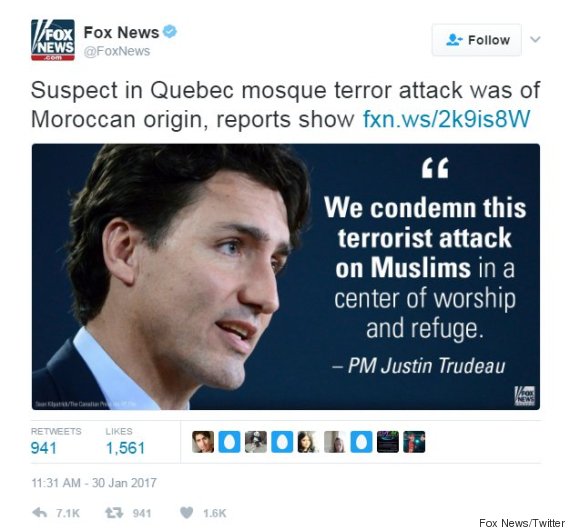 A tweet by Fox News that incorrectly identified the Quebec mosque shooting suspect has been deleted. (Screengrab: Fox News/Twitter)
She asked that it be taken down. Fox News responded by deleting the tweet and saying it regretted the error. Conservative MP and party leadership candidate Lisa Raitt says while she understands frustrations over misinformation being reported, Justin Trudeau should be focused on more important matters.
"We've got a serious issue in New Brunswick right now with respect to an ice storm," Raitt said, referring to a power outage that has affected thousands of people. "We've got jobs leaving the country, we have had a terrible tragedy in Quebec City," she added.
"So why do you pick fights with the American news media?"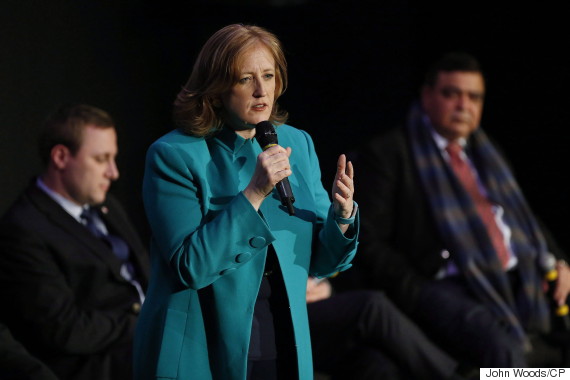 Lisa Raitt speaks at a Conservative Party of Canada leadership forum in Winnipeg on Jan. 19, 2017. (Photo: John Woods/CP)

But on his way into a Liberal caucus meeting on Wednesday, Trudeau said that asking the news organization for a correction was the right thing to do. "It's a question of getting the news right," Trudeau said. "I think it's important to emphasize what actually happened in Quebec City and think about lessons we need to learned from it."

Only 1 charge in connection with attack

In the immediate aftermath of the shooting, reports indicated that two people had been arrested and a number of Canadian news organizations also reported the incorrect information, but later retracted the reference to a Moroccan national. Police have only charged one suspect, 27-year-old Alexandre Bissonnette, in connection with the shooting spree. Officials said a second man who was arrested was not involved in the shooting but rather was a witness to the attack.

Also on HuffPost

Terrorist Attack Shooting At Quebec City Mosque

Suggest a correction

OTTAWA — The Opposition Conservatives are criticizing the Prime Minister's Office for complaining to Fox News about a tweet identifying the suspect in the Quebec City mosque shooting as "Moroccan." In an open letter to Fox News Channel co-president Bill Shine, PMO Communications Director Kate Purchase wrote that Canada is