'Fubar' Is Going To Be A TV Show On Viceland
TORONTO — The head-bangers of "Fubar'' are headed to the small screen.
Vice Studio Canada and Rogers Media say they're making an eight-hour series based on the 2002 Canadian mocumentary cult hit about two metal heads.
Filming is underway in Montreal and reunites director Michael Dowse and stars David Lawrence and Paul Spence in their original roles as Terry and Dean.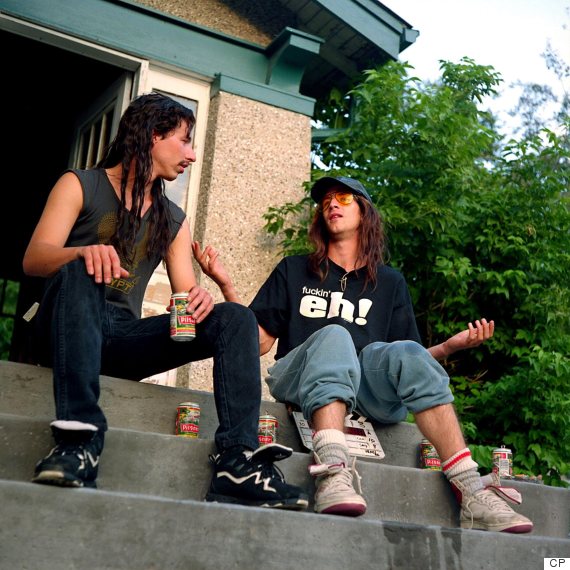 The old gang is getting back together for the new series. (Photo: CP)

In the new series, the two friends find themselves fleeing the wildfires of Fort McMurray, Alta., to Calgary with only emergency government debit cards to their name.
Terry discovers high-speed Internet for the first time and tries to make a profit online.
Meanwhile, Dean tries to record a triple-concept album.
"Fubar'' is slated to premiere later this year on Viceland.
Also on HuffPost:
While the film is set in Wyoming, it was filmed almost entirely in in southern Alberta. "Brokeback Mountain" in the film is so named because the mountain has the same swayback curve as a brokeback horse or mule, which is swaybacked or sagging in the spine is actually a composite of Mount Lougheed south of the town of Canmore to Fortress and Moose Mountain in Kananaskis Country. The campsites were filmed at Goat Creek, Upper Kananaskis Lake, Elbow Falls and Canyon Creek. Other scenes were also filmed in Cowley, Fort Macleod, and Calgary. The film was shot during the summer of 2004.

Kananaskis Country was used for the scenes set in Alaska.

Principal photography began in Jasper National Park in the province of Alberta in June 1946.

The Calgary Herald newsroom served as the backdrop for the Denver Times newsroom. Many of the scenes were also filmed around Calgary.

Parts of the film were filmed in Calgary at Canada Olympic Park and the Calgary International Airport

The misadventures of Dean and Terry were filmed and set in Alberta, particularly in and around Calgary.

Production on the film began on August 2007, with principal photography in Calgary, Alberta. Battle scenes were filmed on the Tsuu T'ina Indian reserve just outside Calgary.

The World War I battlefield scenes took two weeks to film and were shot near Morley, Alberta, with hundreds of locals and a few Canadian Forces soldiers recruited as extras.