Why George Clooney Changed His Mind About Having Kids
On Thursday, news broke that George Clooney is going to become a first-time father! But while the 55-year-old actor is expecting twins with his wife Amal, he didn't always want to have children.
"I think it's the most responsible thing you can do, to have kids. It's not something to be taken lightly," Clooney told People magazine in 2006. "I don't have that gene that people have to replicate. But everything in my life has changed over time."
From this interview, it's clear that Clooney has always kept an open mind about having kids. And we're guessing his big change of heart came about thanks to his lady love.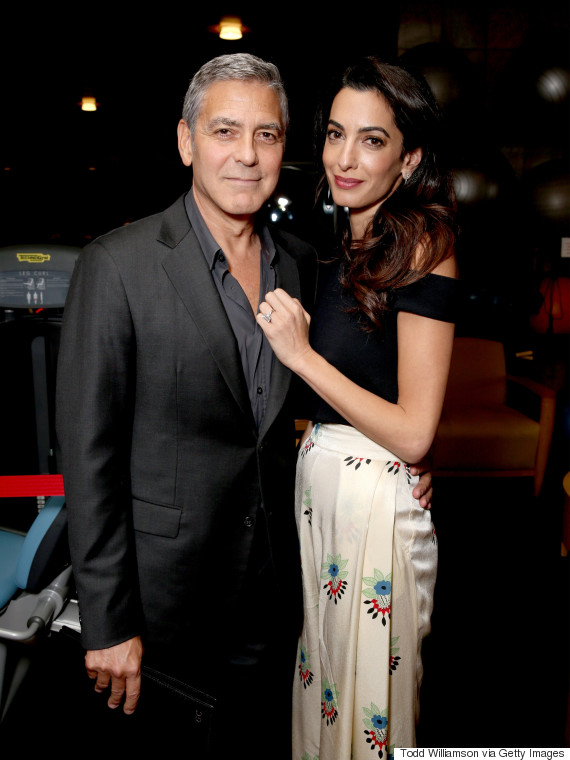 George and Amal Clooney attend the MPTF 95th anniversary celebration in October 2016 in Los Angeles, California.
The "Money Monster" star waved goodbye to bachelorhood in 2014 when he finally tied the knot with Amal during an intimate ceremony in Venice, Italy.
A year later, he gushed to People magazine about his marriage, saying: "All I know is that it sort of changed everything in terms of what I thought my future — my personal future — was going to be. I've always been an optimist about the world. I wasn't always completely optimistic about how it was going to work out personally for me. But now I am."
Following his marriage, Clooney continued to keep his home life private, but in 2015, he revealed that he hadn't ruled out kids completely — they just weren't his priority.
"I've thought about it I suppose, but I haven't really — it hasn't been high on my list," he said in an interview on CBS "This Morning."
Now that Clooney and Amal's baby news has been revealed, a source close to the couple told People magazine that "they're all very happy."
Matt Damon also admitted on "The Today Show" that the actor will be a great father.
"Those kids are really lucky," he said. "[Amal is] spectacular… He'll be great. He's so smart, he's so loving. He's going to be great."
"Those kids are really lucky"

Watch Matt Damon react to his pal George Clooney's baby news: https://t.co/zam6q2mDmI pic.twitter.com/XozUNiy9cY

— TODAY (@TODAYshow) February 10, 2017
George Clooney isn't the only celebrity to change his mind about having kids. Flip through the slideshow below to find out who else did, too.
Celebs Who Changed Their Minds About Having Kids
Many people were surprised when Zooey Deschanel announced her pregnancy in 2015. After all, just a few years prior, the actress revealed she felt no need to have kids. "That's never been my focus," she told Marie Claire in 2012. "My sister [actress Emily Deschanel] was always very motherly, babysitting and stuff. I like kids, and I like being around kids, but it was never an ambition, something, like, I need. … I like working. That's what I like doing. I like to work." Despite this, Deschanel clearly had a change of heart. Last year, the "New Girl" star secretly wed Jacob Pechenik and welcomed her daughter Elsie Otter.

Before tying the knot in 2004, former "Lost" star Josh Holloway and his wife Yessica Kumala agreed that they both didn't want kids. Four years later, the couple changed their minds. "Basically, nature happened," Holloway told USA Today in 2008. "If you're in a loving relationship with someone, [having] children becomes a part of it. I don't know exactly when or how, but we're very open to either having our own children or adopting." Holloway became a first-time father the following year at the age of 40. He is now a proud dad to a seven-year-old daughter named Java and a two-year-old son named Hunter.

While Jessica Biel has a beautiful son named Silas with hubby Justin Timberlake, she previously said motherhood was "completely foreign" to her and admitted that she was "resisting" it. "I tell you, I have so many friends having babies and getting married, and they just want to put me where they are so we can go to nursery together and stuff," the actress said in 2008. "I'm like, 'Noooooo!' I'm resisting." Biel and Timberlake began dating in early 2007 and tied the knot five years later. They then welcomed their first child in April 2015.

Before Kelly Clarkson had two kids with her husband Brandon Blackstock, she never considered herself the mom-type. Back in 2009, the "American Idol" star revealed: "I have no desire [to have kids]. I would not be a good mother. I mean, I love being an aunt to my niece and nephew. And I used to want to, like, adopt 10 kids. But again, my job is too selfish." But things changed after Clarkson wed Blackstock in 2013. The couple now has two kids: River Rose, 2, and Remington Alexander, four months. Interestingly, Clarkson is also now a stepmom to Blackstock's two kids from a previous marriage: Seth and Savannah.

Janet Jackson is reportedly expecting her first child with husband Wissam Al Mana. Interestingly, Jackson has always been open to the idea of having kids, but previously said children were not something she necessarily needed. "My view is that if it's God's plan for me to have children then it's going to happen. I'm not panicking," she said in 2010. "It would be very, very sweet if I did have children. The icing on the cake. And I like sweet things. But it doesn't feel essential."

Who would have guessed that Simon Cowell was the paternal type? In 2013, the reality star judge shocked everyone when it was revealed that he was expecting his first child with his friend's wife, Lauren Silverman. In 2009, Cowell made it clear that he had no desire to ever become a father. "God, no. I couldn't have children. If I had them here drawing on the walls, I'd go nuts." However, a few years later it seemed his views were changing. "I'd want kids if I knew I could be faithful," he said in 2013. "I do like kids. I'm not sure I would be good for the first six months or so, but once they knew who I am…" Cowell and girlfriend Silverman welcomed their son Eric in February 2014.

Of course Ryan Gosling changed Eva Mendes' mind about having kids. Before the couple got together, Mendes was adamant that motherhood was not for her. "I don't wanna have kids," she said in 2007. "I love the little suckers; they're so cute, but I love sleep so much and I worry about everything." Mendes and Gosling now have two daughters: Esmeralda and Amada.

While Fergie never explicitly said she didn't want kids, she did reveal in 2012 that she and husband Josh Duhamel wouldn't be ready to be parents until their lifestyle changed. "We like each other. We like hanging out together and we have fun," she said. "We have fun in the kitchen cooking and singing silly songs. We have a good time together, and it's nice to get to have that quality time. We enjoy it." Funnily enough, the couple welcomed their son Axl a year later. He is now two years old.

It's not hard to believe that Angelina Jolie never wanted kids. After all, before she became a mother-of-six, she was one of Hollywood's biggest rebels. Earlier this year, Jolie admitted, "It's strange, I never wanted to have a baby. I never wanted to be pregnant. I never babysat. I never thought of myself as a mother." However, her views changed after she visited Cambodia to film "Lara Croft: Tomb Raider" in 2000. Explaining how she felt humbled by the experience there and playing with the school children, the actress added: "It was suddenly very clear to me that my son was in the country, somewhere." Jolie then adopted her eldest son, Maddox, from Cambodia in 2002. Besides Maddox, the actress and her husband Brad Pitt are also parents to Pax, Zahara, Shiloh, and twins Vivienne and Knox.