Saul Betesh, Convicted In Toronto Murder, Joins Website To Look For Pen Pals
Saul Betesh, who's spent four decades behind bars for the high-profile 1977 killing of a Toronto shoeshine boy, has joined a matchmaking website that helps lonesome prisoners find companionship beyond the jailhouse walls.
Betesh, convicted of first-degree murder in the sex slaying of 12-year-old Emanuel Jacques, has submitted his profile to a website called Canadian Inmates Connect Inc.
He writes in his own words that he hopes to correspond with both women and men.
In the blurb, which was posted Sunday, he describes himself as a "druid bard" who enjoys playing role-playing games like Dungeons and Dragons, making art with stained glass, sewing quilts for charity, watching science fiction and working in the prison greenhouse.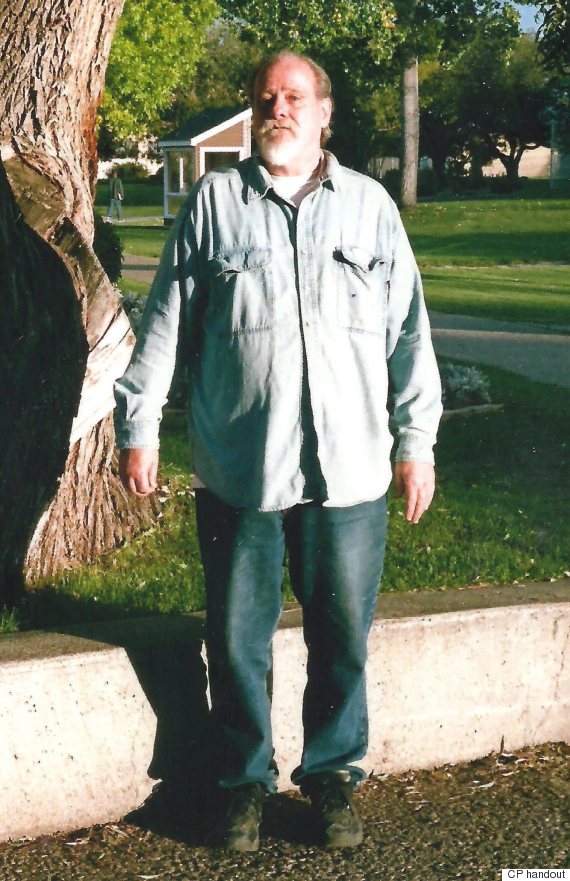 Saul Betesh is shown in a handout photo from a matchmaking website for inmates. (Photo: Canadian Inmates Connect, Inc./CP Handout)
"I also play chess but I am not that great," writes Betesh.
"In closing, I won't lie to you. My crime was bad, but with treatment and a bit more time, I feel I can once again become a productive member of society.
"I will answer all letters, male or female, that are respectful, the others I will trash. I will not write anybody under the age of 20. I hope to hear from you soon."
The profile is one of about 200 on the website for both male and female inmates — many of whom are locked up for violent crimes. Their profiles are written in their own words.
"My crime was bad, but with treatment and a bit more time, I feel I can once again become a productive member of society."
Most prisoners on the site are searching for love. But some, like Betesh, only appear to be seeking pen pals.
Betesh writes that he's "67 years young," even though he also says he was born July 20, 1950, which would actually make him 66.
He also states his release date is "unknown."
No discrimination on website: creator
Melissa Fazzina, the website's creator, said she received Betesh's application and his $35 fee for the website in the mail last week.
She doesn't discriminate against inmates who want to post their profiles based on their crimes.
"The same goes for Saul Betesh," Fazzina said in an interview.
"I have no problem putting his profile up there. I just believe that everybody should tell the truth."
Betesh, who also submitted a photo of himself, wrote that he was doing time for first-degree murder. His current address is the Pacific Institution in Abbotsford, B.C.
"I have no problem putting his profile up there. I just believe that everybody should tell the truth."
"I'm a bit overweight, but that can be explained by eating all the great prison food for the last 41 years," wrote Betesh, who was found guilty in March 1978 for a killing that stunned Toronto.
In the summer of 1977, Jacques was drowned after being sexually assaulted in an apartment. The boy's body was found on the roof of a Yonge Street body-rub parlour.
Betesh told police in a statement that he took Jacques to the apartment to pose for photographs. He said he and Robert Wayne Kribs, who would plead guilty to first-degree murder, repeatedly assaulted Jacques.
The court also convicted Josef Woods of second-degree murder in the slaying.
Fazzina, who started Canadian Inmates Connect around six years ago, said Betesh actually played an indirect role in her decision to start the website.
Idea behind the website
The idea to create the website came after she read a 2011 Toronto Sun story about how Betesh had joined a similar site based in the United States.
She thought she could make money, but she quickly realized there wasn't much to be made.
Fazzina kept the website going anyway because she says it has helped many prisoners — and in the process she has become a public advocate for convicts seeking a second chance.
Interested correspondents must communicate with inmates via snail mail since prisoners don't have Internet access.
Luka Rocco Magnotta profile featured
She said the website's popularity began to expand considerably among inmates in 2015 after it featured the profile of killer Luka Rocco Magnotta.
Magnotta was convicted of several crimes, including first-degree murder, for the 2012 Montreal killing and dismemberment of university student Jun Lin.
The porn actor, whose gruesome crimes seized the attention of people around the world, posted a profile stating that he was searching for his "prince charming.''
Several weeks after Magnotta's profile went up, Fazzina said she received a letter from him saying he had found what he "was looking for."
Also on HuffPost:
B.C. Convicts Looking For Love Online
These are profiles submitted to Canadian Inmates Connect, a website that wants to "attract pen pals" for convicts. Dave Butorac was found guilty of killing Sheryl Korroll, who worked in the sex trade in Langley, B.C. He's also charged with killing Margaret Redford of Aldergrove.

Brian Widman is serving a life sentence for the death of his former girlfriend with no parole eligibility for at least 10 years. Lorna Ulmer-Billy, 15, was found dead in Coquitlam in 2006. Widman was 20 at the time.

Somphavanh Chanthabouala, also known as Tommy or Ricky, is serving time for masterminding the shooting death of Philbert Truong, outside a Victoria, B.C. nightclub.

Anthony LaRose is serving time for brutally slashing two people in Surrey, B.C. in 2010.

Paul Khela is serving a life sentence for the 2002 gang-related murder of Gary Sidhu in Delta, B.C.

Matt Johnson and Cody Haevischer were convicted of six counts of first-degree murder. Four of the 2007 deaths in Surrey, B.C. were related to a gang rivalry, while two innocent people were executed to eliminate potential witnesses.

Chris Watts is serving 17 years for manslaughter, sex assault and sexual interference after a 13-year-old girl was found dead in an Ontario cabin.

Serving time for drug convictions and assaulting a peace officer.

Timothy Stayer was convicted of the 2004 stomping and beating death of Christopher McAuliffe in Cailfornia. Stayer had caught his mother having sex with the victim.

James Wrigley was sentenced in 1994 to life in prison for killing his landlord in Calgary.

Incarcerated at Kent Institution in Agassiz, B.C., Jason Bettencourt was convicted of killing Omar MacFarlane in Etobicoke, Ont. The victim was attacked in his car with a knife, then shot 12 times.

Mike Wilson was convicted of killing a former racehorse trainer and a woman who was in the wrong place at the wrong time, reported The Vancouver Sun. The Pitt Meadows murders happened in November 2002.

David Sunshine killed his common-law partner's two-year-old daughter in 2005.

Theodore Wells was convicted of setting fire to a Vancouver home and killing two men inside in 1999.

David Segoviano was hired by a woman to kill her daughter-in-law in Coquitlam. He was convicted of first-degree murder in 2007.

Aaron Welch is serving time for a violent, drug-induced attack at the Castlegar airport, reported the Castlegar News.

Patrick Gillese, was convicted of second-degree murder of his landlord, John Schober in 1989.

Lorne Carry was convicted in a complex murder conspiracy which had links to organized crime in the B.C. Kootenay and southern Alberta regions, said officials.

Kevin Lewis, who has a lengthy and violent criminal record, is a dangerous offender. His last conviction for attempted murder came after he tried to kill his girlfriend in Brentwood Bay, B.C. in 2008.