Canada's Smallest Town, Tilt Cove, N.L., Has A Population Of 4
Canada's smallest town keeps getting smaller.
The population of Tilt Cove, N.L. was considered sparse a few years ago, when there were just seven residents calling the town home.
But since 2015, the population has almost been cut in half, and now just four people live there year-round.
In its heyday, from the late 1800s to mid-1900s, Tilt Cove, located on the Baie Verte Peninsula, was a booming mining town.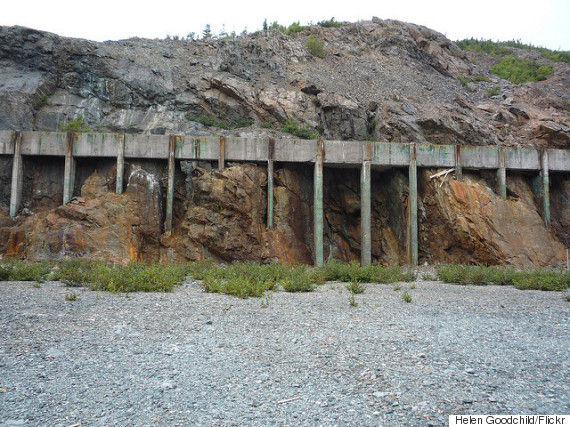 The closed mine at Tilt Cove. (Photo: Helen Goodchild/Flickr)

But long gone are the grocery store, movie theatre, bowling alley and pubs that residents once enjoyed. When the town's mine closed, it didn't take long for businesses to follow and for most of the town's estimated 1,500 residents to move away.
By 1956, there were only 57 residents left.
Now, members of just one family are the last hangers-on. Margaret Collins serves as the town's clerk, and her husband, Don, is mayor. Collins' brother lives next door, and is married to her husband's sister — both are town councillors.
"We all love living in Tilt Cove," Collins told The Huffington Post Canada.
"There's a peacefulness and quietness here. As you get older you want that more."
Listen to Collins share some of the history of Tilt Cove with Yahoo! News in 2013. Story continues below:
Collins' mother and mother-in-law, both proud Tilt Cove residents, enjoyed that peace and quiet up until the end. One passed away in 2015 and the other in 2016.
Last year, another elderly resident decided to move to the next town over, La Scie, which is 12 kilometres up the road and has a population of almost 900.
Situated on a pond surrounded by hills and the remnants of several old buildings, Tilt Cove is about as quiet as they come.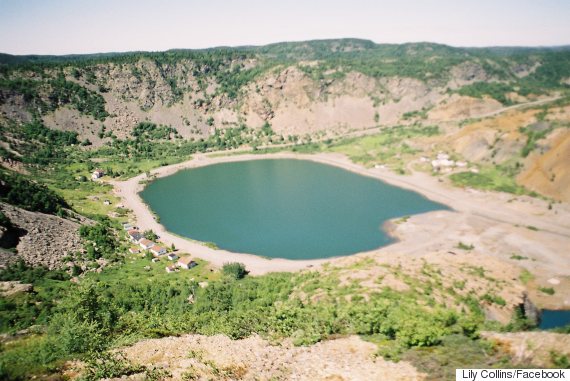 A view of Tilt Cove from the surrounding hills. (Photo:Lily Collins/Facebook)
Collins makes sure the town's bills get paid so the water keeps running and the two streetlights stay on.
The plow comes by after a big snowfall, but sometimes it takes a while — Tilt Cove has no children, so it's not exactly top priority on the province's plowing list.
Winters "can get a little lonely," said Collins, but she and her husband will sometimes travel to La Scie for groceries and errands, or make the trip to Corner Brook to visit one of their two daughters.
The summer, however, is a different story. Several people have cottages in Tilt Cove, bumping the population up to 10 or 11.
Tourists, curious to see Canada's smallest town, also come to visit — and Collins is happy to tour them through her "The Way We Were" museum, which holds every scrap of history, memorabilia and photograph of the town she's managed to dig up over the years.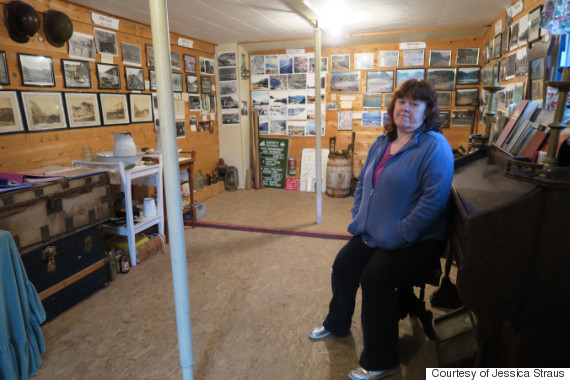 Margaret Collins poses inside her museum, which is open in summer in Tilt Cove. (Photo: Courtesy Jessica Straus, Quirk)

No one, however, is more charmed by the tiny town than her grandson, who visits frequently in the summer, said Collins.
"My God, he loves the freedom here. There's so much for a kid to do, like to go out on the boat, on the quad, or explore in the woods."
Collins, who, like the other residents of Tilt Cove, is in her 50s, says she would like to call the village home for the rest of her life.
But she realizes that with aging comes certain challenges, and she might see a day when all the residents have to leave for more populated, convenient areas of Newfoundland.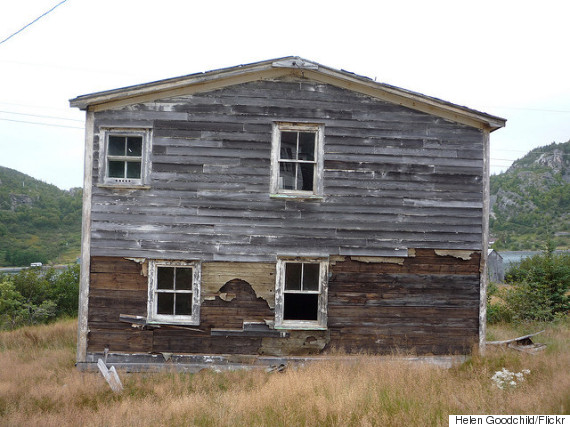 An old building at Tilt Cove. (Photo: Helen Goodchild/Flickr)

"But I don't really like to think about that," she said softly, adding she's not sure what will happen to the town if all the residents are gone one day.
"I don't know. I just really don't know."
Also on HuffPost:
Best Restaurants In Atlantic Canada
Mallard Cottage in St. John's, N.L.: You might never know that tiny Quidi Vidi is hiding away in St. John's unless you go looking for it, but this local-focused restaurant is reason enough to do that. Mallard is known for its weekend brunches, but you'll find the best local seasonal food on its oft-changing menu.

Brooklyn Warehouse in Halifax, N.S.: This is the place to go in Halifax if you love local beer — something Nova Scotia is quite good at. You'll find a rotating selection of local beers on tap along with creative cocktails and bottles from around the world. And the food, which changes with the season and includes local seafood and meats, is incredible.

Port City Royal in Saint John, N.B.: Billed as defining East Coast cuisine, Port City Royal plays on local favourites with dishes like Donair En Ploye and creamed salt haddock and potatoes. Open just two years, the restaurant is already enjoying national accolades.

Terre Rouge in Charlottetown, P.E.I.: Tiny P.E.I. is known for the red earth that makes spuds so delicious and gives this restaurant its name, by way of a bit of translation. Included in the Canada's 100 Best list, Terre Rouge focuses on local farm-to-table eating, with house-made charcuterie and craft beer.

Adelaide Oyster House in St. John's, N.L.: Don't be fooled by this small spot's party atmosphere: the raucous surroundings are balanced by serious food. Named one of the country's best new restaurants last year by En Route, Adelaide offers its namesake oysters along with small plates influenced by Asian and Mexican cuisine.

Field Guide in Halifax, N.S.: Making use of the best of local farmers and producers, this small spot in the city's north end serves craft beer and great cocktails along with a menu that changes with the seasons. Look for regional cheeses, donair steam buns, and fresh seafood.

Catch 22 Lobster Bar in Moncton, N.B.: If you're eating in Atlantic Canada, you ought to be eating seafood at least some of the time. You'll have no trouble doing that at Catch 22, which features not just lobster but also mussels, maple salmon, crab cakes, and other fresh local offerings.

Landmark Cafe in Victoria, P.E.I.: A local institution, around for nearly three decades, Landmark Cafe is a quaint local spot in a small fishing village in Canada's smallest province. Everything is made from scratch right down to the salad dressings, and produce is local as much as possible. (Remember, winters are rough in Atlantic Canada.)

Merchant Tavern in St. John's, N.L.: If Raymonds — named the top restaurant in the country by Canada's 100 Best — is out of your price range, you can enjoy the work of chef Jeremy Charles at Merchant Tavern just down the road. Look for the raw bar in the back, craft cocktails at the bar in the front, and flavourful dishes like house-made pasta and local dessert favourites.

Edna in Halifax, N.S.: There's a lot of great stuff on the dinner menu, it's true, but brunch is a star at this Halifax eatery. Stop by for selections like ricotta pancakes, salmon gravlax with latkes, or bibimbap breakfast — washed down with a grapefruit mimosa.

Tide and Boar Gastropub in Moncton, N.B.: Named one of Canada's top 50 restaurants by Maclean's and one of Canada's favourite bars by En Route, Tide and Boar has plenty to offer in both solids and liquids. Though the menu is meat-and-fish heavy there are vegetarian options like gnudi dumplings, and the drink menu includes house-brewed beer and barrel-aged cocktails.

Water Prince in Charlottetown, P.E.I.: Find the fishermen's boots upside down in a barrel by the door, and you'll know you've found this charming Charlottetown eatery. If you want local seafood, this is the place to be: you'll find lobster, scallops, oysters, clams, salmon, halibut, sole, mussels, and crab, depending on the season.

Seto in St. John's, N.L.: Seto opened quietly amongst St. John's growing local food scene but it made an impression quickly. The menu is tightly edited, but you can get away with that when dishes like duck breast on crispy new potatoes are done perfectly. The inventive cocktail menu is worth a visit on its own.

Fleur de Sel in Lunenburg, N.S.: You'll have to wait a little while to visit Fleur de Sel, as its owners are on a sabbatical until May 2017. But with a promise to explore the food scenes in Nova Scotia and abroad, odds are good this award-winning restaurant will come back better than ever.

The Schnitzel Parlour in Fredericton, N.B.: Sometimes simple, homey food is the best food and that's the case at this Fredericton eatery. You might not go to New Brunswick looking for great German food but you'll be glad you found it here, with a menu featuring freshly-made spaetzle, gulaschsuppe, and nine different varieties of schnitzel.

The Churchill Arms in Charlottetown, P.E.I.: The island's only authentic British pub is the place to visit for belly-filling U.K. faves like bangers and mash and bubble and squeak. To add to the authenticity you'll find a variety of pub-style curries, including madras, korma, and tikka masala.

Fogo Island Inn in Fogo Island, N.L.: You've really got to put in some work to get there but the Fogo Island Inn will reward you if you do — not just with award-winning architecture and great scenery but also with a celebrated restaurant featuring local ingredients, a separate pastry kitchen, and unparalleled ocean views.

Ristorante a Mano in Halifax, N.S.: You can, in fact, find delicious Italian food in a city better known for craft beer and seafood. Ristorante a Mano offers the best of an Italian trattoria including antipasti, handmade pasta, and traditional pizzas.

Deja Bu in Caraquet, N.B.: Make a reservation if you want to try this little spot in Caraquet — they only take 40 guests a night. The menu changes with the season and ingredients, including salads with fresh vegetables, lobster poutine, and mussels and fries.

New Glasgow Lobster Suppers in New Glasgow, P.E.I.: If you eat shellfish, you have to make sure to eat lobster while in P.E.I. New Glasgow is the place to do that — and you can pick your lobster by the pound. If you want to eat a four-pound lobster all by yourself, this is the spot for that.