NRKbeta Forces Readers To Pass Quiz Before Leaving A Comment On Articles
The comment section can be a hotbed of opinion and attacks, filled with questions and rants from people who haven't actually read the article being discussed.
To stem the habit of readers preemptively commenting on articles before actually reading them, a Norwegian news site is now forcing users to pass a test before they drop their two cents.
NRKbeta, the tech offshoot of Norwegian public broadcaster NRK, launched the new feature last month. It requires readers to answer a few basic multiple-choice questions before leaving a comment.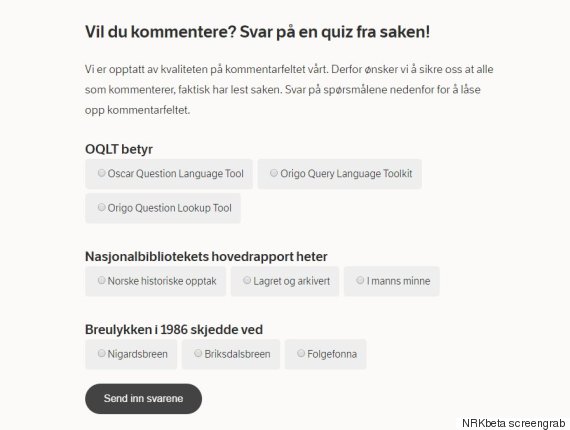 The quiz below already-published comments says the site wants to ensure that commenters actually read the article. (Photo: Screengrab of NRKbeta website)
An algorithm randomizes questions for each user. The quiz tool was built by developer Henrik Lied using a Wordpress plugin, according to Nieman Lab.
Journalist Stale Grut says NRKbeta is hoping the quiz will help improve the comment section.
"Hopefully, it'll contribute to people making a bit of time to think about what they're going to write before they do it," Grut told CBC's As It Happens.
Editor Marius Arnesen told Nieman Lab while NRKbeta typically has a good comment section with dedicated readers, featured articles on the NRK homepage can generate a lot of unsavoury threads.
"Hopefully, it'll contribute to people making a bit of time to think about what they're going to write before they do it."
Arnesan told CNN a lot of site visitors read the headline of an article and rush to the comment section.
"The aim is to make people take 30 seconds before they comment, to take the edge off," he said.
To close or not to close comments?
NRKbeta is one of many news outlets looking to improve its articles by improving reader conversation.
In the U.S., the Boston Globe launched a Facebook group for subscribers to start discussions about everything from news coverage to crossword puzzles, interacting directly with reporters and customer service staff.
Meanwhile, Canada's largest daily newspaper, the Toronto Star, shut down its online comment section altogether. Other outlets including CBC News and the Toronto Sun have cut back on the number of stories it allows comments on.
Huffington Post Canada requires users to sign in with a Facebook account in order to leave a comment.