Inmate Timothy Nome Says Guards Attacked Him As 'Going Away Present'
TORONTO — A federal prisoner says he was asleep in bed when guards burst into his cell and beat him in what he called an orchestrated retaliation for various complaints he has made — allegations authorities said they are still investigating.
The allegedly excessive force used against Timothy (Mitch) Nome at Kent Institution in Agassiz, B.C., occurred in the early hours of March 2, before his transfer to Stony Mountain Institution outside Winnipeg.
"I was naked. I was asleep in bed when they attacked me. I didn't fight back. I just let them beat up on me,'' Nome told The Canadian Press in an interview. "I got beaten up pretty good. I was told it was goodbye beats.''
A total of seven guards were involved in the alleged incident — at least one had been called in on overtime — a day after senior prison managers told him they had something planned for him as a "going away present,'' Nome said.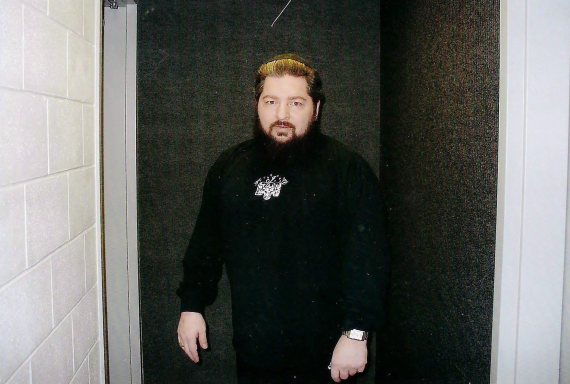 Timothy Nome is seen in this photograph taken at a Quebec prison in May 2011. (Photo: Canadian Press handout)
In addition, he alleged, guards smashed his personal effects, and Kent authorities had seized and were threatening to destroy his legal documents contrary to a court order last year.
Bobbi Sandhu, warden of the maximum-security institution, did not respond to requests for information.
However, a Pacific regional spokesman for Correctional Service Canada said all employees are expected to act according to the highest legal and ethical standards and officers must take the safest, most reasonable and proportionate action when dealing with situations.
"I got beaten up pretty good. I was told it was goodbye beats.''
— Timothy Nome
"We do not tolerate any breach of our policies, and incidents of employee misconduct are investigated,'' Jean-Paul Lorieau said. "The institution is currently reviewing the incident involving Mr. Nome to ensure procedures were followed.''
The incident, which Nome said left him with fractures in his foot, a muscle tear in his shoulder and black and blue all over, came weeks after he was assaulted by fellow inmates — an attack the Jewish aboriginal inmate alleged was by white supremacists and set up by guards.
Nome has been in solitary for years at a time

Prison authorities have denied any wrongdoing in that case, instead blaming Nome, 42, for not having spoken up about any "incompatibles'' on his range during his rare stint out of segregation, where he has spent a total of more than 12 years — sometimes for several years at a stretch.
Lorieau, who confirmed the inmate had been placed in solitary confinement on about 60 occasions, said Nome's transfer from Kent to Stony Mountain was "an effort to alleviate his segregation status,'' something the law requires be done as quickly as appropriate.
Nome has previously been victim of guards' misconduct at Kent. In 2012, a correctional officer was fired and another suspended in part for twice setting up inmate assaults on him.
"I don't think this should be going on. You get the 'blue wall of silence' that comes up. You get this collusion that goes on.''
— Mark Kemball, former warden
Mark Kemball, former warden at the maximum security prison, called those incidents "disturbing'' and urged a thorough investigation of the current allegations to clear the air.
"I don't think this should be going on. You get the 'blue wall of silence' that comes up. You get this collusion that goes on,'' Kemball said in a recent interview. "Then you've got to break through that wall to arrive at what is the truth.''
Nome is difficult, not threatening: Kemball

Kemball, who described Nome as stubborn and as someone who stands up for what he believes, said the inmate can be difficult to manage. At the same time, Kemball said, he never felt intimidated or threatened by him.
Nome, who has been in prison for most of his adult life, is currently serving an indeterminate sentence for punching a guard in Saskatchewan in the head in 2005. At sentencing in 2009, one psychologist branded him a potentially violent psychopath, while another said any risk he posed could be managed with treatment in the community. Other people who know him say he is intelligent and good hearted.
Originally from Williams Lake, B.C., Nome said he was being treated better at Stony Mountain but was concerned about access to kosher meals, clean clothes and bedding. Authorities there did not immediately respond to a request for information.
The prisoner was turned down for parole in late February as a risk to reoffend. He said the denial turned on his status as a maximum-security inmate without access to transition programming.
"Mr. Nome's case is complex,'' Lorieau said.
Also On HuffPost:
5 Countries Proving Prisons Can Work For The Benefit Of Everyone
Norway has one of the lowest re-conviction rates in Europe, at 20%, and 71 prisoners for each 100,000 population, roughly half the UK total. Dubbed the "world's most human prison system" it operates on the principle that custodial sentences restrict the freedom of movement only - and not prisoners' other rights. And there's an intense focus on rehabilitation. "Progression through a sentence should be aimed as much as possible at returning to the community," the government says. One prison, Halgen in the north of the country, has attracted international media attention due to its design - likened to university halls by some media - as well as its ability to serve the prison system's priorities. At Halgen Prison, prisoners: are able to cook meals for themselves have access to ensuite facilities can work in retail stores and other jobs earn points to spend on site have access to scenic running routes within landscaped, secure grounds have large windows with plenty of natural light However, Norway's system became so overcrowded last year it sent 300 prisoners to the Netherlands.

The Netherlands has just 69 prisoners per 100,000 population and has enough capacity in its prisons to accommodate criminals from other countries. Routines exist to rehabilitate "persistent offenders", and those who are motivated can develop skills related to: self care and hygiene; labour; education; spending of leisure time; financial administration; unsupervised settling; and social attitude However, while it pursues many policies aimed at rehabilitation of inmates, some of these have been severely curtailed in recent years. Single-use cells are no longer mandatory, while the amount of hours devoted to activities each week reduced still further. Nonetheless in 2013, it was reported that declining crime rates in the Netherlands meant that although the country has the capacity for 14,000 prisoners, there were only 12,000 detainees.

Denmark has a reconviction rate of 29% -- as opposed to England & Wales' 49% -- and it has 61 prisoners per 100,000 citizens - far fewer than the UK. The number of women guards in Danish prisons has been noted as having a calming effect on majority male inmates. Women are more likely to reduce tensions, and prisoners are more likely to make an effort to talk to them - more so than with their male counterparts. Annette Esdorf, deputy director general of the prison and probation service in Denmark, explained the philosophy to the BBC: "We make an effort to keep crime down by treating the prisoners in the best way. We have a rather humane regime, not because of the prisoners, but because we think it works better this way. "Our prison regime is based on normalisation, a principle of openness and responsibility, because we think it's the best way of avoiding reconviction."

Sweden has a remarkably low prison population rate at just 55 per 100,000 citizens. "Sweden's remarkable prison system has done what the U.S. won't even consider," Mic.com reported last year, stating, "prisons in Nordic countries are designed to treat (prisoners) as people with psychosocial needs that are to be carefully attended to." It is this philosophy which guides Sweden's correctional system. Director-general Nils Öberg told the Guardian: "It has to do with whether you decide to use prison as your first option or as a last resort, and what you want your probation system to achieve. "Some people have to be incarcerated, but it has to be a goal to get them back out into society in better shape than they were when they came in." Rather than "static security" roles, guards in Swedish prisons adopt "dynamic security" - fostering interrelationships between staff and inmates for the benefit of rehabilitation and safety.

Unlike many prisons across the world, Germany has placed an emphasis on pleasing decoration and home comforts - even those as simple as ceramic toilets and wash basins, opposed to the expected stainless steel. It has roughly half the prison population of the UK, at 76 inmates per 100,000 citizens. On a visit to a German prison alongside US justice officials, Vice News found: "Most prisoners have knives and forks in their cells. Though the prisoners cannot access the internet, they have telephones in their rooms, and they can call anyone—even the media." While reconviction rates are around 48%, special efforts are made to reintroduce offenders into society - aided by German culture.