Child Care, Maternity Leave Benefits To Receive Billions In Canada's Budget
OTTAWA — The federal government plans to spend $7 billion over the next decade to help ease the burden of child care costs, part of a slew of new long-term spending targeting families.
The details outlined in Wednesday's federal budget estimated that child care spending could create 40,000 new, subsidized daycare spaces countrywide over the next three years, representing a bump of less than 10 per cent in the overall number of spaces, although it's unclear how the Liberals came to that figure.
The budget said the money could also help thousands of parents more easily enter the labour force, particularly women, much as it did in Quebec after that province introduced a subsidized daycare system.
The potential new spaces and reduced child care fees would come just in time for 2019, when the Trudeau Liberals face re-election, and build on the extra money the Liberals gave to families last year through a new child benefit. At a cost of about $23 billion a year, the income-tested child benefit eats up under 10 per cent of the federal budget.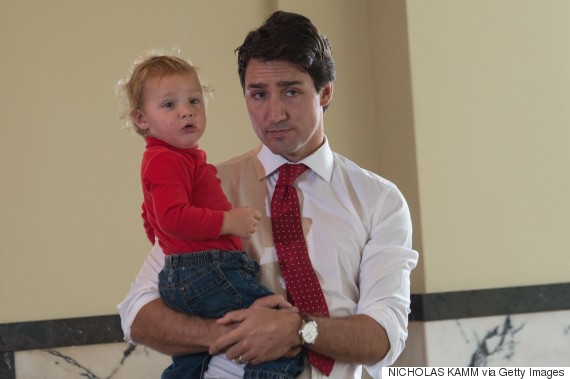 Justin Trudeau poses with his youngest son, Hadrien, in 2015. (Photo: Getty)
The Liberals would also have a carrot to dangle in front of families during the election as the child care funding would hover around $550 million a year for the next five years and then jump to approximately $800 million annually between 2022 and 2028. That's about one third of what the Paul Martin Liberals promised provinces the last time the federal government made a significant foray into the child care system.
"It has been a long time since we've seen federal leadership in this area but we are disappointed the budget is not more ambitious in its spending especially at the start of the 10-year period," said Morna Ballantyne, executive director of the Child Care Advocacy Association of Canada.
Andrea Mrozek, director of the faith-based think-tank Cardus Family said the money acts as a form of "soft coercion" for families to send their children to daycare and mothers to get back to work faster than they may wish.
"Rather than expanding options that increase the good for particular families, the government paints families into a corner by favouring one particular option," she said.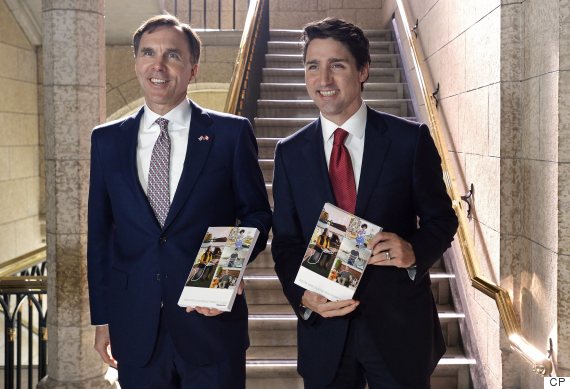 Finance Minister Bill Morneau and Prime Minister Justin Trudeau hold copies of the federal budget on their way to the House of Commons on March 22. (Photo: Adrian Wyld/The Canadian Press)
Exactly how the money will be spent will be subject to negotiations between federal, provincial and territorial governments and on how much the federal government wants to push the provinces on the issue of affordability, said David Macdonald, senior economist at the Canadian Centre for Policy Alternatives who studies child care costs.
Federal officials said the money could be spent on building child care centres, fee subsidies for parents, or wage subsidies for providers among other options to address the cost of child care that in some cities costs more than $20,000 a year. It's also unclear if the money will go to for-profit or home-based day cares.
NDP Leader Tom Mulcair said the budget doesn't promise new child care spaces, only the possibility of 40,000 even though there's a need for hundreds of thousands of spaces nationwide.
The child care spending is one of several measures the Liberals are enacting as part of a push to get more women into the workforce, and politically win over families who may have lingering financial concerns about how to pay the bills.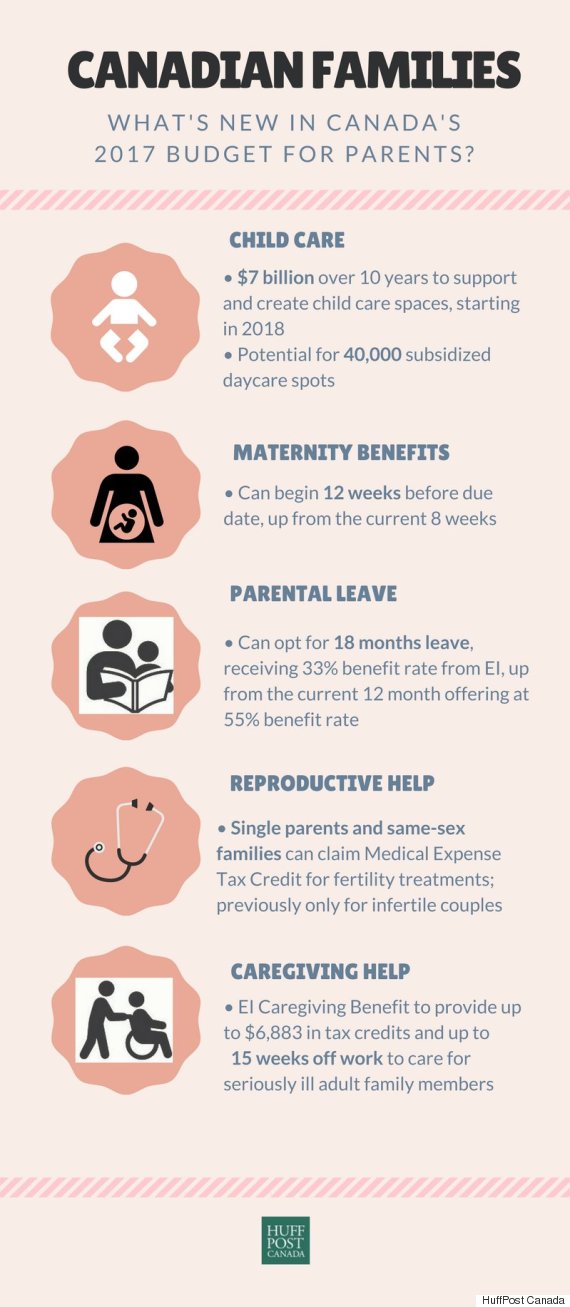 Parental leave extended
The budget extended parental leave to 18 months by spreading 12 months worth of payments over that time. And it lets expectant mothers begin claiming maternity benefits up to 12 weeks before their due date, an increase from the current eight weeks but short of the 15 weeks envisioned in a bill from Liberal MP Mark Gerretsen, which heads to committee for review starting Thursday.
The budget doesn't include dedicated leave for the second parent, something the Liberals had openly mused about doing. Nor does it increase parental leave benefits to make it easier for low-income earners to be able to afford to take leave.
The parental leave measures will cost the government about $30 million a year over the next five years. Moving up the start date on the maternity benefit will cost about $8.6 million more per year over the same period.
Those measures, among others, will require an increase in employment insurance premiums paid by workers and employers, starting next year.
Measures to help students
The Liberals' second budget also expands eligibility for student loans and grants, so part-time students who support families can more easily access funding to help them enter or re-enter the workforce, at a cost of about $167 million over four years.
Both measures will be in place for the 2018-2019 academic year.
The budget also includes $287.2 million over three years starting next year for a pilot project to test changes to student loan and grant rules to help more adults return to school.