Federal Budget 2017: Trump Challenges Not Major Focus Of Liberal Spending Plan
OTTAWA — If there's an example in Wednesday's federal budget of the challenges President Donald Trump presents to the Liberal government's lofty goals, it's in the measly five paragraphs dedicated to Canada's newly fraught relationship with the United States.
After the usual platitudes about common values and interests, there's a pledge the government will continue to build on long-standing environmental co-operation with the U.S. to "address climate change, as well as enhance the quality of our air and water."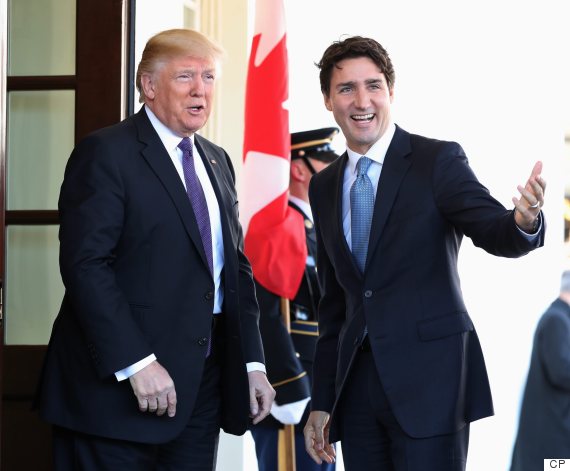 U.S. President Donald Trump greets Prime Minister Justin Trudeau upon his arrival at the White House in Washington, Feb. 13, 2017. (Photo: Andrew Harnik/The Associated Press via CP)
The document was likely already at the printers when word surfaced this week that any day now, Trump plans to start dismantling the very projects in the U.S. designed to tackle those things.
Chief among them: gutting funding for the U.S. Environmental Protection Agency, withdrawing from the Paris climate change accord and, perhaps most significantly for Canada, axing a program that helps keep the water in the Great Lakes safe to drink for 40 million people on both sides of the border.
The 2017-18 budget seeks to guard against the same surge of anger that propelled Trump to victory last fall, laying out plans and strategies to bolster the skills and confidence of Canadians anxious about what lies ahead.
But to what extent Trump's actions could fuel those fears, the Liberals have so far steered clear of trying to address.
Story continues after slideshow:
Canada Budget 2017 Highlights
Highlights from the 2017 federal budget tabled Wednesday, March 22 by Finance Minister Bill Morneau: (Source: The Canadian Press)

Employment insurance premiums are going up five cents to $1.68 per every $100 of insurable earnings, up from $1.63 — the maximum allowable increase under the Employment Insurance Act. Read more here. (Source: The Canadian Press)

The deficit is at $23 billion, down from $25.1 billion in the last fiscal update, and is projected to reach $28.5 billion for 2017-18 — including a $3 billion contingency fund — before declining to $18.8 billion in 2021-22. Read more here. (Source: The Canadian Press)

The 71-year-old Canada Savings Bond program, first established in 1946, is no longer cost effective and is being phased out. Read more here. (Source: The Canadian Press)

Higher taxes on alcohol and tobacco products: the excise duty rate on cigarettes goes up to $21.56 per carton of smokes from $21.03, while the rates on alcohol are going up two per cent. Both will be adjusted every April 1 starting next year, based on the consumer price index. Read more here. (Source: The Canadian Press)

The public transit tax credit, which allows the cost of transit passes to be deducted, is being eliminated effective July 1. Read more here. (Source: The Canadian Press)

The budget dedicates $11.2 billion to cities and provinces for affordable housing over 10 years as part of the second wave of the government's infrastructure program, $5 billion of which is to encourage housing providers to pool their resources with private partners to pay for new projects. Read more here. (Source: The Canadian Press)

An "innovation and skills plan'' to foster high-tech growth in six sectors: advanced manufacturing, agri-food, clean technology, digital industries, health/bio-sciences and clean resources Read more here. (Source: The Canadian Press)

$523.9 million over five years to prevent tax evasion and improve tax compliance, including more auditors, a crackdown on high-risk avoidance cases and better investigative efforts. Read more here. (Source: The Canadian Press)

$7 billion in spending over 10 years for Canadian families, including 40,000 new subsidized daycare spaces across Canada by 2019, extended parental leave and allowing expectant mothers to claim maternity benefits 12 weeks before their due date. Read more here. (Source: The Canadian Press)

$2.7 billion over six years for labour market transfer agreements with the provinces and territories to modernize training and job supports, to help those looking for work to upgrade skills, gain experience, start a business or get employment counselling. Read more here. (Source: The Canadian Press)

$59.8 million over four years, beginning in 2018-19, to make student loans and grants more readily available for part-time students, and $107.4 million over the same period for assist students with dependent children. $287.2 million over three years, starting in 2018-19, for a pilot project to facilitate adult-student access to student loans and grants. Read more here. (Source: The Canadian Press)

A national database of all housing properties in Canada, known as the Housing Statistics Framework, to track details on purchases, sales, demographics and financing, as well as foreign ownership. Read more here. (Source: The Canadian Press)

$400 million over three years through the Business Development Bank of Canada for a "venture capital catalyst initiative'' to make more venture capital available to Canadian entrepreneurs. Read more here. (Source: The Canadian Press)

A comprehensive spending review of "at least three federal departments,'' to be named later, to eliminate waste and inefficiencies, as well as a three-year review of federal assets and an audit of existing innovation and clean-tech programs. Read more here. (Source: The Canadian Press)

$225 million over four years, starting in 2018-19, for a new organization to support skills development and measurement. Read more here. (Source: The Canadian Press)

$395.5 million over three years for the youth employment strategy. Read more here. (Source: The Canadian Press)
The most obvious example is on taxes. Trump is poised to overhaul the U.S. tax system in a bid to increase competitiveness. How the Liberals could move in response to that isn't in the budget; they've only plucked the low-hanging fruit identified in the broad tax expenditure review.
"It is the one area of the budget where they are moving more slowly than they said they were going to," said Scotiabank economist Jean-Francois Perreault.
In the fiscal projections embedded in the budget, it is noted repeatedly that Canada's economy depends on the broad global state of affairs, yet the fact that the Liberals are aiming to shrink deficit levels in the coming years hints they're betting on strong global economies.
As part of its focus on skills and innovation, the government sets out a target: grow Canada's goods and services exports — from resources, advanced manufacturing and others — by 30 per cent in 2025, a modest increase from what it is now.
Trump sounds warning about military funding
While the focus is on opening new markets in Asia and the benefits that will eventually flow through the Canada-EU free trade agreement, the U.S. market is still number 1 in Canada's books.
"Canadian export growth could remain modest and possible U.S. policy actions affecting trade could restrain exports to the U.S. even further," the budget said.
A pledge to make U.S. policy all about "Buy American, Hire American" was one the signature lines of Trump's first address to Congress, and the fight is already on in the U.S. for tougher Buy American rules.
Trump also sounded a warning in that speech about military funding.
"We expect our partners, whether in NATO, in the Middle East, or the Pacific, to take a direct and meaningful role in both strategic and military operations, and pay their fair share of the cost. "
What about climate change?
How Canada is going to respond to that, if at all, is partially wrapped up in the now-delayed release of the defence policy review, a long-term planning document for the military that should have been out before Wednesday's budget.
But it was pushed forward by Trump; any move he and Congress make with the American military will have a spin-off effect here.
Meanwhile, Wednesday's budget postponed another $8.5 billion in spending on new military equipment over the next 20 years, including $933 million over the next six years.
On the environment, the budget lays out billions in everything from research to green infrastructure — positioning Canadians companies to be able to take advantage of growing international demand for clean technologies is the driver of some of those funds, as much as achieving greenhouse gas reduction targets.