Nova Scotia Course Teaches Retail Workers How To Not Be Racist
HALIFAX — More than a decade after racial profiling was identified as a festering problem among some police forces, it is now being addressed in another sector: retailing.
After years of complaints about retail staff who routinely follow, search, ignore, insult and provide poor service to visible minorities, one province has decided to do something about it in a big way.
On Monday, the Nova Scotia Human Rights Commission launched a free, online training program aimed at preventing a problem that has sparked a growing chorus of complaints across the country.
The 20-minute interactive course for front-line service staff — described as the first of its kind in Canada — has already attracted attention from businesses in other provinces and the United States, and plans are in the works to roll out a national campaign.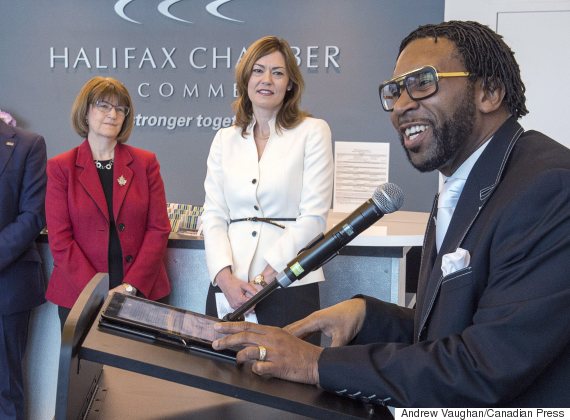 Lennett Anderson, senior pastor at Emmanuel Baptist Church, speaks as Justice Minister Diana Whalen, and Christine Hanson, CEO of the Nova Scotia Human Rights Commission, look on in Dartmouth, N.S. on Monday.
"As a proud African Nova Scotian and seventh-generation Canadian ... I am acutely aware of the problems associated with navigating race relations in our society,'' Rev. Lennett Anderson of the African United Baptist Association of Nova Scotia told a news conference at the Halifax Chamber of Commerce.
"The need for a campaign such as this is a desperate one ... It is worthy of our celebration.''
The retail sector is Canada's largest employer, with over two million people working in an industry that generated $59 billion in payroll in 2015.
"The need for a campaign such as this is a desperate one ... ''
— Rev. Lennett Anderson
Christine Hanson, CEO of the Nova Scotia Human Rights Commission, said the need for such a training program was reinforced in 2013 when the commission released a groundbreaking report that concluded aboriginal people and African Canadians more often reported being treated poorly by retail staff than did any other group.
"In fact, people from all racialized groups, including Asian, Latin American and Middle Eastern people, reported being treated poorly by staff far more than did white people,'' the report said. "In the focus groups, several participants commented on being made to feel 'lower class' or like 'second-class citizens' when shopping.''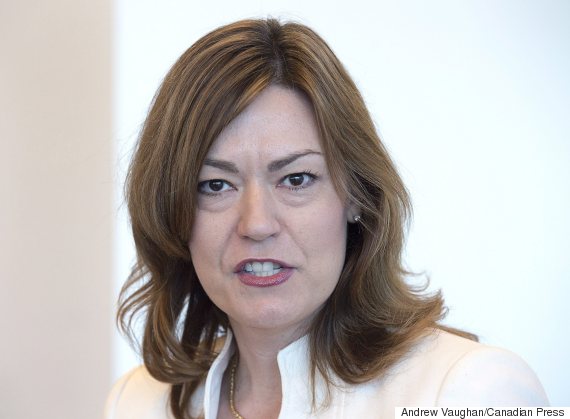 Christine Hanson, CEO of the Nova Scotia Human Rights Commission, announces an online training course dealing with consumer racial profiling to educate retail businesses, in Dartmouth, N.S. on Monday.
The report went on to say that aboriginal people, African Canadians, and Muslims were all targets of offensive language and were treated as if they were physically threatening and potential thieves.
"A person who is a member of a visible minority group is three times more likely to be followed in a store, and four times more likely to be searched,'' Hanson said.
The online program, called "Serving All Customers Better,'' includes a quiz about immigration and visible minorities. It also cites statistics from the 2013 report and clearly spells out what the law says.
The course also cites some examples, at one point quoting a worker who said: "I worked for a retailer who said, 'The eagle has landed,' when a black person walked into the store. I quit my job over it.''
Examples of consumer racial profiling continue to make headlines across the country.
In October 2015, the Human Rights Tribunal of Ontario agreed with a woman who said she faced discrimination as a black person when she was confronted by a Shoppers Drug Mart employee who demanded to search her backpack on suspicion of shoplifting. The tribunal ordered the store to pay Mary McCarthy $8,000.
And in February 2015, Calgary university student Jean Ventose said he was racially profiled when he was followed by a security guard inside a local Walmart, apparently for no reason. He posted a video on the encounter on Facebook, which received more than one million views and 10,000 reactions in two days.
In August 2016, one of Canada's largest grocery chains withdrew its appeal of a human rights decision that found an employee of Sobeys had discriminated against a black customer in May 2009 after falsely accusing her of being a repeat shoplifter.
Sobeys said it reached a settlement with the Nova Scotia Human Rights Commission and would apologize to Andrella David, pay her $21,000 in compensation, and develop a staff training program on racial profiling.
The company faced a boycott by a group of 19 churches in the province. As well, Nova Scotia's first black lieutenant-governor, Mayann Francis, came forward to reveal that she, too, had been the victim of repeated racial profiling while shopping.
At the time, Francis said Nova Scotia was in a state of denial when it came to racial profiling, saying she had often been the victim of "shopping while black'' since she left her viceregal post in 2012.
"It does not matter how successful you are, it still can happen to you,'' said Francis, who had previously served as CEO of the province's human rights commission.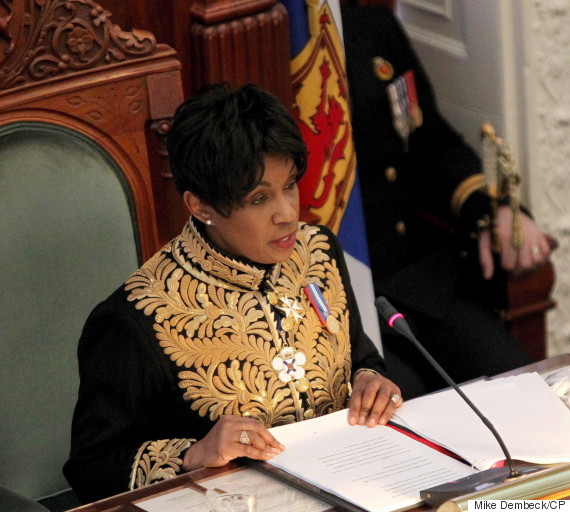 Former lieutenant-governor of Nova Scotia, Mayann Francis, says she has experienced racial profiling while shopping.
"It's just so wrong and so hurtful and I know how I feel when I'm followed in the stores ... They're stalking you.''
Earlier in the year, the Hudson's Bay Company agreed to educate its staff about racial profiling as part of a settlement in the case of a now-deceased Nova Scotia grandmother allegedly accused of shoplifting a rug from a Zellers outlet in 2008.
"It's just so wrong and so hurtful and I know how I feel when I'm followed in the stores ... They're stalking you.''
— Mayann Francis, First black lieutenant-governor of Nova Scotia
Anderson, the pastor at Emmanuel Baptist Church in Hammonds Plains, N.S., said the new online course in Nova Scotia marks a big step forward for visible minorities.
"Today, we are engaging in a courageous conversation,'' he said. "We have decided that it's time to confront major issues in our society ... Race is not a card we play, it's a life we live ... This campaign is not about behaviour modification, it's about a societal transformation.''
Also On HuffPost:
During an interview with Entertainment Tonight, Winfrey was asked if she had personally experienced racism. She responded with an anecdote about a clerk at a shop in Switzerland who had recently refused to show her an expensive bag, even though she repeated her request multiple times. "That one will cost too much, you won't be able to afford that," Winfrey claimed the clerk told her. Read the full story, here.

The 66-year-old chef and Food Network star admitted in a deposition in a discrimination lawsuit that she used racial slurs in the past. Deen was asked under oath if she had ever used the N-word. "Yes, of course," Deen said, though she added, "It's been a very long time."

Yes, racist tweets will get you in trouble. AJC posted this, deleted it, and had to apologize.

Michael Dunn, the Florida man charged with shooting 17-year-old Jordan Davis after an argument over loud music, is currently awaiting trial and maintaining that he acted in self-defense the night of the fatal confrontation. In several letters reportedly written from jail, and obtained by News4Jax, Dunn rants about killing "thugs" so "they take the hint and change their behavior," black-on-white crime and the liberal media.

Barneys New York and the New York Police Department have been slapped with a lawsuit by Trayon Christian, a college student from Queens, who was arrested at the luxury department store in April. "His only crime was being a young black man," Michael Palillo, Christian's attorney, told The New York Post. The Post reports that the 19-year-old was at the store buying a $350 Salvatore Ferragamo belt, but following the purchase, he was stopped by undercover officers that were allegedly called on by a Barneys sales clerk who believed the transaction was fraudulent.

A young Australian woman hosted an "African" themed 21st birthday party. Afterwards, she shared photos that show attendees In blackface and KKK costumes.

A black woman was allegedly fired from her job because of her blonde highlights. Farryn Johnson told Maryland's CBS News affiliate that she was let go from her job as a waitress at Hooters due to '"improper image" after the 25-year-old refused to remove blonde highlights from her dark brown hair. "They specifically said, 'Black women don't have blonde in their hair, so you need to take it out,'" Johnson told CBS.

An Ohio charter school attempted to ban "afro-puffs and small twisted braids."

WANE-TV shared an image of the billboard, which is said to flash with the words "Impeach Obama."

Kayla Phillips, a 21-year-old nursing student from Brooklyn, told the Daily News that she was stopped by police after purchasing a $2,500 Céline bag at the store on February 28. After buying the luxury item with the money from a tax return, the woman left the Madison Avenue store. Three blocks away, she says she was surrounded by four undercover police officers -- two white, one African American and one Asian -- at a nearby subway station.

Ashley Davis, a 24-year-old from St. Peters, Mo., said a change in her company's policy now requires her to cut off her dreadlocks. "I've only been there for two months, and they came up with a policy. I feel like it's degrading," she said.

The New York Post reports that actor Robert Brown, who's most known for his starring role opposite Sean Connery in the film "Finding Forrester," has filled a civil suit for an unspecified sum against the luxury retail store and the New York Police Department, citing that he was unlawfully searched by undercover police officers on June 8, 2013. The 29 year old, who is black, was stopped after making a purchase at the Sunglass Hut store located inside Macy's flagship location in New York's Herald Square

A group costume features a man dressed as Martin, wearing blackface and a blood-stained hoodie, and a man portraying Zimmerman, wearing a shirt that reads "Neighborhood Watch." In a photo uploaded to the Facebook account of Caitlin Cimeno, the woman in the picture, the man portraying Zimmerman has fashioned a gun out of his right hand and has pointed it at the man dressed as Martin.

An Arkansas town with a reportedly dark past rooted in racial discrimination is pushing back after an "anti-racist" billboard went up on a major roadway there last month. Someone in Harrison, Ark., is paying $200 a month for an entire year to display this 12-by-24–foot sign with the message "Anti-Racist is a Code Word for Anti-White."