St. John's Residents Rescue 5 Dolphins, But Humpback Whale Dies
ST. JOHN'S, N.L. — Residents of a Newfoundland island have managed to pluck five dolphins out of thick pack ice and carry them to open water, but a humpback whale has died after becoming trapped in ice in a nearby cove.
The dolphins had become trapped in a small bay near St. John's over the weekend.
Resident Lisa Gear said about 25 people were involved in a rescue effort Monday that involved venturing out onto the ice off Bell Island, freeing the dolphins from the ice, placing them onto a tarp stretcher, loading them on a truck and then releasing them into an ice-free inlet nearby.
"Arctic ice is still there at the ... opening to the ocean but they have some room and we hope this ice moves out quickly. They have much more room where they are now. At least a fighting chance. Not out of the woods but in a clearing," Gear said Monday afternoon.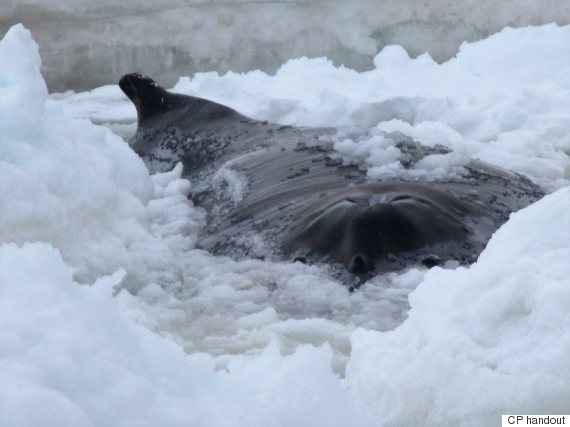 A humpback whale is shown trapped in the icy waters off Old Perlican, N.L. (Photo: Mary Lou Riggs/CP handout)
Despite a blizzard that was raging around them, she said that they had successfully freed five of what are believed to be white-beaked dolphins.
About 11 had been initially spotted over the weekend, but the rest are believed to have died, including one during the rescue attempt.
"There were only about eight still alive this morning," Gear said. "It's really heartbreaking ... but there's a huge community involvement. It's unbelievable now the people who are pitching in and coming out.''
Gear said her husband had checked on the dolphins about four times Sunday night and then again Monday morning after they had been discovered late Saturday. She said they could hear the sound of the dolphins' laboured breathing Sunday evening.
Ice was unusually thick: mayor
Wabana Mayor Gary Gosine said the island had experienced unusually thick ice that had also slowed the ferry that services the island. He said it's been about seven years since they've seen ice so much in the area.
"I've never seen anything like this before," he said about the trapped dolphins.
Thick ice had also trapped a large humpback whale in Cook's Cove near Old Perlican, N.L., which has now died.
Wayne Ledwell of the Whale Release and Strandings group said the ice was too thick to navigate with an icebreaker to free the whale after it became trapped Friday. He said the roughly 14-metre adult whale had appeared to be having trouble breathing, based on the noise it was making. There was also a lot of blood on the ice where he had become stuck.
"I'd say [the whale] was beached and really fatigued and didn't have what it took to get out of it."
Margie Hopkins, Old Perlican's town manager, said people were having trouble reaching the whale Monday because of the blizzard-like conditions. She said the ice had moved out, but the whale didn't leave.
"There was no ice around him last night," she said. "I'd say he was beached and really fatigued and didn't have what it took to get out of it."
She said the whale had been making "eerie" sounds that seemed to indicate it was in distress.
"It was like someone in distress," she said. "It's just a high-piercing, heart-tugging noise. It really sticks to you. It's like a baby whining.''
A report from the Department of Fisheries and Oceans says there were two instances of large groups of animals becoming trapped and dying in pack ice in 2014 — one involving nine blue whales and the other involving 40 white-beaked dolphins.
Also on HuffPost:
Whale and Dolphin Deaths at Vancouver Aquarium
After a Vancouver Aquarium contractor's attempt to kill a killer whale with a harpoon failed, Moby Doll as he was called, became the first orca to live, and die, in captivity. He lasted only 87 days in captivity, succumbing to skin disease and fungal disease of the lungs, but started an entire industry of captive orca entertainment. Photo: Vancouver Public Library, Accession Number 8693

Although it isn't discussed often, Vancouver Aquarium was the first to attempt, and fail, to keep narwhals in captivity. Whether it was captures gone wrong or conditions from transport or the captive environment, at least 7 narwhals died in the aquarium's attempts to keep these tusked creatures in their tanks. Photo: Kristin Laidre, NOAA

She was a whale that changed the world. Orca 'Skana' was only six years old when her entire pod was captured in Puget Sound, WA. She would pass away in 1980, at the tender age of 19. But in her short time at Vancouver Aquarium, she would inspire Dr. Paul Spong and Robert Hunter to save the whales, a series of campaigns that turned Greenpeace into one of the world's most influential conservation organizations. Photo: Rex Weyler/Greenpeace

Vancouver Aquarium's Icelandic female orca Bjossa lost her first captive born baby in 1988 after only 22 days. K'yosha, her second was born in 1991, but Bjossa was unable to produce enough milk for her calf. Despite tube-feeding, K'yosha died at only 3 months old due to a brain infection. Bjossa would lose a third calf, aged 3 days, in 1995. Bjossa herself, the last of Vancouver Aquarium's captive orcas, died in 2001 at only 25 years of age. Photo:www.orcahome.de user Vaentin666

Captured in the Pacific Ocean in 1971, Pacific whitesided dolphin Whitewings died in 2002 during a 'routine medical procedure' to remove debris from her stomach, such as stones, pine cones and seashells. It is not uncommon for captive whales and dolphins to become sick or die after ingesting debris that finds its way into their tanks. Photo: Rob Harrison

'Laverne,' another Pacific white-sided dolphin came to Vancouver Aquarium in 2005 from SeaWorld. She would survive less than 4 years in her Stanley Park tank, her death caused by 'intestinal torsion'. At about 31 years old, she was considered 'geriatric' by aquarium standards, although in the wild the species can live upwards of 46 years. Photo © Remedy-Kiua

Beluga Aurora's first calf born at Vancouver Aquarium, Tuvaq, died at only age 3. Her second, Nala, would last only a year, after two stones and a penny became lodged in her airway. Photo: Wikipedia

Just over a year after 1 year-old Nala died, three year-old beluga Tiqa died of pneumonia. Three of the four belugas bred in captivity at Vancouver Aquarium have died before age three, the eighth beluga to die there. The aquarium claims that industry-wide, captive bred belugas have a (dismal) survival rate of only 40-50% in their first year, yet captive breeding continues. Photo: flickr user scazon

The star of many Vancouver Aquarium shows, 'Spinnaker' died in March 2011. The middle-aged Pacific white-sided dolphin was only 26 when he suffered what aquarium staff believe was a stroke. Photo: wikipedia

Imported from a Japanese aquarium with ties to the brutal dolphin 'drive hunts', dolphin Hana was held by Vancouver Aquarium from 2005 until her death in 2015. She died two days after what was called 'groundbreaking surgery' for intestinal torsion (the same fate that took 'Laverne') at the age of only 21. She say both of her two captive-born babies die along the way. Photo: flickr user abdallahh

Beluga whale Qila died Nov. 16, according to CBC News. She was 21. She was the first beluga to be conceived and born in a Canadian aquarium. She gave birth herself in 2008, but her calf Tiqa died at age three of pneumonia, according to Metro News Vancouver. CORRECTION: A previous version of this slide stated that Qila was the first beluga whale born in a Canadian aquarium. This version has been corrected.