Sikh Heritage Month In Canada: John A. Macdonald, Harjit Sajjan Poster Illustrates 150 Years Of Change
April is Sikh Heritage Month in Canada, and the country is also marking its 150th birthday.
Those events have come together in this striking poster: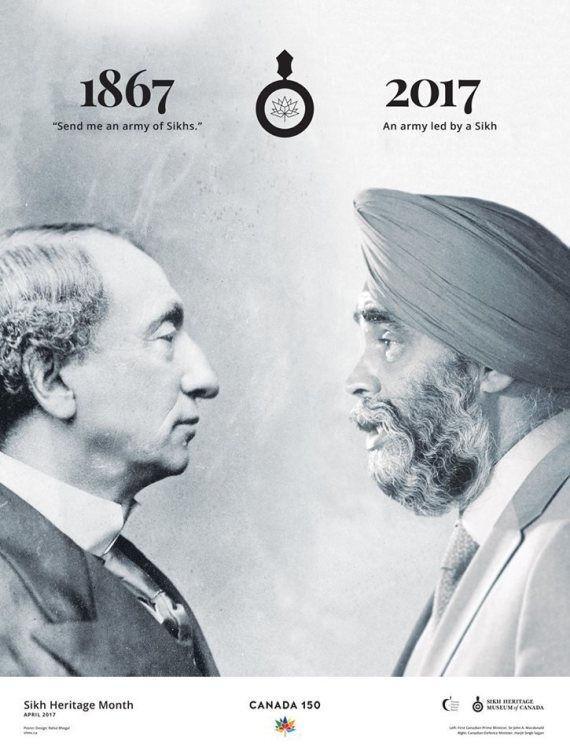 The image shows the country's first prime minister, John A. Macdonald, eye to eye with Canada's first defence minister of Sikh heritage, Harjit Sajjan.
Macdonald's featured quote, "Send me an army of Sikhs," is excerpted from a letter he wrote to Queen Victoria:
"War will come someday between England and the United States and India can do us yeoman's service by sending an army of Sikhs … across the Pacific to San Francisco and holding that beautiful and immortal city with the surrounding California — as security for Montreal and Canada."
While his suggestion is somewhat cheeky, Macdonald's words reveal a lot about how Sikhs were viewed in 1867, and for years after that.
That contrasts greatly with the caption above Sajjan's photo: "An army led by a Sikh."
And that's exactly the difference 150 years makes.
The poster was created by the Sikh Heritage Museum of Canada as a "conversation piece" to "stir emotion and create dialogue."
Story continues after slideshow:
Notable Canadians With Sikh Heritage
Sajjan was a Vancouver police detective and then a commander in the Canadian Armed Forces before becoming the minister of national defence.

The former reporter and MuchMusic VJ started a cosmetics brand for women with medium skin tones.

Harnam Singh Hari was the first Sikh to move to Alberta. He arrived as a stowaway but became a successful rancher and farmer who retired as a millionaire. Now, his former farmland in Calgary is a park that bears his name.

Hasmeet Singh, Kunwardeep Singh and Davinder Singh use bhangra to bring Sikh culture to Nova Scotia and raise money for charity.

In 2014, she became the first Sikh woman to wear a turban in the Royal Canadian Navy.

An NHL broadcaster and announcer for Hockey Night in Canada.

A champion Canadian figure skater and dancer.

A YouTube star and writer. Singh has over 11 million YouTube subscribers.

The first Sikh RCMP officer allowed to wear a turban.

Khaira is an NHL player and only the third Indo-Canadian to play in the league.

In 1993, the Ontario MP became the first politician with a turban to be elected in the U.S. or Canada.

Jagjit Singh Hans is a former professional wrestler who competed around the world. Now he's a philanthropist, with an elementary school named after him in Ontario.

An author, artist and poet who lives in Whitehorse.

She's the first female leader of the House of Commons.

Singh is a Toronto comedian and YouTube star.

She's an independent journalist, who was a CNN anchor for 14 years.

He was the first Sikh to enlist in the Canadian Army. He fought alongside nine other Sikhs in World War I.

A Montreal anti-war activist and social justice organizer.

He was a volunteer, activist and educator who has worked on HIV/AIDs awareness, poverty and addiction. He was awarded the Order of B.C.
While many interpret the poster to highlight the triumph of Sajjan to such an influential position or to shine a light on the history of Sikhs as soldiers, others called out the colonialist attitude of Macdonald in viewing them as military pawns.
The museum received a range of reactions to the poster on its Facebook page — and used the opportunity to invite the public to visit its exhibits in Mississauga, Ont. to learn more about the Canadian Sikh experience.
"This narrative is multilayered and we have been peeling back each layer in our exhibits. We look forward to seeing you."