Wab Kinew Set To Launch Bid To Lead Manitoba's NDP
WINNIPEG — When indigenous activist and author Wab Kinew officially launches his bid for the leadership of Manitoba's New Democrats this week, he will try to take the helm of a party struggling for money, unity and public support.
Kinew, who is 35 and was first elected to the legislature last April as a star candidate for the NDP, has been talking openly about putting together a leadership bid for months.
He will make it official Monday with the backing of some heavyweights from factions of the party that have been fighting since 2014.
Advisers to former premier Greg Selinger such as John Loxley and Todd Scarth are backing Kinew. So are Eugene Kostyra and Anna Rothney — advisers to Theresa Oswald, a former cabinet minister who led a failed coup against Selinger in 2014.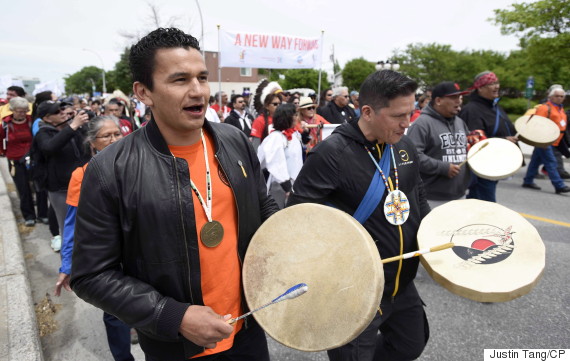 Wab Kinew drums during the Walk for Reconciliation in Gatineau in 2015. (Photo: Justin Tang/CP)
The coup divided the NDP prior to the April 2016 election that saw the party ousted from power and reduced to 14 legislature seats.
"I've tried to reach across different camps, if you will, or different fault lines because I do think it's important for the party to have unity now,'' Kinew said this weekend.
The leadership race will be decided in mid-September. Kinew's support in caucus includes fellow rookie legislature member Nahanni Fontaine, he said.
The only other person who has confirmed a leadership bid so far is Michelle McHale, a social-justice activist who sits on the executive of the Manitoba Federation of Labour. She joined the party only a year ago and has not attracted any major endorsements.
A controversial candidate
Kinew was a controversial candidate in last year's election because of misogynistic and homophobic rap lyrics and social media posts that surfaced from his past. He also has convictions for impaired driving and assaulting a taxi driver, for which he was recently granted pardons, he said.
Kinew repeatedly apologized for his actions and postings. He discussed his criminal convictions in his 2015 memoir "The Reason You Walk.''
Rothney noted Kinew's misogynistic and homophobic feelings — some of which were expressed on social media as recently as 2011 — are in the past.
"One big question for me was, is he a totally different person? I feel very comfortable that that is true,'' Rothney said.
Kinew said he has no more skeletons in his closet and he is prepared to continue to own up to his past. He also expects the governing Progressive Conservatives will launch attack ads on him if he wins the NDP leadership.
The Tories will have plenty of money for such ads if they choose to go that route. New figures from Elections Manitoba show the Tories raised $1.9 million last year via donations and fundraising — more than triple the amount raised by the NDP.
NDP donations dropped
The New Democrats saw their donations and fundraising revenue drop by more than 30 per cent last year, to $571,000.
The gap may be more important than ever in the next election in 2020 because the Tory government has introduced a bill in the legislature to increase limits on political donations and advertising.
Paul Thomas, professor emeritus of political studies at the University of Manitoba, said the Tory advantage is likely to lead to heavy advertising against whoever wins the NDP leadership.
"If the leader represents the party and you're able to attack that leader's credibility or trustworthiness, then you've got an advantage.''
The NDP's president, David Woodbury, said new fundraising efforts are underway. The party is optimistic more people will take out memberships this year to vote in the leadership race and, hopefully, stay on as the party unites.
"There's no question we have to do better this year,'' Woodbury said.
Also on HuffPost:
NDP Leadership Race 2017: Candidates
The veteran Ontario MP, first elected in 2004, joined the race in February 2017. He has long been an advocate for indigenous children and has spoken out passionately on behalf of the Attawapiskat First Nation.

The Manitoba MP, first elected in 2008, ran for the federal NDP leadership in 2012 but was eliminated after the first ballot. A strong performer in the House of Commons, she has served in several key critic roles for her party, including indigenous affairs, status of women, and jobs.

The veteran B.C. MP, first elected in 2004, was the first to enter the race. He's fluently bilingual and previously served as the NDP House leader.

An economist by training, Caron was first elected in 2011 and served as his party's finance critic. He joined the race shortly after Julian and Angus.

Who's Almost In?

Stogran is the former veterans ombudsman and a retired Canadian Armed Forces colonel.

El-Khoury, the founder of a Montreal consulting firm, is also registered to run.

Who's Thinking About It?

The deputy Ontario NDP leader has acknowledged that some are pushing him to jump into the federal pool. An Oct. 2016 Toronto Star story described him as: "Toronto-born, Newfoundland-reared, Windsor-educated, bilingual, multicultural, youthful."

The former president of both the Canadian Union of Public Employees and the Ontario Federation of Labour told The Globe and Mail in January 2017 he is mulling a bid. Ryan has run unsuccessfully for New Democrats at the provincial and federal level.

UP NEXT: Key NDP MPs defeated in 2015

In the 2015 federal election, Thomas Mulcair's New Democrats fell from 95 seats to 44. And several high-profile incumbents from across the country were defeated, usually to Liberal candidates. Here are a few key names that will not be returning to Ottawa...

First elected: 2006 Riding: Ottawa Centre Shadow cabinet role: Foreign affairs Dewar also ran for the leadership of the party in 2012.

First elected: 2008 Riding: Halifax Shadow cabinet role: Deputy leader, environment

First elected: 1997 Riding: Sackville—Eastern Shore (N.S.) Shadow cabinet role: Veterans affairs Stoffer was named Maclean's magazines Parliamentarian of the year in 2013 and frequently won the most congenial MP award.

First elected: 2008 Riding: St. John's East Shadow cabinet role: National defence Harris was also the longtime leader of the Newfoundland and Labrador New Democratic Party.

First elected: 2011 Riding: Hull—Aylmer Shadow cabinet role: Opposition whip Turmel served as interim NDP leader after Jack Layton stepped down to battle cancer. She was leader of the Official Opposition from August, 2011, to March, 2012.

First elected: 2012 Riding: Toronto Danforth Shadow cabinet role: Democratic and parliamentary reform Scott represented the Toronto riding held by former leader Jack Layton.

First elected: 2008 Riding: Welland Shadow cabinet role: Agriculture and Agri-Food

First elected: 2011 (though she served from 2004-2006 as a Liberal MP) Riding: Gatineau Shadow cabinet role: Justice

First elected: 2011 Riding: Halifax Atlantic Shadow cabinet role: Fisheries, deputy employment insurance Chisholm served as leader of the Nova Scotia New Democratic Party and ran for the federal leadership in 2012.

First elected: 2011 Riding: St. John's South—Mount Pearl Shadow cabinet role: Atlantic Canada Opportunities Agency

First elected: 2011 Riding: Newton—North Delta Shadow cabinet role: Employment and Social Development

First elected: 1997 Riding: Winnipeg Centre Shadow cabinet role: Public Works and Government Services Martin is perhaps the most quotable politician in Canada.

UP NEXT: Defeated Harper cabinet ministers

Though Stephen Harper was re-elected in his Calgary riding in the 2015 federal election, many members of his cabinet went down in defeat. Here are some key figures from Harper's inner circle who will not be returning to Ottawa...

Cabinet position: Minister of citizenship and immigration Riding: Ajax First elected: 2011

Cabinet position: Minister of finance Riding: Eglinton-Lawrence (Toronto) First elected: 2011 Oliver also previously served as minister of natural resources

Cabinet position: Minister of aboriginal affairs Riding: Madawaska—Restigouche (N.B.) First elected: 2011 (though he was a Progressive Conservative MP from 1984 to 1993).

Cabinet position: Associate defence minister Riding: Vaughan First elected: 2010 Fantino is probably better remembered for his controversial tenure as minister of veterans affairs.

Cabinet position: Minister of the environment Riding: Nunavut First elected: 2008 Aglukkaq previously served as minister of health, and was the first Inuk in Canadian history named to federal cabinet.

Cabinet position: Minister of natural resources Riding: Kenora First elected: 2008 Rickford previously served as minister of state for science and technology.

Cabinet position: Minister of fisheries and oceans Riding: Egmont (P.E.I.) First elected: 2008

Cabinet position: Minister of state for multiculturalism Riding: Edmonton—Sherwood Park First elected: 2008 Uppal also previously served as minister of state for democratic reform.

Cabinet position: Minister of state for science and technology Riding: London West First elected: 2008

Cabinet position: Chief government whip Riding: Vancouver Island North First elected: 2008 (though he also served as an MP from 1993 to 2006). Duncan previously served as minister of aboriginal affairs.