Jordan Gahan, Worker Killed In Oilsands Accident, Mourned By Family
CALGARY — The grieving father of a young man who died in a workplace accident in Alberta's oilsands region interrupted a courtroom apology Friday from one of the owners of a company that pleaded guilty in the death.
Jordan Gahan, who was 21 and from Fredericton, was operating heavy equipment at a Suncor pit that was being reclaimed near Fort McMurray when his excavator fell through ice into four metres of water. His co-workers were able to get him to the surface, but he died in hospital.
Brayford Trucking Ltd. pleaded guilty to two of five charges under Alberta's Occupational Health and Safety Act for failing to protect Gahan as an employee.
"There's no words or actions or anything that can possibly express to you how sorry we are and you no longer have your son. We can't even begin to imagine the pain and suffering that's associated with losing a child," co-owner Susan Brayford said in a statement to the court Friday.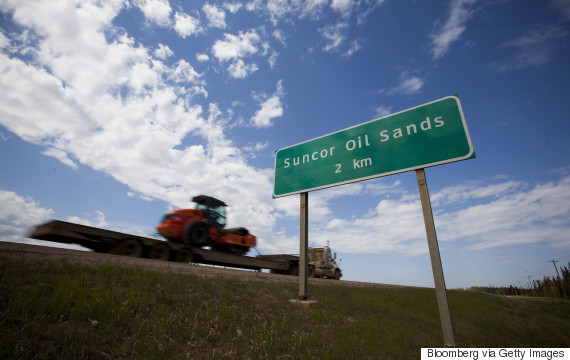 A truck drives past a Suncor Energy Inc. Energy Inc. oil sands road sign near Fort McMurray in 2015. (Photo: Ben Nelms/Bloomberg via Getty Images)
"We're so very, very sorry."
Brayford was interrupted by Paul Gahan.
"I apologize to the court, but it's just too much," he yelled.
Judge Harry Van Harten allowed Gahan to address the court, but with a warning.
"I totally appreciate how difficult a day this is for you, but it is for everyone that's here," he said. "I'm happy to hear what you have to say. Just do it in a respectful way please."
"I begged and pleaded with the RCMP that they had made a mistake. They made no mistake. Our son was gone and our hearts were broken."
Gahan said he appreciated that the Brayfords had "stepped up to the plate" and changed their safety policies.
"It's sad that it has to come at the cost of my dear son. On March 14, 2014, I was sentenced to ... basically life in prison with no chance of parole until I die. I was sentenced by the incompetence and the capabilities that didn't follow procedures properly," Gahan said.
Six pictures of his son were placed in the courtroom to give the family comfort. Leica Gahan, Jordan's mother, said she didn't want to believe the RCMP when they told her that he had died.
"I begged and pleaded with the RCMP that they had made a mistake. They made no mistake. Our son was gone and our hearts were broken," she said.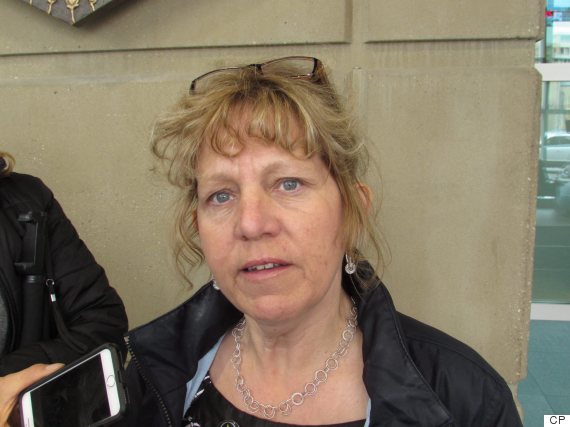 Leica Gahan, whose son Jordan died in a workplace accident in 2014 near Fort McMurray, talks to reporters on April 28. (Photo: Bill Graveland/The Canadian Press)
"I know that grieving for Jordan will last a lifetime. I will grieve for him until the day we are reunited in heaven. Losing my son Jordan was the worst thing that could ever happen to me in my 50 years on this earth."
The court imposed a fine of $100,000 as well as two years of corporate probation under the Criminal Code.
"It was a meaningless and preventable death," said Van Harten.
But there are mitigating factors, including changes to safety measures at the company and the plea of guilty, he added.
"It was a meaningless and preventable death."
Van Harten also noted there was also a personal apology and expression of sorrow from the Brayfords, whom he described as "conscientious contributing citizens of the community."
"The Brayfords are clearly not hiding behind the corporate shield as they might legally be allowed to do. Unlike some corporations ... this company is not going to pay a penalty and move on and consider the penalty the simple cost of doing business."
Also on HuffPost:
13 Deadly Workplace Disasters
At least 1,000 workers died after a factory building near Dhaka, Bangladesh, collapsed in April, 2013. The building's owner was subsequently accused of ignoring signs the building was unsafe as well as illegally adding extra floors to the structure.

After failing to disclose unsafe stores of ammonium nitrate, among other safety violations, a plant owned by West Fertilizer Co. exploded, killing 14 people and injuring 160.

A national debate on workers' rights began after a fire spread though a Greenwich Village garment factory, called the Triangle Shirtwaist Factory, in 1911. The cause of the fire, which claimed the lives of 145 workers, is still unknown. (AP Photo/File)

Shortly after a fire broke out on board, the SS Grandcamp's cargo of 2,300 tons of ammonium nitrate -- used for fertilizer -- exploded. The blast killed more than 400 people and is counted among one of the largest non-nuclear explosions in history.

The Halifax explosion became known as the largest man-made pre-atomic explosion in history when the French ship Mont-Blanc, carrying almost 3,000 tons of explosives, collided with Norweigan ship Imo on December 6, 1917. About 1,800 people died and more than 9,000 were injured in the explosion, which reportedly even caused a small tsunami.

On December 3, 1984, a plant owned by U.S. chemical manufacturer Union Carbide leaked about 45 tons of gas in Bhopal, India. The gas spread to communities surrounding the plant, killing more than 2,000 people. It's estimated today that the spill may be responsible for more than 15,000 deaths.

In one of the largest mine disasters in history, 1,060 miners died in northern France on March 10, 1906, after an explosion at Courrieres Colliery mines.

Officially, 476 mostly migrant and African-American workers died as a direct result of exposure to the mineral silica while working on the Hawk's Nest Tunnel in West Virginia. However, it's estimated that the actual number may be closer to 1,000, when also considering those who indirectly died as a result.

More than 1,500 workers were killed at the Honkeiko mine in northern China after a dust and gas explosion. The tragedy is regarded as the worst mining disaster of all time.

Almost one-third of Mexico City's entire gas supply exploded in 1984, killing 500 to 600 people and injuring thousands more when a gas leak at Petroleos Mexicanos plant in San Juanico spread to the complex's flare pit.

The worst mining disaster in U.S. history happened on December 6, 1907, when an underground explosion killed 362 workers.

Faulty construction, as well as poor management decisions, have largely been blamed for the collapse of the five-story Pemberton Mill in 1860. The tragedy killed 145 workers.

More than 100 workers were killed in a blaze at the Tazreen Fashions Factory in December 2012. The factory had received multiple warnings and was denied a safety license before the deadly fire took place.