B.C. Opioid Crisis: 15 People Died Of Drug Overdoses In Vancouver In One Week
VANCOUVER — British Columbia's opioid crisis became a focal point of the province's election campaign on Thursday after receiving less attention than other issues, despite the ongoing death toll.
Fifteen people died of overdoses in Vancouver last week alone, which brought the total number of deaths this year to 117 and led Mayor Gregor Robertson to issue a statement demanding action from the next provincial government.
"This crisis is B.C.'s most tragic public health emergency in decades, and yet urgent health-care interventions that could immediately save lives are not being facilitated," said Robertson, a former NDP member of the legislature. "The next provincial government needs to immediately take action on the overdose death crisis because the current government's approach is not working."
The NDP has promised to create a standalone Ministry of Mental Health and Addiction, among other measures, while Liberal promises include $12 million for up to 28 youth addiction treatment beds and $2 million for the new B.C. Centre on Substance Use.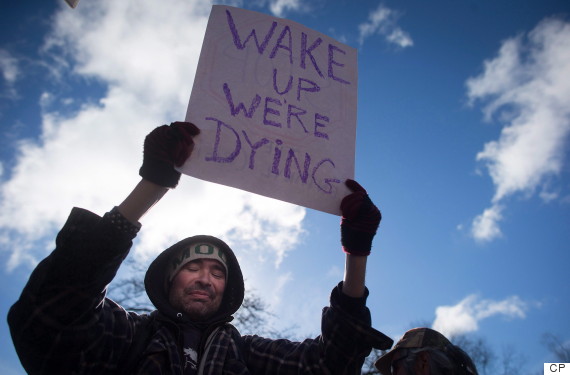 Dean Anderson holds up a sign before a march on the first National Day of Action to draw attention to the opioid overdose epidemic, in the Downtown Eastside of Vancouver, B.C., on Feb. 21. (Photo: Darryl Dyck/The Canadian Press)
New Democrat Leader John Horgan said Christy Clark's Liberal government declared a public health crisis a year ago and yet the problem has gotten worse.
"It strikes me we're not doing enough to address this," he said at a campaign stop in Richmond. "I want to make sure there's a minister responsible for mental health and addictions who gets up every day to make sure we're making progress on this health crisis, not just ignoring it."
He wouldn't say how much an NDP government would spend on the crisis if the party wins Tuesday's election, saying to assume what is needed five days before an election would be presumptuous.
Earlier, Horgan visited a Vancouver fire hall where he noted the difficult circumstances affecting firefighters caught up in the overdose crisis.
Fentanyl In Metro Vancouver
Police in Delta, B.C. said it's a miracle that no one died after nine people overdosed within a 20-minute period on what are believed to be drugs laced with fentanyl. Emergency crews responded to a series of nearly simultaneous calls from four locations about recreational drug users who thought they were taking cocaine.

Hardy and Amelia Leighton, both in their 30s, were found dead July 20, 2015, leaving behind their two-year-old son Magnus. Toxicology testing confirmed that the couple ingested toxic levels of fentanyl in combination with other drugs.

From January to May 2015, 54 deaths were linked to fentanyl. From July 7 to Aug. 7, 2015, fentanyl was detected in at least 12 deaths, said the BC Coroners Service. In 2012, there were a total of 15 deaths related to the narcotic.

Jack Bodie, 17, and a 16-year-old friend were both found unconscious in a Vancouver park on Aug. 1, 2015 in a suspected fentanyl overdose. The teens were rushed to hospital where Bodie was placed on life support but he died a day later. His friend recovered and was released from hospital. Police believe the pair took fake Oxycontin.

Fake Oxycontin pills containing fentanyl are displayed during a news conference at RCMP headquarters in Surrey, B.C., on Sept. 3, 2015. Fentanyl is 50 to 100 times more toxic than morphine.

The cheap synthetic opioid often added in drug labs to heroin or Oxycontin to make it more potent and fast-acting, according to police. (Pictured is a photo released by Vancouver police of packages of fentanyl which users thought were heroin.)

North Vancouver RCMP said they suspect the death of a 31-year-old man on July 31, 2015 is also linked to fentanyl. A relative found the man in distress and called police, but he died at the scene.

On Aug. 9, 2015, 16 people overdosed in Vancouver — including six in one hour — from pink heroin that police suspect was laced with fentanyl.

Mounties showed off equipment, pills, money and weapons seized from a counterfeit Oxycontin production facility in Burnaby in 2015. They said there was enough fentanyl pills to put 200 to 300 people's lives at risk. Riley Goodwin, 26, of Vancouver, has been charged with production and possession for the purposes of trafficking.

RCMP Cpl. Derek Westwick shows off seized pill making equipment during a news conference at RCMP headquarters in Surrey, B.C. on Sept. 3, 2015. Among the gear was a pill press capable of producing 18,000 tablets an hour, said police.

A member of the RCMP Clandestine Laboratory Enforcement Team is framed by pill manufacturing equipment while standing in a protective suit, of the type worn when dismantling drug production facilities containing fentanyl, during a news conference at RCMP headquarters in Surrey, B.C., on Sept. 3, 2015.

RCMP Cpl. Derek Westwick of the RCMP Clandestine Laboratory Enforcement Team, holds genuine Oxycontin pills, left, and seized fake Oxycontin pills containing fentanyl, right, during a news conference at RCMP headquarters in Surrey, B.C., on Sept. 3, 2015.

In October 2014, Vancouver police issued a warning about fentanyl masquerading as heroin. It caused more than 30 overdoses and one death that month.
Dustin Bourdeaudhuy, vice-president of Firefighters Union Local 18, said they desperately need more help.
"We went on 700 overdose calls in the month of April. That's just unheard of. There needs to be some funding coming to help out the municipalities from the provincial and federal governments. We're not seeing that quick enough and it needs to happen now."
Clark's campaign also stopped in Vancouver, where she brushed off comments from Alberta Premier Rachel Notley that B.C. lacks the legal authority to ban thermal coal shipments through its ports.
Clark responds to Notley
"I appreciate their view. I would say, though, that Albertans are less familiar with our legislation than I am and we've been working on this for several months. I think, though, that the federal government after the election, should we be re-elected, will heed our call to ban thermal coal."
Clark has asked the federal government to ban the export of thermal coal through B.C. in response to a new tariff on Canadian softwood exported to the United States. Most of the coal comes from the United States but Clark's promise of a $70-a-tonne carbon tax would also hurt Alberta.
Liz Edinger, a law professor at the University of British Columbia, said she doubts Clark can follow through regulating thermal coal exports because it may come too close to the federal jurisdiction of international trade.
But she said it's a grey area and B.C. could have the authority, depending on how it frames any legislation.
"What are they really trying to do here, just clean up the environment? Fine, that seems perfectly legit."
"It's the context, the circumstances, in which it is being done or imposed, which make it look a little bit iffy," Edinger said.
"What are they really trying to do here, just clean up the environment? Fine, that seems perfectly legit," she said. "But it could be that there is another purpose, to control and affect international trade. That's a no-no. You can't do that as a province.''
Green Leader Andrew Weaver said April was the strongest month ever in donations received for the B.C. wing of the party.
"We banned corporate and union donations as a matter of principle, because it was the right thing to do," he said in a statement. "As a result, our fundraising has increased."
The party didn't release the value of the donations.