John Collyer, Bridgewater, N.S. Police Chief, Charged With Sexually Assaulting Teen
BRIDGEWATER, N.S. — The police chief in Bridgewater, N.S., has been charged with sexually assaulting a teenaged girl.
The province's Serious Incident Response Team said Thursday it learned of allegations against 53-year-old John Collyer from the RCMP in August, but it required some time to collect all of the evidence.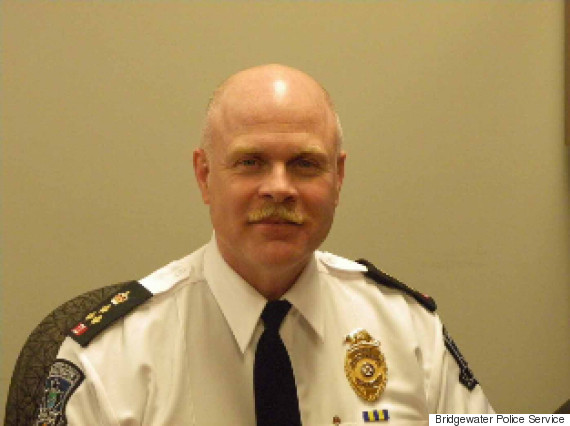 John Collyer was placed on administrative leave by Bridgewater's police commission in August. (Photo: Bridgewater Police Service)
"It involved interviews with many people but we were also seeking ... certain documentary evidence that was in the hands of a third party and the nature of where and how it was held led to delays that were beyond our control,'' said Ron MacDonald, the director of the police watchdog agency.
MacDonald said the girl was 17 at the time of the alleged offence in the Bridgewater area on Nova Scotia's south shore, but he declined to provide her current age.
Long-serving officer on the force
The agency issued a statement saying it has laid one charge of sexual assault and two charges of sexual exploitation against Collyer, and said the offences are alleged to have occurred between April 1 and July 31 last year.
MacDonald said it is the first time in his five-year tenure with the independent agency that charges of sexual assault have been laid against a police chief in the province, although there have been a number of investigations of police officers.
Collyer was placed on administrative leave by Bridgewater's police commission in August after it became public that SIRT was investigating the alleged sexual assault.
He had been police chief for five years at the time of the original allegations, and prior to that was a long-serving officer with 26 years on the police force.
Collyer is scheduled to appear in provincial court in Bridgewater on June 14.