Rigaud Mayor Says Flood Evacuees Are 'Crying Like Babies'
While historic floods have forced the evacuation of more than 1,500 people from their homes in Quebec, one mayor said residents of his town were "crying like babies."
"People have to be evacuated, and we put them in boats, and they're crying like babies," Rigaud Mayor Hans Gruenwald Jr. said at a press conference. "I'm sorry. They're at a point now where they're not in a position to decide anymore their own future."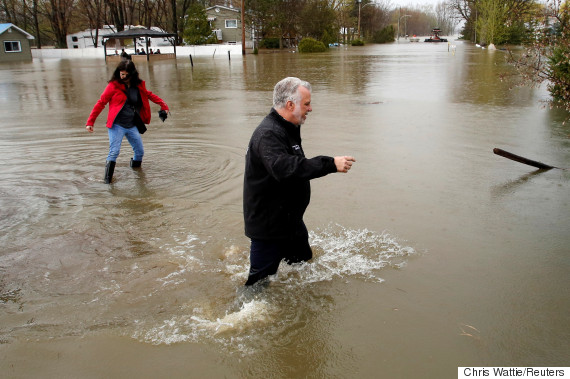 Quebec Premier Philippe Couillard walks through the water while touring a flooded residential area in Rigaud, Que., on Saturday.
Rigaud ordered a mandatory evacuation on Sunday. A state of emergency had already been in place for several days.
More than 1,500 soldiers have been deployed in Quebec to help with the flooding, which the province's Environment Minister David Heurtel described as "beyond the worst scenarios that have occurred in the last 55 years
With files from the Canadian Press

Watch the video above to see the mayor's comments.

Follow HuffPost Canada on Facebook, Twitter, and Instagram