University Of Manitoba Student Delivers 150 Care Packages To Asylum-Seekers
WINNIPEG — A University of Manitoba student wanting to help asylum-seekers crossing the border from the United States on foot has delivered 150 care packages to them.
Half the packages were delivered to a newly converted reception centre in Gretna, Man., and the rest went to the Salvation Army, where many border-crossers have been staying since mid-February.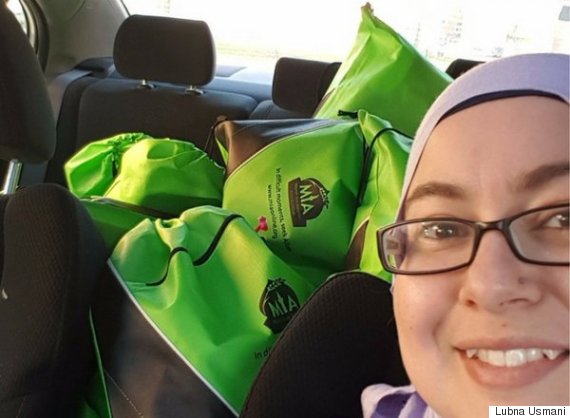 Lubna Usmani delivers care packages to asylum-seekers in Manitoba. (Photo: Lubna Usmani)
Lubna Usmani told CTV Winnipeg she made child-tailored packages with colouring books, crayons and a baseball cap, as well as kits designed for adults.
The packages include personal hygiene items such as a toothbrush and towel.
Usmani, who also works for the Manitoba Islamic Association's refugee committee, says it's nice to be able to welcome people to the province and to Canada.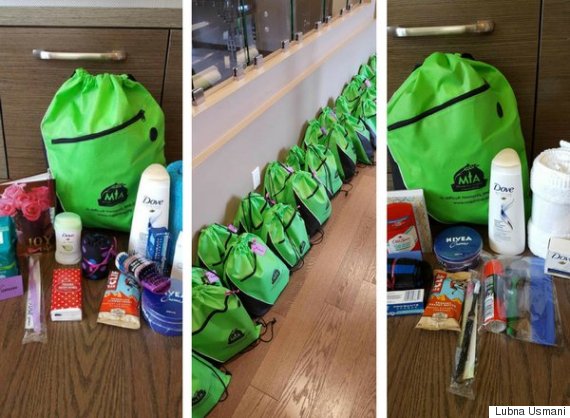 She says she was inspired to give back after learning about two men from Ghana who crossed the border near Emerson, Man., on Christmas Eve and lost fingers due to severe frostbite.
"They really suffered with their trip,'' she said.
(CTV Winnipeg)
Also on HuffPost:
RCMP Officers Help Refugee Claimants Into Canada From U.S. Border
A U.S. border agent questions two families that arrived in a taxi to cross the U.S.-Canada border near Hemmingford, Que., on Feb. 17, 2017. A number of refugee claimants have been braving the elements to illicitly enter Canada.

Meanwhile, an RCMP officer extends his hand to help a young man cross into Canada.

A man tosses his family's luggage over the the U.S.-Canada border as a U.S. Border Patrol agent checks his documentation.

While being questioned, the man grabbed his family members' passports from the U.S. agent and made a run for the border, Reuters reported. The agent said the man was in the U.S. illegally and would've been arrested if he hadn't made it into Canada first.

RCMP officers helped the children over snowbanks.

A man cries after successfully crossing the U.S.-Canada border.

A U.S. Border Patrol agent passes a stroller to an RCMP officer left over after the group crossed the border into Canada.

As per procedure, the asylum-seekers were arrested after illegally crossing into Canada.