Andrew Scheer Says Being Speaker Freed Him Of Harper-Era Baggage
OTTAWA — When Andrew Scheer first started telling people he was considering a run for the leadership of the federal Conservatives, he'd often get a raised eyebrow in response.
Scheer served four years as Speaker of the House of Commons, following several years of serving as deputy Speaker. In that gig, he was in charge of defusing partisan fights; why now, people wondered, would he want to start them?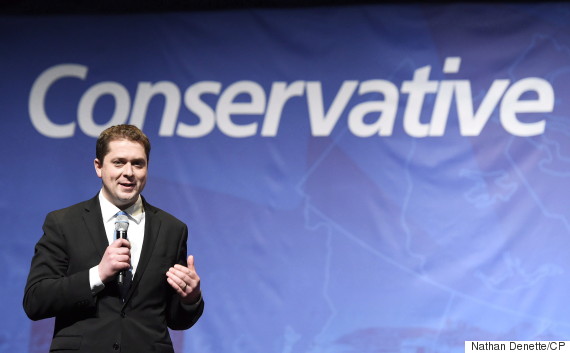 Andrew Scheer speaks during the Conservative Party of Canada leadership debate in Toronto on April 26, 2017. (Photo: Nathan Denette/The Canadian Press)
Now, as he finds himself bumping elbows with the front-runners with just two weeks to go, Scheer acknowledges that being Speaker freed him from some of the previous Conservative government's excess baggage.
"There are some things that we might want to start a new chapter on, and not having been in cabinet, there's a certain sense of separation from that era," he said in an interview this week.
In other ways, though, Scheer's approach mirrors that of his would-be predecessor. He favours, for instance, Stephen Harper-style targeted tax breaks, like allowing parents who home-school their kids to claim a tax deduction of up to $1,000.
The issue, he said, is more of tone. "We just need to do a better job of making our policies resonate with everyday Canadians on a more practical level."
Also on HuffPost:
Conservative Leadership Candidates
Federal Conservatives are looking for a full-time replacement for Stephen Harper. Here's who's running to become the next Tory leader.

First elected in 2006, Bernier served as minister of industry and minister of foreign affairs — a position he resigned in 2008 after leaving government documents at the home of an ex-girlfriend with ties to the Hells Angels. A high-profile MP from Quebec, he was reappointed to cabinet in 2011 in the junior role of minister of state for small business and tourism. He's already announced that he's going for it.

Dr. Kellie Leitch, a pediatric surgeon, outgoing minister of labour and minister for the status of women, reportedly has a team in place to mount a campaign. First elected in 2011, Leitch was easily re-elected in the Ontario riding of Simcoe-Grey. Though also considered a Red Tory, Leitch raised eyebrows during the campaign by declaring herself "pro-life" and announcing government plans to introduce a tip line for so-called "barbaric cultural practices."

Chong, who quit the Harper cabinet in 2006 on a matter of principle, is also running. The longtime Ontario MP has earned a reputation as a bit of a "rebel," thanks to his Reform Act and calls for conservatives to do more to fight climate change.

Deepak Obhrai, a former Reform MP from Alberta who was first elected in 1997, is the dean of the Conservative Party caucus. He formally jumped into the race in July 2016.

Andrew Scheer, a Saskatchewan MP who served as Speaker of the House of Commons from 2011 to 2015, joined the race in Sept. 2016. Scheer gave up his Opposition House leader role earlier that month to continue exploring a bid.

The social conservative from Saskatchewan jumped into the race in August 2016. Trost, first elected in 2004, is anti-abortion, anti-same-sex marriage, but is also very fiscally conservative.

The Ontario MP is a former air force captain. First elected in 2012, O'Toole has connections in Atlantic Canada and the GTA, and is seen as more of a fresh face.

The Quebec MP and former public safety minister is the man behind the C-51 anti-terrorism law.

First elected in 2008, Lisa Raitt was perhaps the most high-profile woman in Harper's inner circle. Her name was also floated as a possible contender for the Ontario Progressive Conservative leadership. Raitt served as minister of natural resources, minister of labour, and most recently as minister of transport. While several other Ontario cabinet ministers went down in defeat to Liberals, she was re-elected in the riding of Milton by more than 2,400 votes. Another Red Tory, she has been vocal about the Conservatives' struggle to appeal to women voters.

The former immigration minister and Ontario MP is also running. First elected in 2011, Alexander was defeated four years later. He faced questions over his handling of Canada's response to the Syrian refugee crisis. He also joined Leitch in that ill-fated campaign announcement of a tip line for "barbaric cultural practices."

Saxton was the MP North Vancouver for seven years before losing his seat in 2015. He also served as a parliamentary secretary to two finance ministers and the Treasury Board president.

The bilingual Vancouver businessman unsuccessfully ran for the leadership of the B.C. Conservative Party. He joined the race in Oct. 2016.

An Ontario MP from 2006-2015, Lemieux was defeated in the last election. He is a social conservative and veteran. He joined the race in Nov. 2016.

UP NEXT: Canadian Political Lookalikes

NEXT: U.S. Politicians and their lookalikes

From dentuso

From dentuso

From dentuso

From Lauster123

From dentuso

yosoyeldecider: Who could forget this classic separated-at-birth pair?

emerson7: Jon Stewart's observation
Born in Ottawa, Scheer finished his undergraduate degree in Saskatchewan and stayed, first running for Parliament from there in 2004. In the field of 13 leadership contenders, Scheer is the only Westerner who tops fundraising and poll numbers.
For a time, there was speculation that Saskatchewan Premier Brad Wall would enter, but Wall instead has subtly thrown his support behind Scheer, praising his opposition to federal carbon pricing and charging GST on home heating bills.
Even Wall acknowledges Scheer has faced an uphill battle.
"I think he was underestimated going into this thing," the premier told radio station CKRM last month. "By all accounts, he's built a national campaign and he's actually doing well in Quebec."
Scheer's campaign also claims dozens of endorsements from sitting Conservative MPs and senators, though some have since decamped to rival Erin O'Toole. While Scheer had more donors in the first quarter of 2017, O'Toole raised slightly more money, seen by some as a sign they are evenly matched.
But Scheer's biggest competitor is Quebec MP Maxime Bernier.
Splits with Bernier on supply management
While Scheer is fluently bilingual, he's also seen in Quebec as an alternative to Bernier, especially since a group of Quebec farmers who favour keeping the supply management system for dairy products threw their support behind Scheer.
Bernier wants to end the decades-old system; Scheer does not.
The dynamic between the two isn't the West vs Quebec, but something more fundamental.
Rather, he said, it's about "the difference between someone who is trying to lead a party and find that common ground, and a leader who has kind of a personal ideology that he is offering and trying to get the members to buy into it." 
Bernier's approach risks shutting down the Conservative tradition of developing policy from the ground up, he said; official party policy is to support supply management, for instance.
But Scheer has first-hand experience with being on the opposite side of where the grassroots want to go.
A social conservative who wants to win
He's a social conservative, but he supported party members who voted last year to strike a policy opposing same-sex marriage from their handbook, not because he supports same-sex marriage — he doesn't — but because Canadians have moved on.
That position spawned a rival candidacy: fellow Saskatchewan MP Brad Trost stormed out of the party's convention last May in opposition to Scheer, and later went on to launch his own leadership campaign.
Social conservative groups have also disavowed Scheer, who opposes abortion, for refusing to rekindle the debate about the controversial issue — another Harper echo. Instead, they urge their members to support Trost or Pierre Lemieux, who are spoiling for a fight on the file. 
That said, Scheer the pragmatist insists there would still be room under his leadership to advance social conservative causes, if not abortion or same-sex marriage.
"If social conservatives have 50 things they are wanting to accomplish, maybe 30 of them would be divisive and wouldn't enjoy broad-based support in our own caucus," he said.
"So, let's work on the other 20."