Liberal Pledge To Overhaul Refugee System Postponed Indefinitely
OTTAWA — A Liberal election promise to overhaul the way asylum claims are handled has been postponed indefinitely despite rising numbers of people seeking refuge in Canada putting the system at risk, The Canadian Press has learned. 
One of the options on the table, multiple sources have told The Canadian Press, is rejigging the historic Immigration and Refugee Board, and giving some of its authority over to the Immigration Department itself.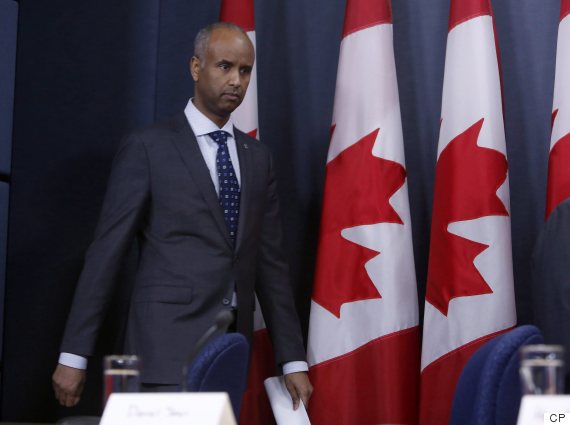 Immigration Minister Ahmed Hussen arrives at a press conference in Ottawa. (Photo: The Canadian Press)
But those advocating for the government to do something before backlogs threaten the integrity of the system say they are running up against a Liberal government seeming to have lost interest in spending any more money or political capital to help asylum seekers.
The starting point is the designated country of origins system, which determines how fast asylum claims are heard based on where they are from — a system that should, in theory, help weed out unfounded claims faster.
Internal evaluations have shown that hasn't quite worked, and the system has drawn the ire of refugee advocates for creating a two-tier approach that includes unworkable timelines for hearing cases and their appeals. Elements of the program have already been struck down by the Federal Court.
Trump election, cabinet shuffle factors in delay
The Liberals had been on the cusp of doing away with it, going even farther than their original promise to use an expert panel to determine which countries belonged on that list.
But a planned January roll-out was postponed after the election of U.S. President Donald Trump and the subsequent Liberal cabinet shuffle that saw a replacement of the federal immigration minister.
Then in March, as the issue of illegal border crossers dominated global headlines and Question Period, plans to repeal the designated-country-of-origin scheme were scrapped again, sources said.
They haven't been rescheduled, even as the IRB itself has been among those saying the system needs to go as a way to ease the pressure. 
"It would simplify our life from a case management point of view," chairperson Mario Dion said in an interview with The Canadian Press in March.
Story continues after slideshow:
Trudeau Greets Syrian Refugees
Prime Minister Justin Trudeau greets 16-month-old Madeleine Jamkossian and her father Kevork Jamkossian, refugees fleeing the Syrian civil war, during their arrival at Pearson International airport, in Toronto on Dec. 11, 2015.

Prime Minister Justin Trudeau gives newly arrived Syrian refugee Sylvie Garabedian a winter jacket as her mother Anjilik Jaghlassian looks on.

Prime Minister Justin Trudeau greets Syrian refugees Lucie Garabedian, her father Vanig Garabedian, mother Anjilik Jaghlassian, and sister Anna-Maria Garabedian.

Prime Minister Justin Trudeau greets new Syrian refugees Georgina Zires, centre, 16--old Madeleine Jamkossian, and her father Kevork Jamkossian.

Prime Minister Justin Trudeau examines welcome bags before greeting refugees from Syria at Pearson International Airport in Toronto.

Prime Minister Justin Trudeau poses for a selfies with workers before he greets refugees from Syria.

Ontario Premier Kathleen Wynne offers a teddy bear to 16-month-old Madeleine Jamkossian and her father Kevork Jamkossian.

UP NEXT: Canada's response to the Syrian refugee crisis

In 2011, internal conflict erupted in Syria that would later escalate into a full-blown civil war that rages on to this day, now complicated by the arrival of Islamic militants from neighbouring Iraq. Since the start, the United Nations High Commissioner for Refugees has called on countries to help resettle some of the most vulnerable Syrians who can never return home, a call that grew louder as the crisis has escalated. Here's a look at how Canada responded over time. (Information by The Canadian Press) Syrians hold a large poster depicting Syria's President Bashar Assad during a rally in Damascus, Syria in 2011.

- Canada closes its embassy in Damascus, a move that would come to have major repercussions for refugee resettlement out of the Middle East as that visa post was handling the majority of the files for refugees from other countries who had sought temporary safety in Syria. Those files were then transferred to nearby countries, leaving visa officers scrambling to handle them and the start of a surge in Syrian refugee applications. - By the end of 2012, the UNHCR had registered close to half a million Syrian refugees in neighbouring countries. - Syrian Canadians call on Canada to do more to support the refugees, including speeding up family reunification programs and opening the doors to more refugees, but the government said without an official request from the UN for resettlement, it would not act. Syrian refugee girls wash their clothes at a camp in Idlib, Syria, in October of 2015.

The number of people registered as refugees from Syria or being assisted by the UN hits one million. A Syrian refugee boy at a camp in Turkey in October 2015.

The UN makes its first formal request to member countries to assist in refugee resettlement, asking for 30,000 spaces by the end of 2014. Syrian Kurdish refugees walk in the United Nations Refugee Agency refugee camp in Suruc, Sanliurfa province, in January 2015.

The Harper Conservatives promise to admit 1,300 Syrian refugees by the end of 2014, with the majority sponsored by private groups. The 200 spots available to government-assisted refugees are not new refugee spaces — the Conservatives choose to allocate the 200 they set aside each year for the Syrian program. Stephen Harper speaks in the House of Commons.

Prime Minister Stephen Harper visits a refugee camp in Jordan, one of the main host countries for Syrians. He announces $150 million in humanitarian aid; over the course of the conflict Canada has been one of the lead financial donors for relief efforts in the Middle East and North Africa. By this point, some $630 million has been committed. Stephen Harper and wife Laureen Harper visit Za'atri Refugee Camp in Jordan in January 2014.

The UN High Commissioner makes a new request: an additional 100,000 places for Syrian refugees by 2016. Canada says it is reviewing its options. Antonio Guterres, UN High Commissioner for Refugees, speaks during a press conference in Geneva, Switzerland in October 2015.

Conservative Immigration Minister Chris Alexander admits that fewer than 200 Syrian refugees have arrived in Canada since the July 2013 promise, saying the UNHCR was slow passing on referrals. Chris Alexander speaks in the House of Commons.

By the end of the month, just over 1,000 Syrian refugees have arrived in Canada, meaning the government missed its deadline. A Syrian Kurdish refugee walks in a UNHCR refugee camp in Suruc in January 2015.

The Conservative government commits to allowing 10,000 more Syrian refugees in by 2018, most through the private sponsorship program. The focus is to be on religious minorities. Syrian refugee girls sit at the United Nations Children's Fund (UNICEF) 'Child Friendly Spaces' in the Zaatari refugee camp, near the Jordanian border with Syria in 2014.

The government finally meets its July 2013 promise to resettle 1,300 people, achieving it by increasing the number of government-assisted refugees. Stephen Harper gives the thumbs up during a photo opportunity.

The Conservatives order an audit of the government-assisted refugees coming out of Syria, citing security concerns. The review identifies no problems but delays the processing of those files for several weeks. Chris Alexander speaks at a press conference in Toronto in September, 2015.

The Conservatives pledge that if re-elected, they will allow a further 10,000 Syrians in over the next four years, continuing a focus on those being persecuted because of religion. Stephen Harper takes questions from the media on the campaign trail.

- Three-year-old Alan Kurdi dies during his family's escape from Syria. The photograph of his body on a Turkish beach and word his family had considered Canada as an eventual destination sees Canada's refugee response become a dominant issue in the election campaign. - The Conservatives increase available resources for the processing of refugee applications, promise to speed up resettlement of the 10,000 originally promised places and announce they'll match donations for Syrian relief. - The Liberals say they'll bring over 25,000 government-assisted refugees as soon as possible and encourage the private sector to take in more. They later promise to bring them in by the end of the year. A handout photo courtesy of Tima Kurdi shows a photo of her three-year-old nephew Alan Kurdi.

The Liberals win a majority government and say they remain committed to refugee resettlement. Justin Trudeau waves to the crowd as they arrive to Liberal election headquarters in Montreal.

The Liberal government announces its plan to resettle 25,000 Syrians. Immigration Minister John McCallum holds a news conference with Health Minister Jane Philpott and Defence Minister Harijit Singh Sajjan.
"I don't have a political view."
The Liberals do, observers said.
When they came into power and moved to make good on a promise to resettle 25,000 Syrians, the government believed it had broad public support for refugees, said immigration lawyer and refugee advocate Lorne Waldman.
Things have changed.
"The concern at the centre is that support has dissipated significantly because of a series of factors, the most important one being the emergence of Donald Trump," he said.
"And I think the concern is amplified by the Conservative leadership race where you have many of the candidates taking a very anti-immigrant posturing in their campaign."
When asked, a spokesman for the prime minister's office said they were not behind the delay in the DCO overhaul, but that it was rescheduled by the department.
"Support has dissipated significantly because of a series of factors, the most important one being the emergence of Donald Trump."
A spokesman for Immigration Minister Ahmed Hussen said only that the department continues to review the policy.
Claims have been rising steadily since the fall of 2015, but the issue shot to attention when hundreds of people began illegally crossing into Canada from the United States earlier this year. The Liberals have been under pressure from both Conservatives and the NDP to act, albeit in different ways, but so far haven't done anything.
If backlogs build in the system, the government will find itself in the exact same situation that led to the DCO being instituted in the first place —  long waits for decisions that inadvertently lure those who have weaker claims to come to Canada, because they can work while they wait for a decision and get some health care in the meantime.
The IRB is aware of the problem and has instituted reforms, including allowing claims from Syria, Iraq, Eritrea and as of June 1, Afghanistan, Burundi, Egypt, and Yemen to be decided without a hearing.
Those countries were selected because claims from there have high acceptance rates, there is a high volume of them and most are generally not complex.
Sources say claims like those are among the ones that could go to the Immigration Department, as opposed to the IRB, for adjudication.
The idea is fraught with difficulty.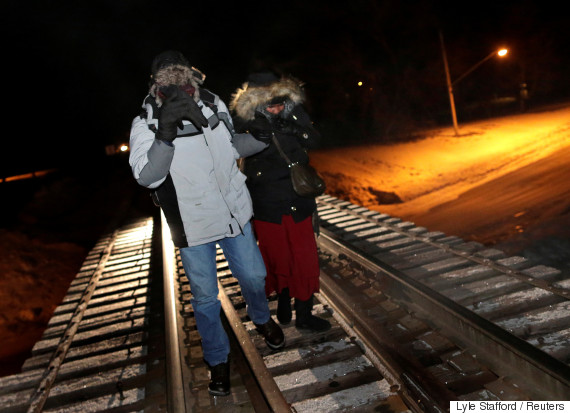 Refugees walk along railway tracks from the United States to enter Canada at Emerson, Man. on Feb 26. (Photo: Lyle Stafford/Reuters)
There's a big difference between the work the department ordinarily does and the work refugee judges do, said Vancouver immigration and refugee lawyer Peter Edelmann.
"It's very different from an individual perspective in terms of the stakes and from a constitutional perspective in terms of the law to make a fast decision on an  . . . application for a skilled worker than it is to send someone back where they're at risk of being tortured and killed," he said.
The very reason the IRB was established in 1989 was because of a Supreme Court hearing saying refuge claimants required an oral hearing, leading the government to establish the arms-length quasi judicial tribunal.
Giving bureaucrats a say in refugee determination risks politicizing the system, said Sean Rehaag, a professor at Osgoode Hall law school who follows the IRB's decision-making process.
Imagine the Canadian government is in the middle of difficult NAFTA negotiations and had to decide on whether or not to expedite a particular group of Mexican claims, he hypothesized.
For the civil servants on the file, there would be extraordinary pressure, and in reality, the current number of claims doesn't invite the need for dramatic change, he said.
"Refugee decision making is only a tiny fraction of the Canadian government's budget and they can make the so-called crisis go away by adequately funding the IRB," he said.