Anthony Cliche, Naked Quebec Fugitive, Captured Near Montreal
SAINT-JEROME, Que. — Quebec provincial police say they arrested a naked, handcuffed fugitive north of Montreal on Friday.
Anthony Cliche escaped police custody early Thursday morning and ran away while wearing a pair of pants and handcuffs.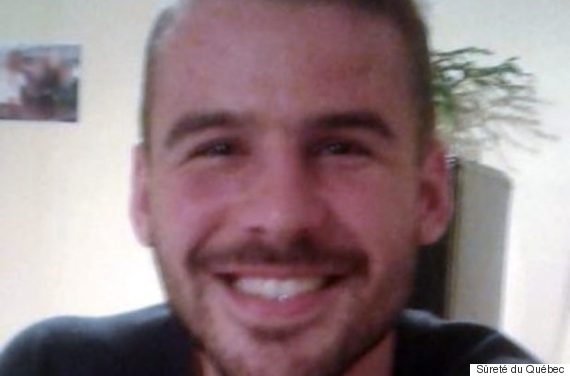 Police say they don't know why he was no longer wearing clothes when he was recaptured in Sainte-Sophie, 60 kilometres northwest of Montreal.
The 25-year-old was treated for hypothermia.
Also on HuffPost:
Police in Illinois say that Olivia Ornelas blamed her DUI and crashed vehicle on her boyfriend's failure to take her, as he promised, to the new "Twilight" movie.

Man Jumps Off Bridge To Avoid DUI Test.

Dylan Edward Contreras. 19, was arrested for providing false information about his identity after an encounter with Twin Falls police. Police then noticed that Contreras had his last name tattooed on his arm. He was arrested on three outstanding warrants.

Trevor Gladston Jr., 39, of Atlanta is accused of passing a note to a teller that said, "Give the money now or we start to shoot," at the Wells Fargo Bank in the 5400 block of Peachtree Boulevard around 12:30 p.m. Wednesday. The suspect left the bank without any money after the teller stepped away from the counter behind its bullet-resistant glass, Chamblee police said.

Ohio man Samuel Cole allegedly stomped on his girlfriend's chest so hard that her breast implant burst in February, 2012. Cole eventually took the woman to a hospital, but told her not to tell anybody at the hospital about the attack, according to the police report.

A Martin County sheriff's deputy in Florida arrested Ramon Blair, 28, based on tips from informants that Blair would have hundreds of dollars of crack cocaine "on his person." An initial search turned no results, but a more thorough search while in custody revealed that Blair had hidden the crack in, well, his crack. Blair was told to undress, squat, and cough -- and police found what appeared to be a white piece of paper in his buttocks, which contained crack cocaine.

Thomas Mills, 74 was arrested for prostitution in Myrtle Beach, S.C.

Evelyn Marie Fuller, a toothless 49-year-old woman from Pennsylvania, was arraigned on two counts of bank robbery in January. Her motive: She needed money for dentures, cops say.

Cops in Logan, Utah, say they brought an extremely intoxicated man to the hospital on Jan. 20. They put him in the care of 46-year-old hospital worker Hal Weston. When they returned minutes later, Weston was allegedly performing oral sex on the blacked-out patient. He was arrested on charges of forced sodomy.

Russell Christopher Hofstad is accused of skinning and eating a cat.

That's Mr. Beezow Doo-Doo Zopittybop-Bop-Bop to you. The man with the amazing name was born Jeffrey Drew Wilschke. He changed his name in October 2011, but got in trouble with Madison, Wisc. police on Jan. 5 when he was arrested for alleged possession of a knife, marijuana, and drug paraphernalia.

Patricia Deshong, 25, and Quentin Deshong, 22, were arrested Jan. 7 in Metal Township, Penn., after attempting to blow up a vehicle using flaming tampons. The incident took outside of a bar and, as a result, the duo were arrested on a variety of charges, including attempted arson, public drunkenness, and criminal mischief.

Ray Lynn Mitcham Jr., of Linden, N.C., was arrested Jan. 9, 2012, in Cumberland County, N.C., for crime against nature with a dog. Debbie Tanna, spokeswoman for the Cumberland County Sheriff's Office, said Mitcham's next door neighbor went to speak with him Jan. 2. The neighbor, who is also Mitcham's landlord, told detectives she opened the door to his mobile home and saw him attacking her dog. The mixed-breed female was taken to a veterinarian, who recovered a DNA sample. Tanna said Mitcham was arrested Monday after his DNA profile matched the sample recovered from the dog.

Oneal Morris is accused of posing as a doctor and filling a women's buttocks with cement, mineral oil and flat-tire sealant. The woman wanted to work at a nightclub and searched for someone who could perform plastic surgery at a cheap price to give her a curvier body. Police say Oneal was was born a man but identifies as a woman.

Hubert Lee Credit was beat up by four guys, had a puncture wound on his forehead, and needed to go to the hospital. That's why he allegedly stole an ambulance near his Tampa home. He got treatment and was later taken to jail.

A Washington motorist was busted for making a boneheaded decision -- he put a skeleton in the passenger seat so he could drive in the HOV lane.

An Alcoholics Anonymous meeting isn't the right venue for show and tell. Darrin Porter, 45, was charged with disorderly conduct and obstructing official business after he allegedly crashed an AA meeting while drunk and carrying a can of beer.

John Robin Whittle wouldn't let a good beer go to waste, police say. The 52-year-old ordered a beer at a bar, left to rob a bank, then returned to the watering hole to finish his brew, investigators in Pasco County, Fla. allege.

Timothy Clark probably didn't think his plan through when he allegedly shoplifted from a Wal-Mart at the same time that police were holding their "Shop With A Cop" charity event.

William E. Robinson, 66, was charged with reckless conduct and discharging a firearm on someone else's property after he allegedly opened fire on a tree outside a shopping mall with a shotgun in an attempt to knock down a sprig of mistletoe. Robinson reportedly told authorities in Decatur, Ga., that he always gets ready for Christmas by shooting at mistletoe and was surprised that he was being taken into custody.

Supermarket employees in Florida call the cops after they caught Dannial Ashley with a romantic dinner stuffed down his pants.

Shawn Weimer, seen here with his nine-year-old daughter at a suburban Detroit gas station on the night he let her drive after he'd been drinking, admitted in court it was "a mistake" to use her as a chauffeur.

During a stop for an alleged traffic violation, sheriff's deputies in South Carolina seized two crack pipes that Ella Jo Price had allegedly hidden in her private parts: One was concealed in her crotch and the other was stashed in her buttocks, deputies said.

Heather Lynn Mayo called police looking for help to get her unwanted boyfriend out of her Florida apartment, but she wound up getting arrested. Her significant other clued cops into the alleged fact that Mayo was the driver in a deadly hit-and-run accident in February.

They say criminals often return to the scene of the crime -- perhaps that's especially true for those who live on the same block as the scene of the crime. Police say siblings Shakir Taylor, pictured, and Kadija Taylor robbed a bank on the same Forestville, Md. block where they reside.

Wagner was arrested in Southington, Conn. after allegedly stabbing a woman with a Christmas ornament while fleeing from a craft fair vendor that accused her of shoplifting. The victim tried to block Wagner's escape, but was slashed with a seashell decoration by the fleeing thief.

Gwinnett County, Ga. police say Trevor Jones broke into a home, then used the victim's laptop to log into Facebook. The problem for Jones, allegedly, was that he forgot to log out before he left.

A Panama City mixed-race married couple found a cross burning in the driveway of their home. A few days later, two threatening notes filled with racially abusive language and signed by the "KKK" were found taped to the house, according to reports. LB Williams, the husband, eventually admitted to setting the fire and posting the notes, so his wife of almost seven years would drop her divorce filings.

Police arrested Joshua Andre Pee and claimed he plotted with a teenage friend to fake the 17-year-old's kidnapping in Florida from a celebrity tennis tournament. When Delray Beach police and FBI agents found Pee holed up in a Budget Inn hotel two days later, he fled and broke into a home, trying to hide. He was charged with burglary and resisting arrest.

Authorities in Georgia found Ranaldo Jack stuck in a woman's chimney. He was charged in connection with an attempted burglary.

Tina Arie and Howard Windham allegedly got frisky in the backseat of a patrol car taking them in on drug charges. Even though their hands were shackled behind them, Windham's pants were unbuttoned and lowered, allowing Arie to perform oral sex. The deputy ordered them to knock it off and they weren't hit with any additional charges.

Marsia Emanuel allegedly flagged a school bus in Winter Haven, Fla., boarded and beat the bus driver in front of her daughter, a student riding it already. Cops found Emanuel later at home where she dropped her underpants in front of them, they said. It's unclear what was her motive.

Investigators in California are trying to track down a man who robbed a bank armed with pesticide. The suspect appeared to be carrying a black semi-automatic handgun and a plastic container of pesticide when he held up the Pacific Western Bank in Rancho Santa Fe on Nov. 4, 2011.

Police say that 87-year-old Dorothy Desjardins shot her elderly husband, Peter, after suspecting him of having an affair with her hairdresser.

Police in Florida arrested Karen Henry, 45, after she allegedly threatened her 80-year-old father with a knife for not sharing his potato salad.

This camouflage might work well in nature, but it really stands out in the police station. Oregon investigators believe Gregory Liascos, 36, was wearing this "ghillie" camouflage when he attempted to break into the Rice Northwest Museum of Rocks and Minerals last week. After setting off alarms, the suspect allegedly fled into a wooded area nearby. Officers only found Liascos when a police dog bit what appeared to be a patch of grass -- which yelped in pain. On Oct. 12, 2011, authorities said Liascos failed to show up for his trial. A warrant has been issued for his arrest.

Houston police arrested Toni Jo Silvey for allegedly calling her ex-boyfriend more than 1,000 times over three months, breaking his windows and ramming his car.

Police arrested Joseph Wilson for the hundredth time after he allegedly stole $174 worth of socks and underwear from a Bealls department store in Port St. Lucie Florida.

Sheriff's deputies in Pinal County, Ariz., say Albert Tejeda's unique tattoos -- and his lengthy rap sheet -- leave him with a face they'll never forget. After Tejeda allegedly fled during a traffic stop, deputies claim they knew exactly who they were looking for and later found the 31-year-old walking around Casa Grande with a samurai sword.

Florida police arrested Ian Stuart Wood at his home in East Naples after he allegedly choked his wife over a heated game of Yahtzee.

Police in Iowa City, Iowa have accused 28-year-old Melissa Barbara Minarsich of attacking her boyfriend after he refused to have sex with her.

Police say Wilnelia Caraballo attempted to rob a convenience store using a toy gun, but found herself on the ground when one of the clerks yelled "Palm Bay police. Get on the ground!"

Ashton Graham allegedly used an inhaler to steal two cases of beer before slamming his head through a police cruiser windshield.

Even if Juan Aguirre got away, he would have ended up empty handed. Police said the 21-year-old Kansas stole six empty DVD boxes from a local adult entertainment shop.

Police arrested Alicia Ducharme after she allegedly poured cucumber salad over an elderly man's head.

Sutherland was arrested when her drug deal got interrupted by her three-year-old who fired a 12-gauge shotgun through the roof of a car in Marietta, Ga. on Sept. 6.

Police arrested Kimball for misuse of 911 after the 50-year-old Florida man called the cops in hopes of forcing a Taco Bell to serve him a midnight snack.

Daphne Melin A 32-year-old Long Island woman was busted after egging on two 12-year-old girls to fight outside an elementary school and then beating up a child who was watching nearby. Daphne Melin, of Shirley, encouraged the juvenile dust-up outside William Floyd Elementary School on Sunday afternoon, Suffolk County cops said.

Police were called to Francisco Rojas' home by his wife who complained that her husband was drunkenly trying to pull out his own tooth. In the end, Port St. Lucie cops arrested Rojas for breaching the peace because he repeatedly cursed at them despite warnings to calm down.

Kandice J. Child is seen in this booking photo from the Oxford County Jail. Child and her 15-year-old son were involved in an altercation when her son bit his high-school principal, drawing blood.

Josephine Smith is seen in this booking photo from the Pinellas County Jail. Smith was arrested after allegedly attacking and biting a piece of skin off a homeless man in St. Petersburg after proclaiming "I am a vampire, I am going to eat you".

Julio Socarras Mompeller allegedly exposed his genitals through a sunroof in the Florida Keys.

Stripping is a business best left to the pros. Natalie Behnke, 25, was taken into custody after allegedly taking off her clothing at Baby Dolls Lounge in Clearwater, Fla., and asking for money.

Booked! Christopher Anspach is serving 10 days in Iowa county jail after failing to return 27 library books during a nine month period.

Byron Womak is seen in this booking photo from Lake County Police. Womak was arrested after allegedly running down I-65 with a samurai sword.

Edwin Tobergta, 32, is seen in this booking photo from the Butler County Sheriff's Office. Tobergta was arrested after allegedly having sex with an inflatable pool raft.

It's not easy to be the most most memorable visitor when thousands of NASCAR fans come to town, but West Virginia's Joshua Greene made a pretty good run for that honor when police caught the streaking 27-year-old with a raccoon in his car.

This photo from the Maricopa County Jail shows 21-year-old Jessica Callaway. Callaway was arrested for child neglect after blowing marijuana smoke into her 10-month-old baby's mouth to calm her down.

These booking photos supplied by Centre County Corrections show Arthur Phillips, and Brittany Lurch. The couple were arrested after stealing over $1000 worth of groceries from a Pennsylvania Wegman's after their wedding ceremony to serve at their reception.

Hillsborough County (Fla.) Sheriff's deputies arrested Charles Smith for allegedly stealing $30,000 worth of landlord's belongings and selling them at a garage sale.

Michael Andes called Shelton, Conn. police more than a dozen times to report his own parking violation and to complain about the lack of enforcement on Aug. 25. Cops used a stun gun on him after he yelled repeatedly about parking problems.

Eric Fiegel is accused of stealing baby boa constrictors from a Mesa, Ariz. pet store by stuffing them into his baggy shorts on July 30.

Arlena Clark, 23, left, and Megan Callahan, 21, were charged with conspiracy to commit third-degree robbery, attempted third-degree robbery and breach of peace after wearing masks from the movie " Saw" and ordering a package store clerk to open the cash drawer, according to a police.

Lyle Monroe Bensley, 19, of Galveston, is being held on a charge of burglary with intent to commit assault after allegedly forcing his way into a woman's apartment and biting and striking her, according to police. Bensley later told officers he was a vampire who "needed to feed," according to The Houston Chronicle.

Police arrested Aaron Richardson for allegedly having two wives, but the Vero Beach, Fla. told cops that he didn't remember getting married to the first wife.

Henderson County (N.C.) sheriffs arrested Walter Kidd who had 154 poisonous snakes and lizards in his mobile home.

We're not saying there's guilt written all over his face, but Ismael Ambrosio is seen in this Aug. 9 booking photo from the Pinellas County (Fla.) Jail with a facial tattoo that could not have pleased police officers.

Some people really don't like Walmart, but not Travis Keen. The 29-year-old was arrested on an obscenity charge after exposing himself to women outside the store. When police asked why, Keen told them that coming to Walmart gets him "aroused."

New Jersey police allegedly found accused burglar Israel Cortes's hiding spot, because the suspect had fallen asleep and was snoring loudly.

The hand of justice makes an appearance in this mug shot. Nichlous Peternik -- and the arm of a law enforcement official in Redding, Calif. -- are featured prominently in this memorable booking photo taken after Peternik was arrested on suspicion of burglary. Officials say they were forced to reach into the frame when Peternik refused to pull his hair back from over his face.

An Australian man caught driving a motorized cooler box through a beachside resort town appeared in court charged with drunk driving, The Courier Mail reported Monday. Christopher Ian Petrie, 23, faces charges of driving under the influence and driving without a license after police caught him on the makeshift vehicle, which was powered by a 50cc engine.

This photo from the Scott County Jail shows James Lester Rogers. Rogers, a convicted sex offender, was arrested after police officers discovered him working at the Mississippi Valley Fair dressed as Cookie Monster. Police say Rogers was handing out fliers and taking photos with children under the employment of Q.C. Characters, a vendor at the fair.

Former Miss El Paso USA Lorena Tavera was arrested for allegedly shoplifting a $69 shirt in El Paso.

Tajuana Banks, 31, of Des Moines, IA is seen in this mugshot from the Polk County Sheriff's Office. Banks is accused of assaulting 63-year-old Connie Jones with a bratwurst after a verbal argument.

Investigators in Kentucky say they have apprehended a man spotted by a witness having sex with a horse in a park's stable. Nathan Johnson, 28, was charged with a similar offense in the same park in 2003, according to KFVS 12.

Police in Florida say they have apprehended a man involved in shipping $30,000 of crystal meth inside a Meow Mix cat food bag. Robert Morris has been charged with trafficking over 200 grams of methamphetamine and resisting arrest.

Cory Smits, 29, is seen in this booking photo from the Manitowoc County Sheriff's Department. Smits was found guilty July 7 on his fifth offense of operating a vehicle while intoxicated.

This booking photo from the Shasta County Sheriff's Office in California shows Patrick Francis Brooks and his obscene tattoo after his July 11 arrest on charges of burglary, receiving stolen property, forgery and violating the terms of his parole for a previous conviction.

Mark Anthony Richardson Jr. wore diapers and faked being autistic to get women to babysit him. He was sentenced to three years in prison in July 2011 for groping an 18-year-old daughter of one of the conned nannies.

Florida dad arrested for allegedly using a circular saw to cut off his son's cast, and nearly removing two fingers instead. The boy was rushed into emergency surgery after the incident, and his pop was charged with first degree child abuse.

This booking photo from the Kootenai Sheriff's Office shows Daren Christopher Abbey. Police in Bayview, Idaho believe Abbey, a neo-Nazi, got knocked out after picking a fight with an African American man who happened to be wearing a shirt from a boxing club. Abbey, 28, faces battery and malicious assault charges after allegedly getting knocked out in a single punch outside the bar.

Justin Dale Little Jim is seen in this mugshot from Prince William County Police. Little Jim was arrested after allegedly breaking into a sex shop and caught in relations with a sex doll.

Investigators in Florida believe Michael Burcum put black widow spiders in his ex-girlfriend's mailbox in a strange revenge plot. He was arrested on charges of stalking.

Amelia Love Oveide, 46, of Las Crusces, NM is seen in this booking photo. Oveide has pleaded guilty to twisting off her daughter-in-law's nipple in a drunken brawl.

This booking photo from the Broward County Sheriff's Office shows traffic court magistrate Rhonda Hollander. Hollander was arrested after allegedly taking photos of men in the bathroom of the West Regional Courthouse in Broward County.

Police in Pennsylvania are investigating three separate incidents of indecent exposure involving a 35-year-old man named Handy Henry Wood, who allegedly exposed himself to two women.

A Hot Spot store clerk told Spartanburg County deputies that a Cowpens man put his private parts inside one of the store's money deposit bags. The clerk told deputies the man, later identified as 47-year-old Alan Ray Walker, entered the store Sunday night while carrying ice cream. The man headed for the restroom. After about 15 minutes, the clerk walked to the store's office, near the rear of the building, and saw the man walk out of the office with his penis inside a plastic "money bag" and his pants on the floor, according to an incident report. Walker was charged with indecent exposure, grand larceny, possession with intent to distribute cocaine and unlawfully having a handgun, according to arrest warrants.

On June 22, 2011 William Shane Morrison, a 33 year old white male from Gadsden, was arrested and charged with Assault 2nd. He was booked in the Calhoun County Jail and later released on a $15,000 bond and has a court date of July 21, 2011. Morrison was arrested after he assaulted someone with an unopened beer can at a store on Mill Branch Rd. in Webster's Chapel.

Eugene Hickman's family called Walton County (Fl.) police after his grandson allegedly saw him trying to have sex with a pet bulldog.

Janet Chiauzzi was arrested after sending threatening letters to her son's little league coach.

Levon T. Sarkisyan, allegedly broke into a Connecticut home and smashed statues and furniture, because he claimed God told him to do it, according to police.

Bernadette Besario Catan-Keeler, 30, was arrested and charged with domestic violence battery after she attacked her husband and bit him on the night of their wedding, according to Broward County Police.

Police in Tennessee say a Memphis man grew outraged when his kids arrived at another child's birthday party and realized that all of the cake had already been eaten by other guests. Joseph Hayes allegedly wanted his kids to have their cake and eat it too -- so he left the party and returned with a handgun. Hayes, 48, has been charged with aggravated assault for the June 4 incident.

Cops from two Florida police departments arrested Eleanor Thompson on suspicion of drunken driving on the same day. Thompson, 55, had blood alcohol levels of 0.32 during her first arrest and 0.30 during her second arrest, according to investigators.

Drunken driving suspect James Scarborough allegedly told police in Florida that he wasn't responsible for crashing his motorcycle -- but the boogeyman was. The 49-year-old reportedly declined to explain exactly who the boogeyman was. He has been charged with driving under the influence, driving without a license and obstructing police, among other charges.

A 40-year-old man who tricked caregivers into changing his diapers by pretending he had the emotional maturity of a 5-year-old apologized to a victim in court Monday before pleading guilty to charges of organized fraud. Authorities said Sean Kelly of Port St. John, Florida, told caregivers he was incontinent and hired two women to change his diapers in 2008 and 2009 but did not pay them the amount he promised.

Deputies in Ohio arrested a 20-year-old who claims he "goes on the attack" whenever the moon is out, according to police documents. Thomas Stroup was charged with underage consumption after the werewolf allegedly told a deputy: "I'm going to kill your cousin Keith." According to reports, the deputy has no cousins named Keith.

Authorities in California are accusing Carmen Montenegro, a 51-year-old woman from San Bernardino, of allegedly pushing a 30-gallon garbage can full of dismembered human body parts down a suburban street.

The Sarasota County Sheriff's Office has arrested Bernard Chojnacki for exposure of sexual organs following an undercover investigation into indecent activities on Caspersen Beach. Around 1:00 p.m. June 7, 2011, Chojnacki grabbed an undercover detective inappropriately, exposed himself and stated his desire to perform a sexual act.

Susan Pollock, a 44-year-old woman, who told police she was sleeping naked in Mesa's Pioneer Park to "cool off" after she got drunk, was arrested on suspicion of indecent exposure on Monday.

Investigators in Lexington County, S.C., say convenience store clerk Terrence Bryant sold cigarettes and smokeless tobacco to boys in exchange for allowing him to spank them.

Police in Connecticut say Daniel Vagnini beat himself up in an attempt to avoid getting caught driving drunk. The 22-year-old suspect was allegedly driving under the influence when he ran a stop sign and crashed into another vehicle. But cops say Vagnini tried to skirt the charges by running into the woods, punching himself in the face, tearing his shirt and throwing his wallet and keys into the river -- then claiming he had been assaulted.

Keila De Oliveira Leite, 21, was driving topless when police arrested her for allegedly drunk driving in Stuart, fl. on May 30, 2011.

This is not the way you're supposed to butter up your roommate. Sheriff's deputies in Collier County, Fla. say Dawn Elizabeth Rhash attacked her housemate with butter.

Police in Phoenix, Ariz., have accused Randon Reid of the crime of flight -- and a crime against flight. Investigators say the 26-year-old suspect opened fire on an airplane parked at Deer Valley Airport, then fled from authorities who tried to pull him over. He has reportedly been charged with felony flight and driving under the influence.

Talk about dialing a wrong number. Sheriff's deputies in Hall County, Ga., say they locked up a man who accidentally "pocket-dialed" 911 while discussing a drug deal. Daniel Moore, 18, has been hit with drug possession charges.

Law enforcement officials in Collier County, Fla. claim Mary Ramos stabbed her boyfriend because he was spending too much time in the bathroom. Ramos is accused of punching her boyfriend in the face and slashing him twice because he was passing his time in a public restroom in his apartment building that was often frequented by a naked woman.

A handcuffed suspect in Florida escaped police custody and fled to a Pensacola Home Depot, where he was spotted shortly after shopping for bolt-cutters. Investigators with the Escambia County Sheriff's Office say Michael Jay Scott, 19, was trying to find a way to cut off his shackles. (Read More)

Wynika Mason was arrested by Louisville police for allegedly brandishing a sword in a Pizza Hut. Authorities said they busted her after getting complaints from employees and eaters in the fast-food chain that Mason was yelling and repeatedly unsheathed the blade. Maybe it was just her pizza cutter?

FBI investigators say this Ohio bank robber heeded a teller's "no hats, no hoods" policy, revealing his face to surveillance cameras and giving investigators an important lead in the case.

Holy handcuffs! Police in a smog-clotted town in northwest Michigan are touting the arrest of Batman. The legendary caped crusader was reportedly nabbed while dangling from a 30-foot-high building. The unmasked superhero wannabe is actually a local resident named Mark Wayne Williams.

Some people have guilt written all over their faces, and others, like assault suspect Robert Norton Kennedy, have apologies tattooed across their foreheads. A booking photo released by the authorities in Horry County, S.C., appears to show the 51-year-old sporting a facial tattoo that reads: "Please forgive me if I say or do anything stupid. Thank You!" (Read More)

Mark Thompson, a 19-year-old from West Virginia, is accused of killing his neighbor's pygmy goat in his bedroom and possibly sexually assaulting the barnyard animal. Police say they found Thompson hiding in the woods, covered in blood, wearing a bra and panties. (Read More)

Gregory Hanscom might have taken "sagging" to a whole new level. Police in Spring Hill, Fla., say they found the 55-year-old suspect lying in his front yard wearing nothing except his pants around his ankles. He reportedly told authorities he had consumed four beers before dropping trou. (Read More)

She's not the Hamburglar, but Roberta Spen may have found herself on the wrong side of the law because of her love for McDonald's. Police in Florida say they were trying to pull over Spen when the 64-year-old suspect pulled into a McDonald's drive-thru and ordered lunch. Spen allegedly paid for her meal and drove off, sparking a police chase.

A Pennsylvania weight-loss doctor is accused of sexually assaulting at least six patients and telling one of them that she could lose weight by having an orgasm in his office. Arie Oren, 64, allegedly groped female patients with his hands and an electric massager.

Courtrooms are the place to prove your innocence -- not demonstrate your guilt. But one Ohio man has been caught on camera stealing a gavel from a magistrate's bench, according to investigators. Christopher Collins has been charged with theft for allegedly stealing the gavel from a courtroom on March 30.

This suspect likely won't forget his 64th birthday -- and neither will the elementary school students who saw a man naked from the waist down shaking his hips and genitals. Jack Snyder is accused of flashing a school bus in Port Richey, Fla., as students headed home from classes.

Angela C. Ferranti, 25, was found in her bra and panties after a traffic crash and reportedly told an officer she stripped off her clothes to try to "conceal her scent" from a police dog. Police found Ferranti hiding in a nearby wooded area with her boyfriend in central Port St. Lucie and was arrested on suspicion of DUI, according to a recently released report.

They say most car accidents happen close to home. When police in Alachua, Fla., attempted to stop a motorist who was driving with a suspended license, Joseph Ronald Webb, 20, allegedly led police on a 15-block chase before crashing his car into his own house.

They say the clothes make the man, but in this case, the clothes make it easy for police to identify the man. Cops in Charlotte, N.C., busted home invasion suspect Jonathan Huntley after he allegedly left a t-shirt featuring his own mug shot at the crime scene. The shirt, pictured on the right, showcases an old booking photo.

Police in Ocala, Fla., say they have arrested a man who stole a truck loaded with 338 boxes of Krispy Kreme doughnuts. Randall Travis Roberts, 20, has been charged with grand theft auto for allegedly stealing the doughnut truck. Investigators recovered about 10 grams of marijuana from inside the vehicle. Roberts insisted the pot wasn't his, but investigators were willing to bet dollars to doughnuts that it was -- hitting him with an additional marijuana possession charge.

Here's the rub. Edward Justin La Porte, a former Illinois cop, is accused of impersonating a police officer and demanding a massage and money from a California spa. The 47-year-old allegedly claimed he was a massage parlor inspector when he arrived at Golden Spa in Lake Forest and demanded a rubdown and cash.

Motocross racer James "Bubba" Stewart Jr. is known for his speed on the track -- but police say he got in trouble when he tried to stop another vehicle for speeding. Investigators say the 25-year-old motocross star was impersonating a cop when he used flashing lights to pull over another car on March 28. That vehicle happened to be filled with off-duty police officers.

Domingos Oliveira is accused of putting a $3,000 bounty on his 19-year-old daughter's boyfriend. He allegedly posted signs with a picture of the man and the words wanted "dead or alive," after allegedly finding out that the 33-year-old suitor was a registered sex offender. He faces the charge of solicitation of murder.

When police asked 22-year-old Joceline Fernandez to change out of her risque G-string bikini at Fort Meyers Beach, Fla., they probably didn't expect her to expose herself to at least a dozen people. Fernandez has been charged with indecent exposure and disturbing the peace.

Exotic dancer Teonna Jean Rogers didn't want to be photographed -- so she attacked a strip club patron with a beer mug, according to cops. The 28-year-old stripper has been charged with third-degree assault and breach of peace after allegedly striking a customer in the head with a beer mug when a patron tried to take photos of her while she was on stage. According to investigators, she assaulted the wrong man.

A Florida mother served as the getaway driver when her 20-year-old son robbed a convenience store, according to authorities. Police in St. Cloud say Cindy M. Willison, 47, waited in the parking lot of a Cumberland Farms store and picked up her son, Angelo J. Palmieri, after he held up the shop on March 23.

A South Carolina man who twice pleaded guilty to having sex with a horse has been released from prison and put on probation, under the condition that he keep his distance from the horse. Rodell Vereen, pictured in this file photo, was released from prison after serving 16 months.

It was almost a kiss of death. Deputies in Florida say 92-year-old Helen Staudinger opened fire on her neighbor's house after the much younger resident refused to give her a kiss. Investigators at the Marion County Sheriff's Office claim Staudinger refused to leave 53-year-old Dwight Bettner unless her neighbor gave her a kiss. She allegedly returned with a gun.

Investigators say a Florida motorist gave new meaning to the term "drunk dialing." Phernando Cuello, 30, is accused of losing control of his car on March 20 while driving drunk and "sexting." The Tampa resident has been charged with driving under the influence.

Police in Harrisburg, Pa., say Daniel Rahynes, 35, attempted to rob a bank after telling employees he wanted to open an account and showing the teller his ID.

Perhaps Facebook needs a relationship status that reads: "Married, but still looking." Police in Michigan say they were able to arrest a polygamist after he "defriended" his first wife on Facebook. Richard Leon Barton's first wife went to authorities after she realized her husband had married another woman in July, nixed their Internet friendship and posted photos of his second wedding on the popular social network.

Johnathan Washburn, 23, allegedly hit a man on the head with a skateboard after he took a picture of his bizarre triple-mohawk hairstyle - landing him in police custody.

This might be the worst way to use your one phone call. Police in Sandusky, Ohio, say Joseph Walsh was already in custody when he dialed 911 on a cell phone and said he was being held against his will. Walsh reportedly called 911 while he was handcuffed in a holding cell early on March 13.

Author and horror movie producer, Tim Fattig, has been arrested in connection with the death of his mother after authorities found a female skeleton in her Tombstone, Ariz., home.

Impersonating a cop? There's an app for that. Police in Idaho say Alexander A. Welch used a cell phone app with flashing red and blue lights to pull over a motorist on March 12. The suspect has been accused of a felony charge of unlawful exercise of the function of peace officers.

You might say Brian Christopher Head is on top of things. The 26-year-old Maryland man faces second-degree assault charges after allegedly crashing his car into a utility pole, then reversing into -- and onto -- a police cruiser on March 13.

By trying to talk his way out of a speeding ticket, one man talked his way into jail. Police in Indiana say Adam Yarbrough tried to bribe a female police officer with $5, a kiss and sex if she would let him go without a ticket. It didn't work, and Yarbrough was arrested on bribery and disorderly conduct charges.

Police in Florida say they busted a man responsible for prank calling 911 about a Viagra overdose. Matthew Wade Douglas Jr. is accused of making two obscene 911 calls in January in which a caller demanded medical attention and graphically described the effects of taking a few too many little blue pills.

Crime doesn't pay -- even when your crime is printing fake money. Police in Gainesville, Fla., say they arrested a man who bought a printer from Walmart and printed up nearly $600 of fake cash on March 10. Douglas Brian Osborne has been charged with two counts of using counterfeit money, among other charges.

Investigators in El Paso County, Colo., say Jack Herbst caused $250,000 of damage to his neighbor's property while driving a front-end loader -- all because the victim owed him $80. On March 9, Herbst allegedly drove the construction vehicle onto Ronald Morphis' property, wrecking part of his home, his garage, campers, trailer, propane tank, classic cars and more than a dozen mature elm trees. Police apprehended Morphis on felony criminal mischief charges after finding tire tracks leading from the scene of the crime to the suspect's home.

Police in Florida say a millionaire dentist used a stolen credit card to buy $40.64 of pizza after finding the charge card in a shopping center's parking lot. Richard Lewis Ludwig, 54, reportedly told deputies that he is "absolutely not" having financial trouble, and actually has a net worth between $3 million and $4 million. He has been hit with credit-card theft and forgery charges.

Here's proof that the customer isn't always right. Police in Ohio say a Walmart shopper stocked the shelves of a Fremont store with obscene photographs of himself in women's lingerie. Rodney Kunkel, 44, has been charged with two counts of pandering obscenity for allegedly leaving the photos in the store and on cars in the shop's parking lot.

Does this man look like Cookie Monster to you? Martin County sheriff's deputies say Sebastian Esteban, 18, snatched a package of $1.19 "Pink White" cookies from a Circle K convenience store in Indiantown, Fla. on March 3. After officers spotted the crumb-covered suspect allegedly attempting to eat the evidence, Esteban offered this explanation, according to an affidavit: "Ya, I stole the cookies, I'm the cookie monster."

Sometimes you just need a drink. Police in Elyria, Ohio, say a not-so-subtle drunken driving suspect took a swig of beer in front of a cop after being pulled over on March 3. When asked if he had been drinking, Stephen Supers allegedly picked up an open can of beer and took a sip before answering, "Yes."

Break-ups can get ugly -- even when they happen online. Law enforcement officials in Florida arrested Thomas Gannon, left, and Tina Cash on charges of misdemeanor domestic battery after the couple allegedly got into a fight over Facebook. Gannon, 35, reportedly told Hernando County Sheriff's Office deputies that the couple got into a physical altercation after his 31-year-old girlfriend "unfriended" him on Facebook and changed her relationship status.

Law enforcement officials in Florida say a woman readily admitted she was carrying narcotics in her genitals at the beginning a jail sentence for drug possession. During a strip search at a detention center in Manatee County, authorities asked inmate Sara King if she was in possession of any contraband. The detainee reportedly responded: "Just my pills in my vagina."

You might be a redneck if you list "redneck" as your religion on your police report. Law enforcement officials in Florida say 20-year-old suspect Joshua Lee Joehlin claimed he was a follower of the "redneck" faith. Joehlin is accused of engaging in a lewd and lascivious act with a minor.

Police say he broke the law -- and needed a bathroom break. Cops in Florida say they were able to catch bank robbery suspect Charles F. Grier after he stopped to use two restrooms near the scene of the crime. Grier allegedly changed clothes in a portable toilet across the street from the bank. He was reportedly arrested after being confronted by officers while leaving a restaurant bathroom down the road.

Some suspects are caught with their pants down. Others are caught with no pants at all. Police say this drunken driving suspect was driving naked in a pickup truck with three nude passengers. Nickolus Borgman is accused of driving under the influence and other violations after a sheriff's deputy pulled him over and spotted two nude men and two nude women crammed in the front seat of the truck.

It's always best to practice what you preach. Police in Florida say they arrested the former president of a local chapter of Mother's Against Drunk Driving for driving under the influence. Debra Oberlin has been charged with drunk driving for the Feb. 18 incident.

You shouldn't mouth off to police -- especially when your mouth is filled with feces. Police in Colorado say a drunken driving suspect spit fecal matter on an officer. Paul Andrew Kausalik, a 61-year-old postal worker, was in a police station after being taken in on drunken driving charges when he allegedly put his own excrement in his mouth and spewed it on an officer's face.

Police in Michigan say a man claimed he was royalty before trying to steal a pack of Marlboros from a 7-Eleven. Joseph Lawrence Borowiak is charged with strong-arm robbery and resisting arrest after allegedly wrestling a store clerk over a pack of cigarettes. Borowiak reportedly stated, "The king doesn't pay for cigarettes."

Florida resident Howard Schultz is accused of impersonating a police officer while waving a barbecue fork. Investigators say the 69-year-old convinced a driver to pull over while wielding the cooking utensil.

Police say a California motorist assembled a veritable nesting doll of criminality when he hid a meth pipe inside an open beer bottle while he was driving. Tehama County sheriff's deputies said 40-year-old Martin Ortega Perez tried to hide a methamphetamine pipe inside an open bottle of beer during a traffic stop on Feb. 20, 2011.

It might sound like the plot of a Cheech and Chong film, but police in Louisiana say they've busted a drug-dealing operation based out of an ice cream truck. Driver Johnathan Trahan, left, was charged with possession with the intent to distribute and possession of drug paraphernalia on Feb. 20. Passenger Hunter Pitre, right, was cited on misdemeanor possession of marijuana.

Hersha C. Howard, 31, was arrested by deputies after she allegedly assaulted her housemate in an altercation over Girl Scout Cookies. She was charged with aggravated battery with a deadly weapon and aggravated assault with a deadly weapon after a fight with another woman over a box of Thin Mints.

Police in Florida say a mother was visiting her child's school when she attempted to impose a dress code on another mom who she believed was showing too much cleavage. Laura Campanello was charged with disorderly conduct after saying the other mom was showing "too much breast" -- then allegedly pulling down her blouse and exposing her own.

Cops in Michigan say a 400-pound woman tried to turn a motorized cart into an getaway vehicle when she loaded it with stolen electronics -- but she didn't get far. Jerrie Perkins was arrested after she allegedly filled her motorized cart with $600 electronics and tried to drive out of a Meijer store in Rochester. But the suspect got stuck in the department store's doors and set off an alarm.

Some drivers get busted because of red-light cameras -- others get busted because of cameras they installed inside their cars. Stanislav Bakanov, 30, was arrested in Oregon for speeding on Interstate 5 while filming a video of himself for YouTube. He was clocked doing 118 mph in a 55-mph zone -- and police say his speeding was corroborated by video he recorded and intended to post online.

It takes forethought to hide drugs in your foreskin. Antoine Banks faces drug charges after police in Louisville, Ky., say they found a bag of crack cocaine tucked under the foreskin of his penis.

Jerome Smith's forehead says he's a "Genius," but police say he wasn't being smart when he allegedly struck a pregnant woman with a handgun. The Cincinnati, Ohio, resident is accused of repeatedly pistol-whipping a woman who was eight months pregnant in late January.

In the middle of a five-year prison sentence for robbery, Edward Nathan Jr. walked out of the Tampa Community Correctional Center on Aug. 27, 1983 -- then dropped off the grid entirely, law enforcement officials say, according to News4Jax.com. After being on the lam for 27 years, a convicted robber who escaped from a Florida work-release center in 1983 was arrested by police Jan. 21 when an officer reportedly spotted him urinating in public.

Police in Minnesota say Stephanie Travetta Moreland hid a costly piece of fur outerwear in her underwear for three days. The shoplifting suspect allegedly stole a $6,500 fur coat by stuffing it into her underwear -- and managed to keep the jacket hidden between her legs after being arrested and put in a holding cell.

Police in Longmont, Colo., say Richard Troupe, 52, exposed his genitals to an employee at a Burger King drive-thru and asked her to hold his "whopper." After the fast-food proposition, the worker threatened to call police and Troupe allegedly fled. But cops apprehended the suspect nearby.

Talk about finishing with a bang. Police in Waseca County, Minn., say Terry Allen Lester, 37, constructed an explosive sex toy that he planned to give to an ex-lover. Lester allegedly put gunpowder, BB pellets and buckshot into the sex toy, which was connected with red and black wires to a battery-powered trigger.

O Christmas tree, O Christmas tree -- how dangerous are your branches! Police in Connecticut say Francheska Terrero turned ornaments into armaments when she hurled a Christmas tree at her father early on Dec. 24. Cops in West Hartford say the 19-year-old suspect was allegedly extremely intoxicated when officers arrived and placed her under arrest on charges of assault, disorderly conduct, and interfering with a 911 call.

Real doctors conduct breast examinations in their offices. Phony doctors conduct breast examinations in bars. Kristina Ross, 37, has been charged with practicing medicine without a license after she allegedly offered breast exams to bar patrons in Boise, Idaho.

Susan Russell Hammond confessed to showing a pornographic movie and giving alcohol to three 14-year-old boys, including her son, in her South Carolina home.

Talk about adding some greens to your sandwich. A Florida corrections officer is accused of plotting with inmates and attempting to smuggle a marijuana-filled sandwich into a jail. Master corrections officer Joseph Jones was arrested after deputies found 8 grams of marijuana inside a hoagie he allegedly was trying to sneak to an inmate.

Police arrested Peter Pavljuk, 62, for allegedly peeing on a grocery store floor in Florida. Pavljuk said he couldn't wait until he found a bathroom, but an employee said a public toilet was feet away from where the suspect relieved himself.

Onslow County Sheriff's deputies in North Carolina arrested Dale Foughty after he allegedly tried to rob a convenience store while wearing a Spider-Man mask and waving a sword. His plans collapsed when two clerks fought back by poking him in the gut with a broom. They ripped off his mask and part of his ponytail before he fled. Police found him nearby with a shaved head.

When police caught 87-year-old Leo Earl Sharp allegedly transporting 228 pounds of cocaine, the suspect told them that he was forced "at gunpoint" to transport the drugs.