Texas-based Kinder Morgan recently gave a conditional financial go-ahead for the expansion, which would triple the amount of Alberta oil that flows to B.C.'s coast and increase tanker traffic by seven-fold.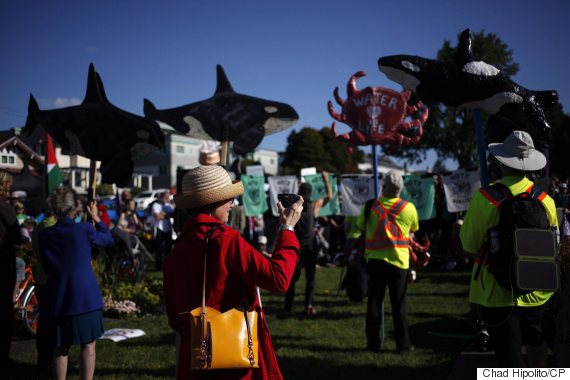 People support the Walk for the Salish Sea in Victoria, B.C. on Thursday. The walk ended at the Kinder Morgan Westridge terminal in Burnaby to protest the pipeline and tanker expansion that could threaten drinking water, salmon habitat and the coastal web of life and economies that depend on it. (Photo: Chad Hipolito/CP)
Rally organizer Joel Ornoy says the pipeline poses a serious risk for the environment, nearby residents and economy if a spill were to occur. In addition to putting a spotlight on the issue, Ornoy says the march raised thousands of dollars for indigenous groups fighting the pipeline proposal in the courts.
Kinder Morgan has said the company received the necessary approvals from the federal government for the project and is aiming to begin construction this fall.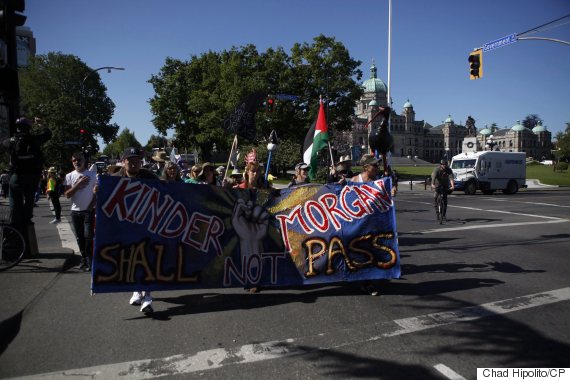 Supporters march with Walk for the Salish Sea in Victoria on Thursday. (Photo: Chad Hipolito/CP)
But Simon Fraser University English professor Stephen Collis, who took part in the rally, said the pipeline is not a done-deal. "There is still a lack of indigenous consent and there's a lack of public consent and this event is about showing that people are still concerned and still opposed and still intending to make sure this does not happen," he said.
"Many, many (First) Nations whose territories the pipeline will cross are vocally opposed to this."
Collis added that past litigation, including a landmark 2014 Supreme Court of Canada case that favoured the Tsilhqot'in people in B.C. in a battle over land title, sets a precedent for ongoing legal battles related to the area the Trans Mountain pipeline will cross. "Many, many (First) Nations whose territories the pipeline will cross are vocally opposed to this," he said.  Collis said it's just a matter of getting their cases through the courts.

Also on HuffPost

Vancouver Kinder Morgan Pipeline Protests

Suggest a correction

BURNABY, B.C. — Hundreds of people in British Columbia have completed a 75-kilometre march in protest of the Kinder Morgan Trans Mountain pipeline expansion. The four-day trek called Walk For the Salish Sea ended with a rally in Burnaby, B.C., Sunday afternoon with speeches scheduled from federal Green Party Leader Elizabeth May, Burnaby Mayor Derek Corrigan and Grand Chief Stewart Phillip.