What I Learned From Spending A Cold, Dark Night 'Homeless'
By Chris Ballard, MPP for Newmarket-Aurora

A few winters ago, I spent one extraordinary night wandering the streets of York Region, experiencing first-hand what homeless youth from our community go through every night.
I participated in the second annual 360°Experience, where community leaders spend a bone-chilling winter night on the streets, each reenacting real life 360°kids client scenarios. Organizers wanted us to better understand what homeless youth in York Region face every night, and to raise funds for a new youth shelter. It was a night I won't forget.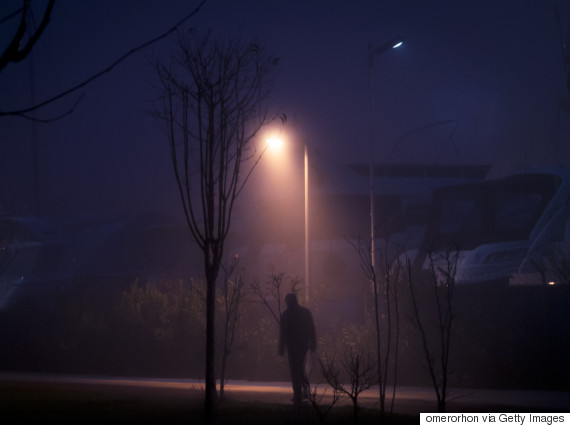 (Photo: Omer Rorhon via Getty Images)
That night, I enacted a scenario faced by a 17-year-old single mom with a baby -- a temporary, 12-hour glimpse at the inescapable challenges that define her daily life. With trepidation, I set out to live a single night as she might, in search of a safe place to get some rest, baby in tow. It was -22 degrees Celsius and the wind was picking up as I headed to my first stop of the evening, the only shelter in York Region that could take us in that night -- the Blue Door Shelters for families at Leeder Place on Highway 11, north of Newmarket.
Between 300 and 500 youth do not have a home each night in York Region. 360ºkids provides services to over 5,000 children and youth across the region annually, helping them with their overall health and development, and lifting them out of crisis and into a place of safety and stability. Sadly, with limited shelter space, many are forced to walk the streets at night trying to stay safe and warm.

That night, I was shadowed by two volunteers to ensure that I and my partner didn't freeze to death. A welcome safety net, but also a painful reminder: I'm pretty sure in real life, no-one shadowed the 17-year-old mom and her baby I was pretending to be. Clutching two bus tickets and only $3 to buy a hot coffee or two, I set out to Newmarket Station, only to learn upon arrival that there was no bus that could take me to my shelter destination -- a five-kilometre walk up Highway 11 in the dark and cold. An off-duty security guard took pity on me and drove me to the shelter on his way home. I hope the 17-year-old mom and her baby would have been so lucky.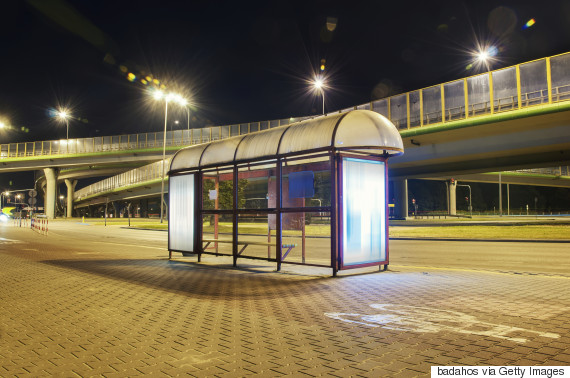 (Photo: Badahos via Getty Images)
Safely inside the warm and bright facility, I learned about Blue Door Shelters, serving York Region's homeless since 1982. In 2016, Blue Door Shelters provided more than 93,000 meals and close to 31,000 nights of safety to homeless people and families in York Region. I'm told that shelters in York Region turn away thousands of people because they lack capacity.

So, leaving the shelter, I faced a one hour slog south along Highway 11, in -30 degrees Celsius cold, to the bus stop. There are no sidewalks. Thick, uneven ice was underfoot. Lighting was minimal. Cars whizzed by dangerously close.

I spent the remainder of the night moving from coffee shop to coffee shop, in search of warm places to while away the hours until morning. As a middle-aged white guy, I was allowed to stay as long as I wanted. I know many young people would be kicked out, and they'd have to keep moving, in search of the next coffee shop, all-night restaurant, bank foyer or other warming haunts to provide reprieve from their all-night search of refuge from the cold.
I wonder about the 17-year-old mom and her baby, whose nighttime trip in search of shelter I reenacted.
That night, I was struck by how tough and resilient the youth are who face this life, without the support of family or community. I can understand why some turn to alcohol and drugs to numb the pain and escape the hardship of life on the street. In the morning, as the doors at 360°kids Home Base opened and the smell of a hot breakfast wafted out, I celebrated my survival. The joyful relief was short-lived; we are asked who wants to spend another dark, cold and lonely night trudging from shelter to shelter, that night, and the night after -- like many young people must. It is a sobering moment.

Our night raised money for the Youth Hub operated by 360°kids, a multi-service complex on Yonge Street in the heart of Richmond Hill. It's designed to support youth through their transition from homelessness to independent living, including youth from Aurora and Newmarket. Opened in March of 2016, it is the only facility of its kind in York Region, and home to the only co-ed emergency and transitional housing for youth south of Sutton and north of Toronto.
When I'm out late now, I pay special attention to the young people in the coffee shops. Do they have a place to call home? Does someone care for them? Finally, I wonder about the 17-year-old mom and her baby, whose nighttime trip in search of shelter I reenacted. I hope they face a better future.
Chris Ballard is MPP for Newmarket-Aurora, and Ontario's Minister of Housing, responsible for the province's Poverty Reduction Strategy.
His community office is located at 203-238 Wellington St. E., Aurora. Phone: 905-750-0019.
This year's 360ºExperience takes place on March 2-3. To donate click here
Follow HuffPost Canada Blogs on Facebook
Also on HuffPost:
Homeless for the Holidays
I've been on the streets on and off since I was 14. I know how to survive on the streets. I would find places open 24 hours. I would sleep in overnight laundramats, or 24 hour McDonalds (but they wake you up if you put your head down). I had a membership at Planet Fitness, and I would sit in the massage chair to stay warm. Or I would sneak into a building and sleep in the hallway. I told my favorite cousin I was Bi, and was dating a guy. She outed me to my family. My mother didn't handle it well. When she got mad she would call me names, put any ignorant gay stereotype on me. She basically disowned me. Last year I stayed at the 30th Street Men's Shelter for two months. I won't go back. It's dirty, it's scary. There's lots of people in there, it's a big scary place. Like a jail, that's what it felt like. I was especially uncomfortable in the showers. It was so scary I only showered three times. There were hardly any shower curtains and it was nasty. People were in and out of the bathroom, it was just very scary. I was the youngest person in there. Right now I'm currently a waiter bartender. One way to deal with being homeless is to work a lot, so you don't have to think about what you are going through. And it's so much harder to be on the streets when you have no money in your pocket.

Growing up was very lonely. People say you are lucky to grow up with both your parents. But my parents were both working two jobs. And I was mostly by myself, and lonely. My father realized I was gay when he saw me in the street with my boyfriend. We were being flirtatious. I looked up and saw my father's car. When I got home we talked about it for three hours. At the end he said he no longer had a son, that his son was dead. When I was faced with homelessness, it was very scary. I felt very, very alone. I got depressed. Me being a person who loved my family, it made me ask: Do I have a family? Does anyone care about me? Will anyone help me? There was a lot of crying. I was much too scared to stay at the men's shelter. Even when I found about about an LGBT shelter, I was so nervous that I stood outside for an hour, trying to work up my nerve to knock on the door. I had to call a friend in Atlanta. He talked me through it. Right now I'm working packing boxes at a printing company. In April I'm taking the test to be a subway conductor. That has been my dream since I was a child, to be a subway conductor.

I grew up in Queens. I had to leave home because I was abused by my mother; called a faggot, vulgar stuff. When I was with friends who were also homeless, we would huddle together, sometimes in Union Square, sometimes in Staten Island. We would sleep in Staten Island in abandoned buildings that had been left wrecked by Hurricane Sandy. Once when we walked on the floor, the floorboard broke underneath us, and a friend had his leg split open. We closed the wound and took him out into the street before we called the ambulance. We didn't want anyone to know where we were staying. We were afraid to stay in the adult shelters - we heard too many things about LGBT kids being beaten and robbed there. A friend who knew I was on the streets got me a job at Taco Bell. I was working maintenance, working the night shift. I was also going to college. It was hard, sometimes I was crying. Sometimes I would look bummy, but I was still going to class. I had to go. I always heard my mother in the back of my head saying I wouldn't get nothing for myself. I want to be a veterinarian. Plus I want to open a home for youth who have nowhere to go.

My grandmother raised me, and my brothers and sisters. She died when I was 14. For awhile I stayed with my aunt. It was a nightmare. She wouldn't recognize my gender. I had a job at a theater, and she charged me $200 a week to sleep in a clothes closet on a pillow. I tried to make the best of it. At least the pillow was tempurpedic; it was the comfiest pillow ever. When I became homeless I tried to go to a big shelter for hundreds of kids. The intake worker refused to respect my gender identity. I showed her that I had a male ID, but she said it didn't make a difference, that my wanting to be respected as a male was bullshit. They put me in a female dorm. One of the other girls there said I couldn't use the bathroom unless I payed her $40! She raised her fist to me and threatened me for $40!! I couldn't deal with it, so I decided to sleep in the subway. I slept in the subway for two weeks. I found the whole thing so stressful that I couldn't eat. It was better when I stayed in an LGBT shelter. They respected me when I was transitioning. Today I got a promotion at my job at Dunkin Donuts. Now I'm a shift leader!

When I was growing up, my mother was the only one who understood me. I felt she knew I was gay. She shielded me from my father, from his judgement and criticism. When she died I felt that my world came crashing down. I was thirteen. Everyone who was in my life when my mother was alive turned their back on me. My father treated me very different from my brothers and sister. He took them shopping for clothes, but not me. For three years I had to wear the same clothes. My father found out I was gay when I was 17. He said he didn't love me, that he should have made my mother abort me. A week or so later we got into a big fight. He made me leave. After that I called my grandmother. I asked her if I could stay with her for a week or two while I figured out my next move. She said "No", because her husband didn't like gay people. I tried to go to other family but nobody took me in. I stayed in the subway for three months. I could barely sleep, because if the police saw me sleeping they would kick me off the train, or threaten to lock me up. During that time I went to my cousin's house to take showers and sneak food from her refrigerator. One day I was feeling like I was already dead. I was in the shower, crying. When I got out I looked in her medicine cabinet. I took 60 pills. I woke up in the hospital. When I got myself discharged it was back to sleeping on the subway. I'm happier now. I've been with my boyfriend for seven months. I feel like I have someone who gives me love, compassion, who supports me. I don't feel so alone. I'm doing a food service internship at the Ali Forney Center. I love it. I spent a lot of time with my mother in the kitchen and it brings back so many happy memories.

I stayed at an adult women's shelter. It was creepy. Some of the staff were ok, but some would pick on you. One day a pimp was hanging outside the shelter and he tried to recruit me. I didn't feel comfortable at all there, there weren't people like me. The reason I decided to leave was because I couldn't deal with the bullying anymore. So in September I had to start sleeping in the streets. The first night I slept on a bench in Columbus Circle. When I layed down there I cried. I was so scared. Finally I fell asleep. I also slept in the subway station at 42nd Street, and at the one on West 4th Street. I was lucky nobody bothered me. Now I'm hoping to get a bed in a shelter for LGBT youth. It's getting cold - we don't have a place to go. We belong in the world too. We are human beings.

I grew up in Puerto Rico. I had two different step fathers, both were intolerant of my homosexuality. I was extremely flamboyant. When my stepfather found me wearing flamboyant stuff he would tell me being gay was wrong, and all this religious stuff. One night he grabbed me by the neck and choked me. My mother pulled him off of me. I moved to New York. One night I found myself in a position where I had nowhere to stay. I had to sleep in the subway. A lot of people make fun of me for reading self-help books, but they helped me center myself that night. If not for that I would have been crying. I would have wanted to kill myself. I've been working. But the panic attacks are a vicious circle. It's so stressful being homeless; it makes you very anxious. It's from not getting enough sleep. I get anxious not to have a panic attack, and that makes me have a panic attack. If people don't want to help young people like me, things just get worse. Then we have to get involved in prostitution and drugs and stuff, just to get through. You can't just forget about us; if you do things only get worse.

I had to leave my home because my mother couldn't accept me. She would get angry about the way I acted and the clothes I wore. It was always "You're a fag, you're a batty boy." (she's from Jamaica) For a while after I left home I was sleeping on friends' couches. Then for two weeks straight I was sleeping on the subway. I would clutch all my stuff really tight, holding them close, especially after I was robbed. Mornings were rough because I was so exhausted. I could never get enough sleep, only two or three hours. It took a toll on my body. I was always tired and irritated. I couldn't focus. I was afraid to go to the men's shelter. I have a friend who stayed there, and when they found out he was gay they beat him up mercilessly. If they would do that to a grown man, what would they do to a scrawny 21 year old gay kid. When you are on the streets, riding the subways, nights are very tough. Sometimes I felt so alone. Nobody cared, nobody asked about me. I was just alone.

I grew up in Jamaica. When I was 6 I tried to shape my eyebrows. My father beat me up and punished me by not allowing me to go on a trip to the beach. When I was 19, my family started to find out that I was gay. I felt that I disgraced and dishonored them. They look down on homosexuality, said that it was a sin and that I would go to hell. When my grandmother told my father about me, he was spitting and saying he was disgusted. I felt really bad. I decided to leave Jamaica because of all the stigma, brutality, discrimination that happens to gay people there. I had a friend who was so small, skinny, feminine. He was walking with a friend and some guys thought he looked gay. They beat on them and stomped on them. They punctured his lungs. He was on life support for a few days and had to pee in a bag. I'm working on getting a green card. I hope to get a work permit by this summer. I'm planning to be a phlebotomist. I want to get a house up here, and a house in Jamaica for my mother.
Follow 360⁰kids on Twitter: www.twitter.com/360kids_york