8 Celebrity Hometowns In Canada That Are Worth The Visit
Some of the biggest names in entertainment are from Canada. That's right, we can lay claim to a multitude of well known celebrities from Justin Bieber and Ryan Reynolds to Rachel McAdams and Ellen Page. If you're curious as to where these big names grew up, read on. Cheapflights.ca has the scoop on eight celebrity hometowns and why they're worth a visit.
Stratford, Ontario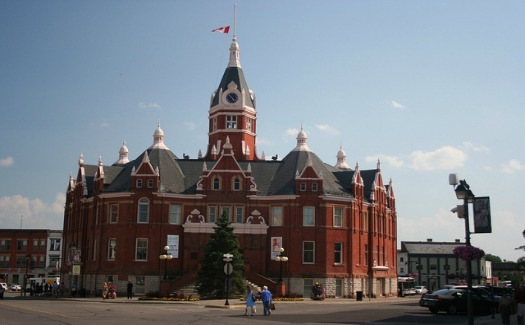 Image: Robert Taylor, City Hall, Stratford, Ontario via Flickr CC BY 2.0
The charming hometown of Justin Bieber is well worth a visit and not just for avid Bieber fans. Stratford is famous for their renowned namesake theatre festival, which runs April 19 to December 31. The festival draws visitors from all over the country, but catching a performance is just one reason to plan a visit. Just a short drive from Toronto or London, Stratford makes for a nice weekend getaway. In addition to the theatre, Stratford has a thriving visual arts scene with many artists opting to call the area home. Gallery Stratford is a good place to start if you're interested in seeing what's on offer.
Foodies will appreciate Stratford's growing reputation as a culinary destination. In addition to restaurant-hopping, there are culinary events, food festivals, like the Stratford Kiwanis Garlic Festival, and food tours to enjoy.
Vancouver, British Columbia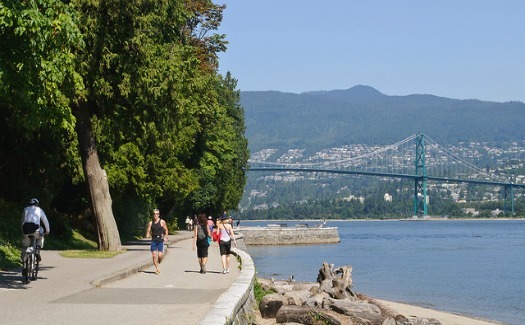 Image: InSapphoWeTrust, Stanley Park via Flickr CC BY-SA 2.0
This west coast city is hometown to some pretty big names, including Ryan Reynolds, Joshua Jackson, Jason Priestly, Carrie-Anne Moss, Cobie Smulders and Seth Rogan. Vancouver is a beautiful city ideal for active travellers who want to get closer to nature. Make your first stop Stanley Park, Vancouver's largest urban park, which boasts beaches, kilometres of trails, the city's famous Seawall and views of both mountains and the water. Capilano Suspension Bridge Park is another worthwhile Vancouver stop, the highlight of which is the suspension bridge. Capilano Suspension Bridge stretches 137 metres across and 70 metres above Capilano River, and the views of the forest canopy as you cross are pretty incredible.
Other aspects of Vancouver to appreciate include Grouse Mountain, where you can ride the Grouse Mountain Skyride, North America's largest aerial tram system; Chinatown, North America's third-largest Chinatown; and Vancouver Art Gallery, the largest public art museum in Western Canada.
Halifax, Nova Scotia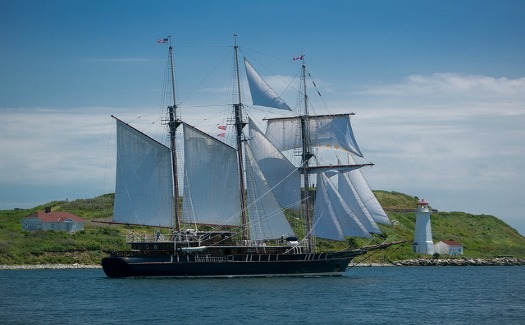 Image: gLangille, Halifax Harbour Tall Ships via Flickr CC BY 2.0
Actress Ellen Page was born and raised in this east coast town, and it has a lot to offer many different types of travellers. History buffs will want to check out the Maritime Museum of the Atlantic, Memory Lane Heritage Village and Nova Scotia Museum of National Heritage. Art-lovers can wander through the Art Gallery of Nova Scotia, the largest art museum in Atlantic Canada. Beer fans will want to take the theatrical tour of Alexander Keith's original brewery. The entertaining, informative tour is hosted by actors portraying citizens of 1863 Halifax. Anyone who loves to be outdoors will enjoy Halifax's many trails and public gardens, and foodies can appreciate the Maritime cuisine featuring fresh seafood.
Ottawa, Ontario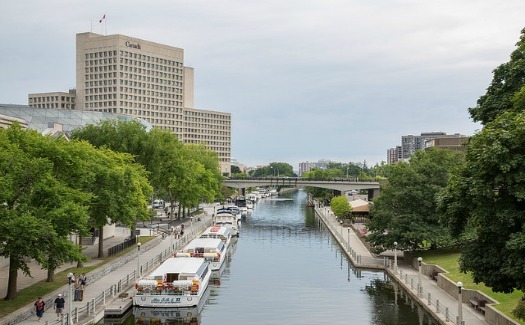 Image: Tony Webster, Rideau Canal, Ottawa via Flickr CC BY 2.0
Canadian songstress Alanis Morissette was born in Canada's capital. While not as bustling as say, Montreal or Toronto, quieter Ottawa still has a lot to offer curious travellers. Make a stop at ByWard Market to shop, refuel at one of the many cafes, restaurants and bars and just take in the cheerful atmosphere. Next, make time to explore the National Gallery of Canada, a world renowned art gallery featuring nearly 65,000 works. And no trip to Ottawa is complete without a visit to the Rideau Canal, a UNESCO World Heritage Site. In the warmer months, walk or jog along the canal, which runs through Ottawa's downtown core and, in the winter, lace up your skates and glide on it. Visitors will also want to make their way to Parliament Hill, home of Canada's national government and the setting for various events and celebrations through the year.
Kelowna, British Columbia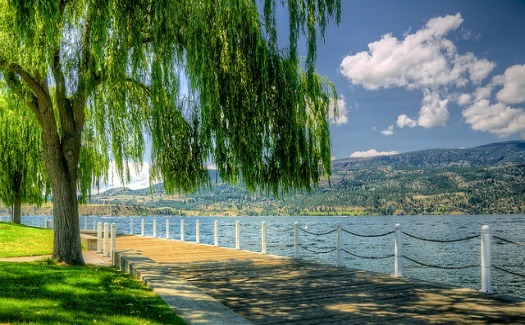 Image: Stuart Madden, Waterfront Park, Kelowna BC via Flickr CC BY 2.0
Beautiful Kelowna is the hometown of Taylor Kitsch, who starred in both Friday Night Lights and True Detective. Kelowna is a destination for wine touring thanks to its location in the Okanagan Valley, a region home to more than 200 wineries. Kelowna itself is home to 30 wineries, so, if you like wine, this is the place for you. You can take a guided wine tour or opt to set out on your own, depending on your style of travel.
Since Kelowna is situated on Lake Okanagan, this is also an ideal destination for beach lovers and anyone who likes being by the water. There are more than 30 beaches in and around Kelowna, many with playgrounds, concessions and bathrooms. If wineries and beaches aren't your thing, but golf is, Kelowna is also home to 18 golf courses and one of the longest golf seasons thanks to the 2,000 hours of sunshine the city gets each year.
Montreal, Quebec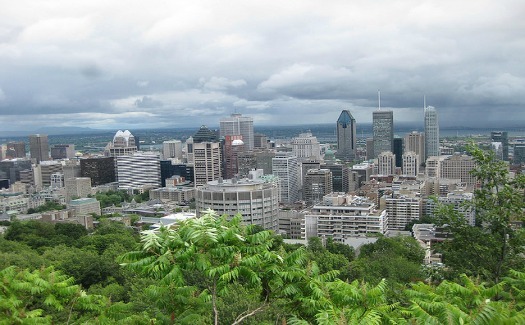 Image: Dominic Simpson, Montreal skyline via Flickr CC BY 2.0
Elisha Cuthbert (24, Happy Endings) and Emmanuelle Chriqui (Entourage), were both born in bustling, eclectic Montreal. Montreal is worth a visit for many reasons. If you love to eat you'll be pleased with the fact that Montreal has the largest number of restaurants per capita in North America, so no matter what you're looking for, you should have no trouble finding it. In addition to all those restaurants, there are also 350 food trucks to sample. Shoppers will want to put Montreal on their radar, too. The city is known to be fashion-forward so you're likely to find some potentially trend-setting items.
Visitors to Montreal will also want to head to Old Montreal, which feels a bit like stumbling into a quaint European city. The cobblestone streets and buildings, which date as far back as 1685, create an irresistible charm that's hard not to love.
Winnipeg, Manitoba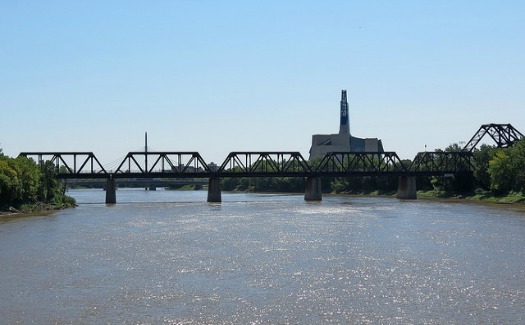 Image: Robert Linsdell, Waterfront Bridge, Red River via Flickr CC BY 2.0
Anna Paquin's hometown is Winnipeg, Manitoba. This Academy-Award winning actress (who snagged the award at age 11 for her role in The Piano) also starred in True Blood. One of the biggest draws in Winnipeg is The Forks National Historic Site, which also happens to be the number one tourist attraction in the city. Located at the junction of the Assiniboine and Red River, the Forks is an all-season destination that attracts more than four million visitors annually. There are so many attractions in and around The Forks you'd need weeks or even months to see and enjoy them all. Several museums and historic sites can found there, including the Canadian Museum of Human Rights, Children's Museum, The Forks Historic Port and The Forks Historic Rail Bridge. The Forks Market is the place to go if you feel like shopping for everything from local foods to souvenirs to crafts and artwork by 300 local and Canadian artists. In addition, there are events going on all the time, parks, gardens and restaurants.
London, Ontario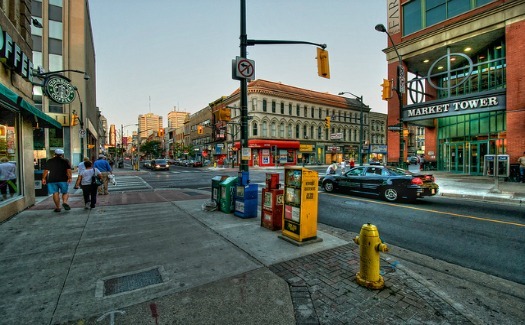 Image: phrawr, DSC_2722 via Flickr CC BY 2.0
One of the most beloved (former) celebrity couples, Ryan Gosling and Rachel McAdams, were both born in London, Ontario. The city has a lot to offer visitors, from families to couples to groups of friends. Anyone interested in arts and culture will appreciate London's many museums and galleries, outdoorsy types can enjoy the city's parks and conservation areas for hikes and nature walks, and families have their pick of several family-friendly attractions like Adventures on Wonderland, London's largest indoor playground, and Clovermead Adventure Farm with wagon rides, pedal go carts, live bee display hives, a zip line and more.
Follow HuffPost Canada Blogs on Facebook
ALSO ON HUFFPOST:
Best Travel Destinations For Canadians
Best time to travel: April, May, September, October Average price: $700 to $900 Why you want to go: Even if the Euro scares you more than the U.S. dollar does, Spain is still considered a budget-friendly country with low accommodation costs. "Spain has something for every traveller's needs whether it be a relaxing beach vacation in Malaga, exploring the Alhambra Palace in Granada or visiting the famed Sagrada Familia in Barcelona. Spain is also famous for their tapas and you can get tapas and drink for $5," says Rishi Modi of travel deal site Next Departure.

Best time to travel: April, May, September, October Average price: $700 to $900 Why you want to go: For Canadians, Lisbon is one of the cheaper European cities to fly into. "It's a lively city with delicious seafood and cheap drinks. Take advantage of its inexpensive public transit to visit the historic Sintra, go to a winery in Porto and enjoy the Mediterranean weather on a beach in Faro."

Best time to travel: December to March Average price: $900 to $1,200 Why you want to go: Getting to Thailand can be pricey depending on the time you go, but once you're there, everything can fit into your budget. "Food from street vendors and markets costs you $4 to $5 and accommodations can run you as low as $20 a night [depending where you stay]. Thailand has tons of attractions to offer travellers, from trekking in the jungles of Chiang Mai to relaxing on tropical islands like Ko Samui."

Best time to travel: October to May Average price: $900 to $1,200 Why you want to go: Marrakech was named Tripadvisor's number one destination in 2015, according to travellers. "Explore the ancient palaces, shop in the markets of Marrakech and stay overnight in the Sahara desert. Food is inexpensive in local restaurants and street stalls, while accommodations are reasonably priced."

Best time to travel: Depending if you go north or south, you want to avoid cold or rainy seasons. Late December is usually the best. Average price: $900 to $1,100 Why you want to go: If you're an urban explorer or nature lover, Vietnam offers both. "Vietnam is another South Asian destination that continues to be budget-friendly with beautiful sights, including cruising along Halong Bay and visiting the rice terraces. Food is remarkably cheap — a meal and beer can cost under $3."

Best time to travel: April, May, September, October Average price: $900 to $1,100 Why you want to go: If you want to go to Europe and still have spending money, Modi suggests avoiding popular destinations like France and Italy and opting for Eastern Europe instead. "From Hungary to Romania to Bulgaria, these Eastern European countries are rich in diverse culture and its modern and historical architecture."

Best time to travel: April, May, September, October Average price: $700 to $900 Why you want to go: "Peru is known for its geographic diversity, from exploring the vast Amazon jungle to hiking the Inca Trail to relaxing on the beach coast," he says. But Peru's most famous attraction is the ancient site of Machu Picchu — a must-see if you decide to go to this South American country.

Best time to travel: April, May, September, October Average price: $1,000 to $1,200 Why you want to go: Indonesia has thousands of islands and Bali is one of the most luxurious and popular ones. "Food and hotels are extremely cheap, where you can enjoy tasty meals from $1 to $2 and spend as little as $20 per night on accommodations." However, if you do plan on renting out a villa or eating on Seminyak's main tourist strip, it can feel like dining and living in a major Canadian city.

Best time to travel: January to March; September to November Average price: $600 to $1,000 Why you want to go: If you haven't been to Cuba, you probably know several Canadians who have — the Caribbean island is one of the most popular beach destinations for Canucks. "All-inclusive packages are affordable and offer a bang for your buck. If you're really flexible, you can often find last-minute cheap deals on flights and all-inclusive packages."

Best time to travel: January to April; September to December Average price: $350 to $650 Why you want to go: We're not saying you should head to pricey destinations like Hawaii or Las Vegas, but some U.S. spots have taken advantage of our falling currency. "Myrtle Beach, Kissimmee, and Scottsdale are starting to offer deep discounts — around 20 to 30 per cent off accommodations, free meal vouchers and discounts off activities. Also, expect major airline carriers alongside the low-cost carriers stateside such as Allegiant and Sprint to offer discounts and seat sales as well." And when you look at your budget as a whole, many U.S. destinations tend to be cheaper than leaving the continent.
Follow Cheapflights.ca on Twitter: www.twitter.com/Cheapflights