Why Women's Organizations Should Get The Credit They Deserve
Written by Kelly Bowden, Manager of Campaigns for Oxfam Canada
I sent an email to Google earlier this week because I had an idea. I told them they should make a Google doodle on women's rights advocacy, or smashing patriarchy, or even Justin Trudeau as a "this is what a feminist looks like" caricature. I wasn't sure how you would draw any of those things, but I was sure that September 21st was the day to celebrate. It is an important marker for the women's movement here in Canada.
The end of summer usually brings to mind canoes and cottages, but last summer was coloured by Canada's federal election. It reminds me and thousands of other women's rights advocates across the country of late nights, long phone calls and lots of meetings.
That's because the organization I work for, Oxfam Canada, and dozens of women's organizations across the country were in a buzz. It looked like we were on the brink of achieving something that hadn't happened in 30 years: federal leaders were going to debate women's issues publicly.
Over 170 women's organizations and their allies from unions, the health sector, faith based groups and beyond had come together to put women's rights on the political agenda. The result was the Up For Debate campaign calling on all federal leaders to participate in a televised leaders' debate on women's rights and gender equality.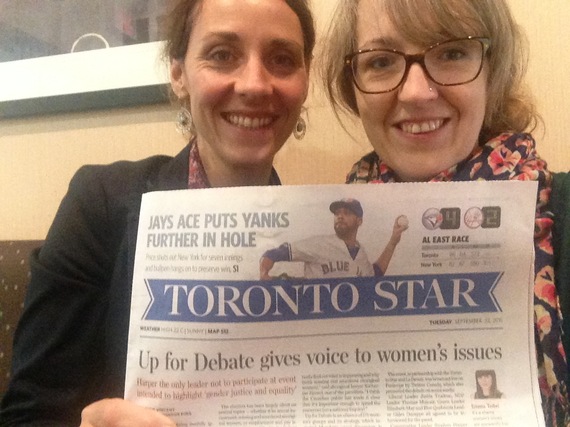 In 2015, the "Up For Debate" campaign sparked incredible energy among women's groups and their allies around the country. In this picture, Oxfam Canada's Kelly Bowden and Melanie Gallant show their excitement at seeing women's rights on the front page.
We negotiated for months with broadcasters and the press, got politicians on board, and inspired thousands of Canadians to take a stand. Some people challenged the notion that women's issues should be debated at all, and the debate around election debates got messy, so ultimately we shifted gears, choosing to do one on one interviews with each of the political leaders. Those interviews were first aired on September 21st, 2015.
When women come together and get organized, they bring about change.
Since the election, people have been applauding some of Trudeau's gender-informed decisions: the gender parity cabinet, his coming out as a feminist, and the commitment to include the full range of sexual and reproductive health rights as part of Canada's aid abroad. These steps are worthy of applause. But what we tend to forget is how these ideas became embedded in, and accepted by, government in the first place. It's because women's organizations -- last year, and for decades before that -- fought for them. Hard.
If you watch the full interviews produced by the Up For Debate campaign (you can see Trudeau's interview here) you'll see him call himself a feminist, commit to the gender parity cabinet and confirm that yes, Canada will fund abortion overseas -- months before he was ever elected. Would the government have supported these policies without the Up For Debate campaign? Perhaps. But they wouldn't have political salience and mainstream support if it wasn't for the tireless work of grassroots women's organizations and feminist activists.
A Google doodle is the least we could do to recognize their contributions to Canadian society.
Research shows that the strength of national women's movements contributes to all kinds of well-being indicators: decreased rates of violence, improved health outcomes, and increased participation of women in public and political life. When women come together and get organized, they bring about change. Fundamentally, if we want to build a world in which women are more equal, we need to support women to organize and claim their own rights.
At different times this has looked different all over the world. In the United States it was consciousness raising groups. In Argentina it was the Mothers of the Plaza de Mayo. In India it was the Womanifesto. Women in Canada gained suffrage in 1918 and we recognize the contribution of the Famous Five.
The Up For Debate campaign sparked incredible excitement and energy among women's groups and their allies around the country. It goes to show we still have so much more to do for women to be equal in this country, and around the planet. There is an enormous strength in women's organizations and feminist movements coming together to do this.
Not every battle that women and their organizations take on is won, or even recorded in our history books. But they are each a piece in a collection of experiences that make our movements stronger. So even if there is no Google doodle, we know that something important happened on September 21st 2015 in Canada.
Women were united in saying that we wanted to be heard, and that governments had a responsibility to build a country for us too. We're already starting to see the results of that work.
One thing we know for sure is that women in Canada and around the world will continue to fight for equality. That certainly isn't up for debate.
Kelly Bowden was one of dozens of coordinators during the Up For Debate Campaign
She is currently the Manager of Campaigns at Oxfam Canada and you can follow her @kbowds where you can see a copy of the letter she sent to Google

Follow HuffPost Canada Blogs on Facebook
ALSO ON HUFFPOST:
Canadian Women Who Were 'Firsts'
Adrienne Clarkson The First: Person of colour to be appointed Governor General, according to the Canadian Encyclopedia. Clarkson took office from 1999 to 2005. Notable achievement: In 2007, she became Colonel-in-Chief of the Princess Patricia's Canadian Light Infantry, making her the first Canadian to receive this title. Get to know her more: Today, the 77-year-old works with the Institute For Canadian Citizenship and has written several books including a memoir and a piece about Canadian immigrants.

Lilly Singh a.k.a. SuperWoman The First: Canadian woman and first South Asian Canadian to be named one of Forbes magazine's highest earning YouTubers in 2015. Superwoman earned a total of $2.5 million. Notable achievement: In February, the 27-year-old Scarborough, Ont.-native released her first film "A Trip To Unicorn Island" about her 30-city world tour. Get to know her more: Singh is still making hilarious YouTube comedy videos ranging from growing up with South Asian parents to thoughts you have on Instagram.

Elsie Knott The First: Woman in Canada to serve as chief of a First Nation in 1952, according to the Aboriginal Multi-Media Society (AMMSA). Knott passed away in 1995 at the age of 73. Notable achievement: She started an Ojibway language program at Ontario's Curve Lake First Nation school, which is still taught by her daughter today, AMMSA notes. Get to know her more: You can read more about Knott and other female chiefs in Firekeepers of the Twenty-First Century: First Nations Women Chiefs.

Mary Ann Shadd The First: Black woman in North America to publish a newspaper (The Provincial Freeman) and the first female publisher in Canada, Black History Canada says. Shadd was also the first black woman to get a degree from Howard University and the first black woman to vote in an election. She passed away in 1893, aged 69. Notable achievement: As an educator, abolitionist and one of the first female journalists in the country, she also wrote extensively on black men and women leaving the U.S. to come to Canada through the Underground Railroad, the Canadian Encyclopedia writes. Get to know her more: The Toronto Sun has a great write-up about her other achievements and biography.

Alice Munro The First: Canadian woman to win the Nobel Prize in Literature in 2013. Notable achievement: She has also won a Man Booker International Prize, as well as two Scotiabank Giller Prizes. Get to know her more: With so many other book awards under her belt, check out some of the 84-year-old's popular titles here.

Angela James The First: Openly gay athlete and second black athlete to be inducted into the Hockey Hall of Fame in 2010. Notable achievement: Known as the "Wayne Gretzky of women's hockey," James, 51, joined team Canada at the inaugural Women's Championship and earned a gold medal after making 11 goals in five games, the Hockey Hall of Fame writes. Get to know her more: A hockey arena in Toronto's North York region has been named in her honour.

Rose Fortune The First: She's considered to be the first unofficial female police officer in Canada, the Canadian Encyclopedia writes. According to the Annapolis Heritage Society of Nova Scotia, Fortune's direct descendent, Daurene Lewis, became the mayor of Annapolis Royal, N.S. in 1984, making her the first black Canadian woman to attain that position. Fortune died in 1864, aged 89. Notable achievement: While she was never an official police officer, she was well-known in her community and also set curfews for the town's youth. Get to know her more: A part of the province's history, you can learn more about Fortune at the Fort Anne National Historic Site of Canada in Annapolis Royal, N.S.

Jean Augustine The First: Black woman to be elected to the House of Commons in 1993, Women of Influence notes. Notable achievement: Retiring at 77 (she's now 78) and dedicating a majority of her life to politics, she became Ontario's first Fairness Commissioner in 2007. Get to know her more: You can check out this interview with Augustine and the Canadian Museum of Human Rights here.

Dr. Roberta Bondar The First: Canada's first female astronaut and first neurologist in space. Notable achievement: As a scientist, Bondar worked for NASA leading an international space medicine research team for decades. Get to know her more: As a photography and an author, check out some of the 70-year-old's other work here.

Jennie Trout The First: Canadian woman licensed to practice medicine, according to Historica Canada. She passed away in 1921, aged 80. Notable achievement: Trout, as well as Emily Stowe (the first female doctor to practice in Canada), both broke barriers to allow more women to work in a male-dominated medical world. Get to know her more: You can watch her Heritage Minute here — it's quite powerful.

Anne Cools The First: Black person to be appointed to the Senate of Canada and the first black female senator in North America. Notable achievement: With several achievements and awards in her name, the 72-year-old was also named one of the 100 greatest Canadians of all time by the CBC. Get to know her more: Currently, Cools is an independent senator, but was a candidate for the Liberal party for 20 years. Read more about her work here.
Follow Oxfam Canada on Twitter: www.twitter.com/oxfamcanada