Here's How You Can Lower Your Grocery Bill
Food prices are out of control!
Most of us have noticed crazy $7 cauliflower and the overall shift upwards of our grocery bills. And it's not likely to change over this year -- The University of Guelph's Food Institute estimates that most of us will spend almost $350 more on food in 2016. As a mom who shops for five people, I seriously want to pass out every time I see my grocery bill. It's that bad.
The reasons for the increased cost of food are both the climate -- horrible weather where food is grown -- plus the fact that the loonie is tanking right now and not expected to recover in the near future. Good for the price of gas, terrible for the price of food.
In the past month or so, I've had to field a lot of questions from clients and the media about cutting your grocery bill to something sort of reasonable. It's actually not too hard to do, and my suggestions are below.
One positive thing that can come out of all of this -- take this opportunity to reconsider your grocery choices overall. Try new foods, increase your plant-based proteins, and cook different meals. You've got access to so many recipes on Pinterest and recipe sites, there's really no reason why you need to shop out of habit when you can buy cheaper food and try new things.
Take another look at canned and frozen produce:
Canned fruits like California cling peaches are picked at the peak of ripeness, and canned within 24 hours of being removed from the tree. Unlike fresh produce grown elsewhere, they don't sit on a truck for days being brought here from where they're grown, and unlike some fresh produce, they haven't been picked before they're ripe. Canning increases key nutrients like vitamins A, C, and folate (by 10x!), as well as the antioxidants (like lycopene) in the peaches. Choose peaches packed in their own juice for an affordable, naturally sweet treat that tastes like summer. Ahhh summer. Remember summer?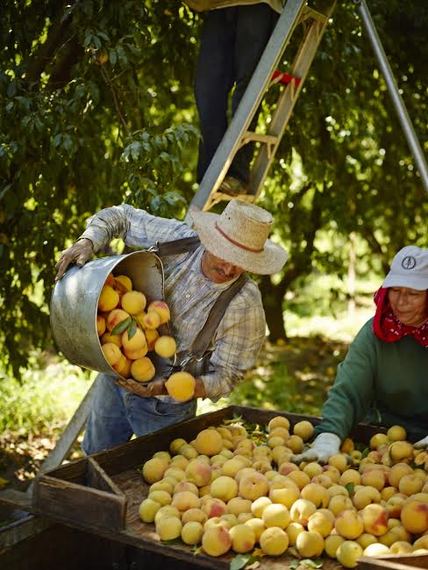 Look at all those gorgeous California cling peaches!
Frozen fruits and vegetables are fantastic options as well as long as they're not seasoned. Just like canned fruits, frozen fruits and vegetables are picked at the peak of ripeness and flash-frozen within 24 hours to seal in all the freshness and nutrients. Just like canned fruits, frozen fruits and vegetables are ready when you are, and can be stored for long periods of time, reducing food wastage (which is another big problem).
Choose in-season produce:
Even though it's winter, there are still some vegetables and fruits that are in season. Winter squash, parsnips, cabbage, white and sweet potatoes, beets, and carrots are all less-expensive, seasonal options at this time of year. For fruit, there's apples, grapefruit, pears, and oranges. Buying seasonal at any time of year is always the most cost-effective way to shop.
If you need ideas on how to cook with, say, rutabaga -- check out Healthy Aperture or Epicurious online -- two of my favourite sites. Make a coleslaw with cabbage, or a carrot and beet salad -- both great ideas to get your salad fix without the expensive leafy greens. Sprinkle with some seeds for healthy fats -- seeds are less expensive than nuts right now.
Eat more plant-based proteins:
2016 is the Year of the Pulse, which means that beans, lentils, and chickpeas are being heavily promoted. This is a great thing, because they're highly nutrient-dense, super-healthy, kind to the planet, delicious, and cost-effective. They're so versatile too -- use lentils to substitute for half or all of the meat in tacos, make a yummy chickpea curry, or use these chipotle black beans for protein in your salad or rice bowl.
Tofu is another plant-based protein that's so easy to cook -- pan fry it quickly or marinate it, for example -- and it's a source of calcium and iron. It's also really inexpensive, and even the organic type is still cheaper ounce for ounce than meat.
Breakfast for dinner:
Eggs are one of the cheaper proteins, and using them to make a hearty frittata is one way to serve them up at any meal. Combine them with potatoes, kale, and some kimchi for one of my favourite cost-effective recipes.
Remember that this too shall pass, but at least you can take this opportunity to try some new foods that you might love forever!
Discosure: Abby Langer is an ambassador for California Cling Peaches.
MORE ON HUFFPOST:
12 Ways To Save Money On Groceries
In the olden days (2002), it was sound advice to carry a calculator when you shop. These days, your touchscreen phone is capable of much more: Use the calculator to keep a running tally of purchases and determine unit cost. Use the internet connection to search for last-minute discounts and coupons, or check circular sales at nearby supermarkets. Use the camera to record and compare prices and remember items you like for next time. Use apps to keep track of your grocery list, find coupons, and create a price book (which you can read more about in the next slide).

A price book is a spreadsheet in which you record sale costs of foods you buy often. By keeping track of these bargains, you can stock up when a price hits rock-bottom ($0.50 off? Nice!), and ignore sales that aren't all that great ($0.10 off? Who cares?). Depending on your technological aptitude, you can maintain your price book on paper, in an Excel spreadsheet, or, as previously mentioned, on a touchphone app.

It's science: You will buy more with a credit card than you will with cash. Research shows card users spend up to 100 percent extra, and one study, specifically of supermarket shoppers, found that they pay 33 percent more for groceries and buy twice as many non-essentials. Grocery shopping with a fixed amount of physical money forces you to do three things: Forgo impulse purchases. Stay within a set budget. See exactly what you're spending, which is more "real" to most people than simply swiping a plastic card. To reduce your expenditures even further, try carrying less cash each time you go shopping.

Simply put, brand loyalty is your allegiance to a particular product, whether it's Tropicana orange juice or Crest toothpaste. Studies show that brand loyalty increases with age, meaning that as you get older, you're less likely to purchase a rival item, even if it's cheaper or works better. This is one area it helps to take a cue from 20-somethings: According to a recent Ernst & Young study, 60 percent of millennials would pass up their favorite brand for a thriftier one. Try it on your next supermarket trip; many store brands have improved over the years, and you may get the same results for a fraction of the cost.

Your yogurt is "made with natural ingredients"? Great. So are these. Unfortunately, many food label claims are meaningless, including "natural," "no artificial ingredients," "hormone-free," and almost anything on egg packaging. Marketers add these nutritional and animal welfare terms so you'll believe the items are healthier, and worth more money. To avoid confusion and save cash, follow these simple tips: -Buy fresh foods from the perimeter of your supermarket. A carrot doesn't need a label. -Always read the ingredient list and nutrition facts. They're excellent indicators of health. -Look for the right labels, including "organic," "certified humane," or the terms explored here and here. Remember: An unhealthy food with added vitamins or fiber is still fundamentally unhealthy, and not worth the extra cash. (a.k.a. Donuts with Vitamin D are still donuts.)

Even novice shoppers know: The more a food is processed, the more expensive it will be. Generally speaking, that means purchasing watermelon chunks will be pricier than buying a whole watermelon and breaking it down yourself. Skeptical? Afraid of knives? Worried about the time commitment? Don't be. YouTube is packed to the gills with instructional videos showing you how to chop everything, from chicken to carrots to that pesky watermelon. With practice and a sharp knife, you'll be banking big bucks in no time.

Often located by the produce or convenience foods section of the supermarket, the salad bar is generally dismissed by shoppers not looking for a last-minute lunch. However, for those in search of small amounts of nuts, exotic vegetables, pricey fruit, or internationally oriented cheeses, the cold buffet is a treasure trove. Why? Well, sometimes our recipes only require 1/4 cup of walnuts - not a whole bag. Taking from the salad bar allows us to bypass buying larger containers, and take what we need. What a concept.

When it comes to saving money on food, there's no better way to bank big bucks than creating a weekly menu – or even better, a bi-weekly menu. It: -Pre-determines your grocery list, allowing you to plan for sales and coupons, eliminate non-essential items, and avoid unnecessary extra trips to the supermarket. -Reduces fast food expenditures, since dinner is always planned allows you to stock up on foods for most-loved recipes and future menus. -Helps you anticipate nights out and buy for big events, like holidays and birthdays. So, take 30 minutes this Sunday to leaf through circulars and plan meals for the next seven days. Keep yourself on track with a pretty and free menu planner, available at any of these fabulous websites.

You can use coupons. You can shop during sales. But for the very best savings, use coupons during sales, which generally occur every 6-8 weeks for any given product. When the two match up, savings are maximized, allowing you to save big and stock up. In other words, a $0.75 can of beans on sale for $0.50 will cost even less with a $0.25 coupon. Remember: Too often, coupon inserts are mini-catalogs, packed with new-to-the-market, highly processed luxury foods. To make the most of your money, only clip coupons for foods you need and use.

As the number of Indian, Mexican, Filipino, and Chinese immigrants in the U.S. surges, so does the number of ethnic markets catering to each population. Finding one – or several – in your area can mean big savings (25, 50, and even 75 percent) on produce, meat, and pantry staples, not to mention opportunities to discover entirely new and delicious recipes. Take it from economist Tyler Cowen, who shopped exclusively at Virginia-based Chinese market Great Wall for a month. He found the variety, quality, and prices to be far superior to most American supermarket chains, concluding, "You can significantly lower your supermarket bills and at the same time eat a healthier diet."

In 2005, The International Journal of Eating Disorders published a study in which several dozen women were denied chocolate for a brief period. Researchers found that later, those women, "experienced more food cravings than did unrestrained eaters and were more likely to eat the craved food." Multiple studies have corroborated the central idea: Whether it's your diet or your finances, extreme deprivation can lead to overdoing it later on. So, if you want the ice cream, buy the ice cream. Just ensure you consider it a treat, rather than a staple. By making allowances, you'll save more in the long run.

Eating your dinner off a petite plate is an age-old diet trick so popular that an entire organization, the Small Plate Movement, is dedicated to the practice. In fact, researchers theorize that adults can drop up to 18 pounds per year just by reducing the size of their dinner dishes by two inches. It stands to reason that the same logic would follow for grocery shopping. Using a smaller cart or hand basket forces you to cut your purchases down to the essentials. With no room for extra food, there will be plenty of extra savings.
Follow Abby Langer on Twitter: www.twitter.com/langernutrition