You Don't Need A Perfect Diet When Healthy-ish Will Do
When people hear that I'm a dietitian, I suspect most think I spend my life pushing diets full of fruits and vegetables and giving the side-eye to anyone who dares eat a chocolate bar in my presence. They must think I'm a warrior for The Healthy Diet, a scorner of 7-11 nachos and baseball game hotdogs, and a complete and utter killjoy when it comes to food.
Like, the WORST guest at a potluck ever.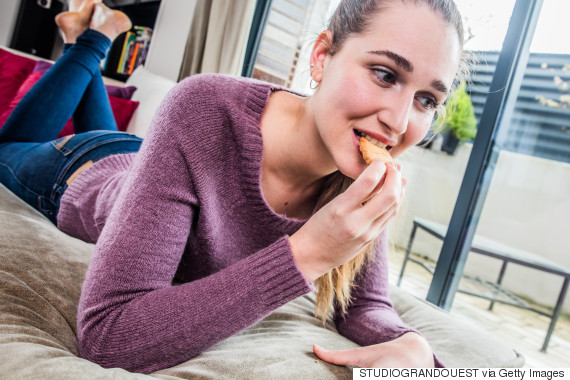 (Photo: Studiograndouest via Getty Images)
HELL NO, PEOPLE! WAKE UP! I love 7-11 plastic nacho cheese just as much as the next person! I also can't live without coconut cake, Kit-Kat Chunky bars and the occasional bag of the ultimate dirty snack food, beef jerky. (Like, the kind you get at the drugstore, not the fancy kind.)
That's OK, though -- because healthy-ish is what I live and teach. I'm so glad that someone finally coined an actual term for being mostly healthy! Yay!
Over years and years of practice, I've learned something very important: that most people (including myself) respond really well to leniency and permissiveness in diet. Of course there will always be those outliers who want to be screamed at and restricted boot-camp style, but that's just not the way I roll -- personally or professionally. You've got to cut people a little slack, because diet is so very emotional, so personal, and not many people want to give up cookies, wine, eggs Benedict or what have you, forever. I certainly wouldn't do it. People generally want to keep some of their vices, even if they're interested in leading a healthy life. And just in time, here comes "healthy-ish!"
Food and guilt shouldn't be at the same table, ever.
Healthy-ish is around a seven or eight out of 10 on the scale of healthy eating. It's not Froot Loops for breakfast every day (that's a one), and it's not kale in your granola and zero added sugars for the rest of your life (I don't even think that's healthy, it's nuts). It's a meet-you-in-the-middle, half-fries half-salad, a bit better-than- average level of eating that recognizes that you're gonna have a piece of cake sometimes, and that's OK. There will be crazy days when you eat zero vegetables, and that's OK, too. Healthy-ish is an average, where that average tips in favour of healthy, but isn't obsessive.
Here's how I think the best way to achieve a healthy-ish diet is:
Stop with the food guilt.
Try to understand that a healthy diet isn't one that is completely "clean" and without indulgence. And by indulgence I don't mean avocado chocolate pudding. I mean real, thick, amazing chocolate pudding, or whatever other indulgence you love. Food and guilt shouldn't be at the same table, ever. They don't get along, and they never play nice together. Food guilt will take away from the true happiness of being healthy-ish and defeat the purpose.
Unhealthy: Eating a piece of cake and obsessing about how fat it's going to make you.
Healthy-ish: Eating the same piece of cake and understanding that if you plunk a piece of cake into a mostly healthy diet, it's not going to do anything to your weight or ruin your life.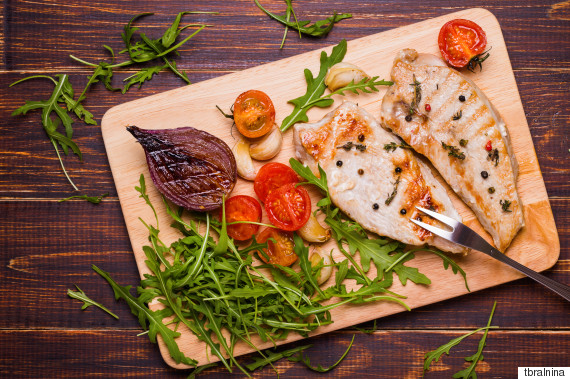 You still have to make some healthy choices. (Photo: Tbralnina)
Be mindful.
Healthy-ish is eating what you want when you want it, but not eating just because it's there or using the term as an excuse to consistently overeat crappy food. Do you get the difference?
Unhealthy: Margaritas and nachos for eight hours, every day, of a week-long vacation.
Healthy-ish: One or two margaritas and a few chips every other week while you're enjoying a dinner with friends.
Understand that, on average, your overall diet should consist of healthy choices.
Just because there's a bit of permission to eat less-than-healthy food doesn't mean that your diet should suffer. I still expect you to eat a ton of plants and make wise nutrition choices most of the time. Healthy-ish works because you're never really restricted, but you need to keep up your end of the bargain: eating a mostly healthy diet. Healthy-ish doesn't like to be abused.
Unhealthy:Having McDonald's every day for breakfast.
Healthy-ish: Having Froot Loops... OK, bad example. Having eggs Benedict on Sundays because it's your ritual and you're sticking with it. Plus, you've eaten a healthy breakfast all week.
Follow HuffPost Canada Blogs on Facebook
Also on HuffPost:
How To Burn Off Guilty Pleasures
The calories in pizza add up dramatically, especially if you have more than one slice. One way to feel full with fewer slices is to load up on veggie toppings. Think green peppers, onions, and black olives instead of meats or extra cheese. Meanwhile, if you want to undo the calories in a slice of pizza, plan on 60 minutes of fast-paced ballroom or swing dancing. Or you could try 90 minutes of walking around the shopping mall or tackling vigourous cleaning chores at home.

Desperately thirsty with no water in sight? You won't be the first person to down a cold, 12-ounce can of sugary pop with your fingers crossed against the weight gain. Want an easy way to feel less guilty and nurture man's best friend as well? Spend 40 minutes walking your dog (or a neighbour's, if need be) at a moderate pace, advises Moore. Of course, it's always best to choose a no- or low-calorie drink and avoid having to exercise calories away.

As coffee-based pick-me-ups go, this one is tasty and perhaps not as indulgent as, say, the largest mocha with whipped cream on the menu. Still, a 16-ounce (medium) latte with sugary flavouring, even with nonfat milk, is still a bit of a guilty pleasure when it comes to calories in food. Exercise calories away with 30 minutes of biking. An hour of moderate weight training or resistance training will achieve close to the same result.

Can't resist the treats in the checkout aisle? The average bar of chocolate will cost you. If you want to enjoy it, set aside your lunch break for a mini-workout to exercise calories away. Approximately 13 minutes of climbing up the stairs at work or on a machine will pay the piper. Moore points out that chocolate bars are not all created equal. Depending on the bar, you may be faced with more calories (and stairs to climb). Read the label and adjust accordingly.

Even if you ate breakfast, a fresh doughnut at a breakfast meeting or from a box passed out at your child's soccer game may simply "disappear" before you know it. Now what? Even though a doughnut may not get you in the mood for swimsuit season, it's time to hit the pool: Just 25 minutes of vigorous swimming will cure these excess calories in food. Of course, the exercise calories you burn will change with the intensity of your workout. Swimming lazily on your back burns fewer calories than energetic laps.

It's a challenge to avoid a celebratory slice of cake with gooey icing. Your parents' wedding anniversary, your toddler's birthday party, your co-workers' bridal shower — sooner or later this sugary confection will find its way onto your plate. Get rid of the calories in a 3-ounce slice of frosted cake by lacing up your hiking boots: About 50 minutes of hiking outdoors will counter the calories in this food. Alternatively, you could use a power mower to groom your yard for 45 minutes to an hour.

Hopefully you hit an ice cream parlour close to your favorite gym. It will take nearly 75 minutes in a spinning class to wipe out the calorie load of the small sundae that you probably ate in under 10 minutes. If you'd rather exercise calories away by making some home improvements, cleaning gutters around the house for the same amount of time will do the trick — and give you a great sense of accomplishment.

Who doesn't love a toasted bagel with their morning coffee? But the larger the bagel, the more calories you're racking up. How to undo the damage? The calories burned jogging for 45 minutes at a good pace will counteract those in one large bagel. Of course, you'll have to work harder and longer if you slathered on the cream cheese or any other topping.

Whether with dinner, during the cocktail hour, or while socializing at an event, a 5-ounce glass of red wine may not be the worst diet offense you could commit. And this one is pretty easy to work off. Just spend 12 minutes jumping rope, and you've erased the dietary damage. Moore points out that calorie counts for alcoholic beverages vary. While a small glass of wine is somewhat innocuous, a giant margarita can clock in 200 to 300 calories … and necessitate a marathon jump-rope session to exercise calories away.

When you're on the road or just out and about, an irresistible craving may steer you toward a popular guilty pleasure, the fast-food drive-through. This tasty (and oh-so-bad-for-you) meal can be erased with exercise calories burned in about 30 minutes of kickboxing — a fabulous stress buster in addition to conquering calories in food. Keep in mind that you'll have to double up your exercise effort if you had a medium side of fries with that burger.
Follow Abby Langer on Twitter: www.twitter.com/langernutrition