Rob Ford Didn't Deserve to Be Fired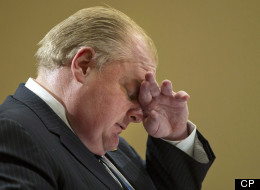 I felt sad to hear the court's decision to oust Mayor Rob Ford from office. In spite of what is said about him in the media (as if he was a wild beast who eats humans) he is indeed a caring politician who listens to people and tries to do something about their problems.

How many times has a politician replied to you personally -- aside from during an election when they pretend to be Santa Claus -- let alone show initiative to solve your issue?

I will never forget my experience with Mr. Ford. Even though I was not part of his constituency, he nevertheless responded to me and was willing to meet me personally and bring officials with him to study an issue I cared about. It was about an intersection in the Etobicoke neighbourhood where I suggested a traffic light be installed to ease the congestion.
Though I was out of the country, he did not ignore it and took the initiative to study the proposal, consult city engineers and write back to me about the outcome.
While I respect the court's ruling, I think there were other major breaches that warranted similar severe consequences, such as Ontario's $1-billion eHealth consulting scandal; the cancellation of two gas plants in Mississauga and Oakville at a cost of hundreds of millions of dollars to taxpayers; the Ontario Lottery and Gaming scandal; the Samsung deal scandal; the Eco Tax scandal and so on.
Mr. Ford should not be treated differently than anyone else. I am not implying that he should be above the law. We should be fair when applying the severity of our legal system. Other politicians who have been involved in much more serious offences should have been treated as such, including expelling them from office and holding them accountable for the mishaps they have caused.
With respect, I consider the sentence against Rob Ford to be a little too harsh.
Sorry this #fordcourt verdict is taking so long. The judge was coaching football this morning and will get around to it soon.

Rob Ford got kicked out of mayors office? WOWWWWW!! Hes hopping on that gravy train right back home.

rip rob ford. stung by a hoard of vicious gravy wasps.

Now I await all Rob Ford memes. #topoli #comeatmebro

Oh, my. Rob Ford has been removed from his office as mayor. Toronto politics just got rather interesting. http://t.co/Ltpmkac6

Rob Ford needs new business cards asap!

Terrifying thought: Governor of the Bank of Canada job is open. Rob Ford is looking for a job. ARRGGHHH! #Cdnpoli

BREAKING: Toronto Mayor Rob Ford found guilty of violating conflict of interest act, removed from office http://t.co/o0BBzIgp #topoli

#topoli Imagine if #toronto invested as much time and attention to transit financing as we spend distracted by @TOMayorFord latest antics.

Its a sad day for hard working comedians throughout Toronto. It appears Rob Ford's been booted from office (pending appeal) #RobFord #TOpoli

No more coach/mayor Ford! #topoli

How does it work in TO when a mayor finishes early? Is there a bielection or will the deputy step up as acting mayor? #fordcourt #TOpoli

Very exciting day in Toronto- and it has nothing to do with football. Let's fix this and make sure it never happens again. #TOpoli

Hey #Toronto, #RobFord might be out of office now so get yourselves educated about the issues and make informed choices. #topoli #onpoli

Who's going to drive the gravy train in the parade :(. #TOpoli #RobFord

Watching the Rob Ford circus is more fun, but Carney leaving Canada for England is bigger and more important news #topoli

Oh boy - we're gonna see Jabba the Mayor kick it into serious victim mode now! #RobFord #TOpoli

Also, Rob Ford is trending worldwide. (Let's hope just this once and never again.) #TOpoli

If Rob Ford and Dalton McGuinty just traded positions, Toronto would have subways all over the place. #topoli #onpoli

I wonder if Rob Ford will appeal the decision or leave quietly with his last shred of dignity. #TOpoli

On the otherhand Doug Holyday will make an excellent Interim Mayor for #toronto #topoli #tocouncil

Let's hope Ford can and does run again soon. Then Toronto can turf his partisan, ignorant ass in the most clearly democratic manner. #TOPoli

Have You Driven a Ford (out of office) Lately? #topoli #fordcourt
A tired-looking Rob Ford appeared before dozens of reporters at City Hall on Tuesday afternoon. Ford made a brief statement to the media and took no questions. A full text of his statement:
Good afternoon everyone. I was elected two years ago by the people of Toronto to do a job. We have accomplished a lot in the past two years. But, that job isn't finished yet. I respect the Court's decision that was released yesterday. My decision to appeal is not a criticism of the Court. But, I feel it is important to work through the appeal system so I can continue to do the work I was elected to do. This entire matter began because I love to help kids play football. When this came to Council for the vote in question, I felt it was important to answer the accusations that had been made against me. I was focused on raising money to help underprivileged youth. I never believed there was a conflict of interest because I had nothing to gain. And, the City had nothing to lose. But, I respect the court's decision. Looking back, maybe I could have expressed myself in a different way. To everyone who believes I should have done this differently – I sincerely apologize. The people elected me to bring respect for taxpayers back to City Hall, and I will keep working to do exactly that for as long as I can – or, until the people elect someone else to do the job. Thank you. Unfortunately, that is all I can say at this time.
Ford at times appeared close to tears while he was delivering the statement. His voice appeared to break a few times and he was quickly escorted out of the room by his press secretary.