This Hockey Dad Got To Play For The First Time At 40
After turning 40 recently, I finally got to experience my childhood dream -- to play in a real ice hockey game.
Even better, I got to face off against my six-year-old son, Zachary, in a parents vs. kids showdown.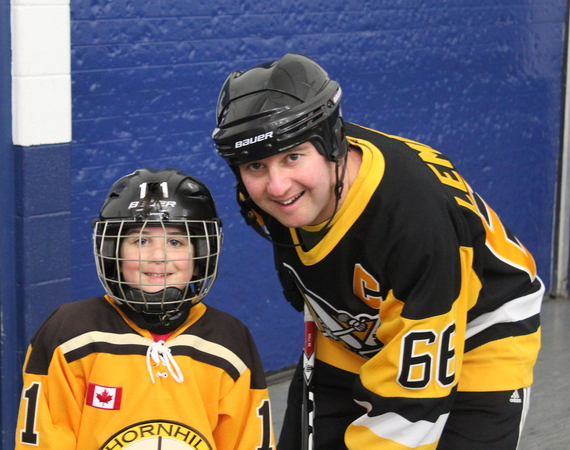 Blogger Adam Michael Segal and son, Zachary/ Photo Credit: Carol Segal
Before I share the guts and glory of the big game, a little context on why it mattered so much. And why the demands of being a hockey dad are worth it.
I grew up watching hockey religiously. I traded hockey cards. I went public skating. I played on the street. But the option to play the real game, on ice, wasn't there. My parents didn't have deep pockets. My mom saw it as a boorish, stick wielding fest of violence.
So I have spent nearly four decades wondering what it would be like to take a shot, make a pass or just be in the dressing room with teammates. Realizing that opportunity was slipping away as the years passed, I looked to the future. I resolved if I ever had a son, I would bend over backwards to give him the chance to play.
I don't pressure Zach -- ever. I encourage him and he loves it.
So Zach was on skates at three and playing houseleague at five. This year, he made a select team, the Thornhill Rebels. This was exciting, but challenging.
I'm a single dad. Dashing off to practice and games right after work is a mission. Getting him geared is often a frantic rush. It can be exhausting. The cost is high. It's a real sacrifice.
But there is something magical about it all. His team has bonded like brothers. I watch Zach skate with speed I could only dream to match. He's a defenceman and guards the blue line with commitment and authority beyond his years.
Then there are the parents. We are bonding just like the kids. Every game and practice is a social outing.
Am I living vicariously? Sure. But it's not unhealthy, as far as I can tell. I don't pressure Zach -- ever. I encourage him and he loves it.
So when I donned my vintage Mario Lemieux, strapped on a helmet, grabbed hold of a hockey stick and played in a real game, I was in heaven.
Well, it was a bit of a slippery heaven. It wasn't that I was nervous. On the contrary, I felt a sense of relief that I was finally living my dream. But I didn't skate smoothly at first. I 'accidentally' knocked over Zach! And I garnered a rink full of laughter when my shot hit the referees' backside.
But with each shift, I got smoother. I smiled. I joked with the other dads. Gave Zach a fatherly bump. I even rang a shot off the post. I was really playing hockey!
And I did it at the exact same moment my boy was on the ice with me. I couldn't have entered my 40s and ended my hockey virginity feeling any better. Final score: 11-4 for the kids. Never felt better losing.
Follow HuffPost Canada Blogs on Facebook
Also on HuffPost:
Celebs Likely To Pass On Their Love Of Hockey To Their Kids
It's well known that Mike Myers has been a life-long fan of the Toronto Maple Leafs. In fact, in his 2008 comedy "The Love Guru," Myers plays a guru who helps a struggling Leafs player regain his confidence. Clearly his love of the sport is reflected in all aspects of his life and we're sure he'll pass it on to his kids, too! Myers' children are Spike, 4, Sunday, 1, and Paulina, 3 months.

The country singer is married to ice hockey player Mike Fisher. Naturally, this means their one-year-old son Isaiah will likely learn the sport once he gets older.

While the Great One has admitted trying to get his oldest daughter Paulina into hockey, it seems he has given up and is now imparting his love of the sport onto his grandson Tatum. Just take a look at these adorable Instagram videos of the two.

Steve Carell used to be a serious hockey player before he got into acting. In an interview with CNN in 2014, the actor described himself as "the LeBron James of rec league hockey." Carrell thought about pursuing hockey professionally, but "that didn't turn out well," he admitted. Despite this, we have no doubt he's shared his love of the sport with his two kids, Elisabeth, 14, and John, 12.

Vancouver-native Michael Buble has been a longtime fan of the Vancouver Canucks. While his sons, 2-year-old Noah and newborn Elias, are still young, they'll likely grow up loving hockey just like their dad.

Cuba Gooding Jr. is a noted hockey fan and he proved that last year when he went nuts after winning a "Shoot the Puck" game during a Chicago Blackhawks match against the Detroit Red Wings. Gooding Jr. is a father of three and with enthusiasm like this, how could his kids not love this sport too?

Like a true Canadian, Michael J. Fox loves hockey and he's already passed that love onto his 26-year-old son Sam. Last year the two were spotted attending the NHL cup playoffs in New York. Besides Sam, Fox is also a father to twins Aquinnah and Schuyler, 20, and Esmé, 14.
Follow Adam Michael Segal on Twitter: www.twitter.com/AdamMichaelSeg1