This Man Is Running The Toronto Marathon With No Legs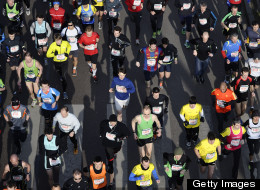 Imagine going to bed with flu-like symptoms and waking up three weeks later with no legs and only one arm.
Bryan Cuerrier doesn't have to imagine. He lived it.
In May 2010, the 54-year-old was found half-conscious in his home by his girlfriend. According to Marijo Cuerrier (now his wife), his hands had turned blue and he could barely speak.
Bryan was rushed to the hospital and doctors struggled to diagnose him. Eventually he was diagnosed with Flesh Eating Disease and in order to save his life doctors had to amputate his left leg, left arm below the elbow, right leg below the knee and his fingertips on his right hand. For nearly a month, Marijo didn't leave Bryan's bedside as he went through multiple surgeries and was put into an induced acoma.
Once Bryan finally woke up, Marijo had the difficult task of telling her boyfriend that he only had one limb. He was so medicated that she had to tell him the heartbreaking news multiple times because he was in and out of consciousness.
How did the Belleville, Ontario resident get Type A Streptococcus bacteria? Good question. Bryan, and his doctors still don't know. He was a healthy and active runner who always "took life by the horns."
That love and passion for life hasn't changed. After years of rehabilitation and dedication, Bryan had to re-learn how to stand, walk and hold a glass again. Doctors originally told him he would never be able to walk again. He proved them wrong. Miraculously, his positive outlook and courageous attitude have allowed him to sail, golf, plays tennis, ski, blog and travel. He does more than most able bodied 20-year-olds. Plus, he never misses a Montreal Canadiens game, he is a hardcore hockey fan.
Does Bryan ever feel sorry for himself? Absolutely not. He admits to having self declared "AMP" (amputee) moments. This is when he realizes that he has no legs, says "Holy S**T" and then moves on. Bryan says he doesn't like to dwell on the negative and rarely gets depressed.
To mark the third anniversary of the incident, he and his incredibly devoted wife have signed up for the Toronto Marathon on May 5. Bryan will do a 5 km walk and Marijo will run a half marathon. It may take him an hour and a half with his prosthetic legs, but it doesn't seem like anything could phase this handsome, positive and charming man.
If you ever need to be inspired to get off the couch or to simply live a better life, check out his blog.
Thank you Marijo and Bryan for touching my life and others so profoundly with your story of love, courage and pure heart.
8 Inspirational People Of 2012
After a very public betrayal by her husband and her best friend, Twain's confidence was shaken, and she even lost her ability to perform for years. The beloved Canadian songbird didn't just give up and just disappear, though. She shared her very personal journey on the OWN TV show 'Why Not? With Shania Twain,' proving that even super celebs have to deal with unpleasant personal drama. This year she's made a triumphant return to the stage in a glitzy residency at Caesar's Palace in Las Vegas.

TV's toughest trainer balances a busy career, including her fitness empire and a gig on 'The Biggest Loser,' with a full home life. Earlier this year, she and partner Heidi Rhoades welcome two bundles of joy into their lives. Now, Michaels regularly dishes out great advice on not only how to get into killer shape, but also how to juggle everything. No wonder even the famously disciplined financial guru Suze Orman turns to Michaels for help reaching her fitness goals.

Watching this bubbly HGTV personality deliver dramatic home transformations through design certainly inspires plenty of Canadians to put some of her tricks into practice to beautify their own homes. In addition to hosting several TV shows on HGTV, the busy wife and mother also runs a successful design firm she built from scratch. Richardson proves that nice gals can finish first.

It's almost cliché to include this world-famous motivational speaker on a list of inspiring people. But anyone who's seen Robbins speak or read his books knows that he's the foremost expert on getting inspired for a reason: he's effective! Whether you're trying to improve your relationships, improve your health, get a promotion or manage your time better, Robbins's no-nonsense words of wisdom can help you formulate a plan and tackle your goals head-on.

The author of the best-selling books 'The Happiness Project' and 'Happier at Home' has spawned a happiness-seeking movement, with 'Happiness Project' groups sprouting up across the globe. Rubin's quest to discover the secrets to achieving true happiness has inspired millions of people to spend more time and energy working towards attaining more meaningful lives. After all, who doesn't want to be happy?

Instead of launching another high-end restaurant as many top chefs in his position may have done, conscientious gourmand Brand rescued Vancouver's iconic Save-on-Meats and transformed it into a delicious deli/ social experiment. The shop offers affordable and tasty meals for everyone in its gritty east Vancouver neighbourhood, where the less fortunate can dine alongside buttoned-up businessmen. Brand continues to demonstrate that with a little elbow grease, anyone can make a difference.

After a disappointing stint as the anchor of the CBS Evening News, the former 'Today Show' host has reinvented herself yet again. This time around, Couric's TV vehicle, the daytime talk show 'Katie,' seems to be a better fit for the affable-yet-probing interviewer. While Couric's many professional successes are inspirational on their own, her personal story is even more empowering: she lost her husband to colon cancer in 1998 and had to raise their young children on her own while juggling a high-profile career. If you're looking for inspiration beyond Couric herself, tune in to 'Katie' to watch her unique segment called 'Women Who Should be Famous,' which spotlights impressive ladies.

Her high-octane songs definitely inspire legions of fans to work harder at the gym. The feisty singer's influence extends beyond her empowering lyrics, too. She recognizes that she's a role model to many young girls, and she takes that responsibility seriously. She regularly advocates being healthy, strong, confident, and, above all else, true to yourself. After all these years in the spotlight, she's still outspoken, authentic and has refused to conform.
Follow Alana Hurov on Twitter: www.twitter.com/HotelYoga