5 Steps to Getting Your Man to Do the Dishes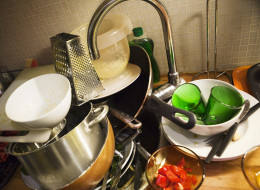 As a kid I dreamed of having a maid, a husband who cooked, cleaned, played professional sports, looked like Superman and made millions of dollars. I also dreamed that one day I would be best friends with ALF and live in the Barbie dream house. It's fair to say that neither has come true.
What has happened is that I live with an awesome guy who loves to eat my cooking (when I actually cook), plays baseball in a men's league, sort of resembles Daniel Craig (he thinks so) and has a great career. I consider myself pretty lucky to be able to say that my best friend is also my boyfriend. With all that said, it isn't always dinner by flowers and candlelight. In fact, it's more often than not a daily negotiation of the cleaning duties. So, in one week...I discovered the formula for the age old question of how to get any man to do the dishes.
Step 1 - The Negotiation.
Men understand simple and clear business-like terms and if you relate household duties like a business deal, you are more likely to be successful. Prior to cooking dinner, say to your partner: "I love making you dinner and it makes me so happy to see you enjoying your meal. Could you please do the dishes afterwards? It will give me more time to prep dinner for you tomorrow night. I would really appreciate it."
Step 2 - The Persuasive Standoff
If step 1 failed, your next mission is let the dishes stay in the sink for as long as it takes. Resist the temptation to do the dishes. Men will respond especially if the standoff means they won't have dinner or access to clean dishes. Prior to your next meal together, say to your partner, "I love you honey. As agreed upon last night, could you please do the dishes. I am unable to make dinner or cook until they are clean. I also find it uber sexy when you wash them because I get to watch your strong arms and broad shoulders at work."
Step 3 - The Invitation
If Step 1 & 2 failed, it's time to resort to inviting someone he considers important over for dinner or a drink. Most men have a lot of pride and consider their homes an extension of their success. They will tidy up if someone is coming over that they want to impress. Say to your partner, "I invited _____(insert name here) over for a drink or dinner this week. Does ___ (day) work for you too? Oh right, can you please take care of the dishes before then too honey?"
Step 4 - Hire a Cleaning Service
If Step 1, 2 & 3 failed, it's time to hit them where it hurts -- in the wallet. Hire and/or suggest hiring a cleaning service to do the dishes and clean the kitchen. Casually mention to your man that you looked at a couple of cleaning services and it costs ___ amount to clean the house for a day. Say to him, "Did you know that it costs ____ to hire a maid service to clean the house for a day. My girlfriend and her hubby uses the service once a week and it really helps. If he doesn't do the dishes within a day or two, it's time to tell him that you are hiring a maid service using his money (not yours).
Step 5 - Relationship Counselling
If all of these steps have failed, it may be a clear sign that your relationship is in trouble. Your partner should respond to your requests for help and support. There could be bigger underlying issues happening. Whatever you do, try to avoid nagging or becoming overly emotional. Men respond best to clear, concise requests and answers.
If all of this seems like too much work, consider hiring a regular cleaning service or become single. Either way, you will have clean dishes.
Good luck on your journey!
ALSO ON HUFFPOST:
11 Cleaning Tips For The Summer
Dirt moves from top to bottom, so don't forget you ceiling, ceiling fans, tops of cupboards, crown mouldings, light fixtures and appliance tops.

Make sure the curtains get a good wash or run your vacuum over them. Use a light suction over your blinds or use a duster.

Dust before you clean. Even though dusting is considered cleaning, dusting before vacuuming or mopping will give your floors that extra shine.

Not only should you focus on cleaning indoors, but outdoors (especially in the summertime), should also be a priority. Clean your patio furniture, outdoor light fixtures and doormats.

If you can, clean your windows both inside and out. Smudges and streaks will be extra noticeable in sunny weather.

Door knobs, keyboards, remotes, light switches, faucets — disinfect all the areas you use often, but never clean.

Fun tip: Squeeze out your used kitchen sponge and microwave it on high to get rid of bacteria.

If you're vacuuming your rug, go from corner to corner. To be extra dirt-free, go over each area two times.

Instead of scrubbing stains off carpets, try pouring soda water over them and blotting with a dry cloth to get them out.

Use a damp cloth or sponge to wipe down your walls. Pay attention to walls in your kitchen, bathroom and near light switches.

Leaving your mop in a bin of water or oversoaking it will leave marks on your floor. Instead, use a bin that comes with a strainer.
Follow Alana Hurov on Twitter: www.twitter.com/HotelYoga