Divorce Split My Mixed-Race Family But Defined My Identity

Growing up as a MRCOD or mixed-race child of divorce was, for the most part, pretty solid. (Sidenote, I really should coin that term). But being a mixed-race adult of divorce is a whole other ball game.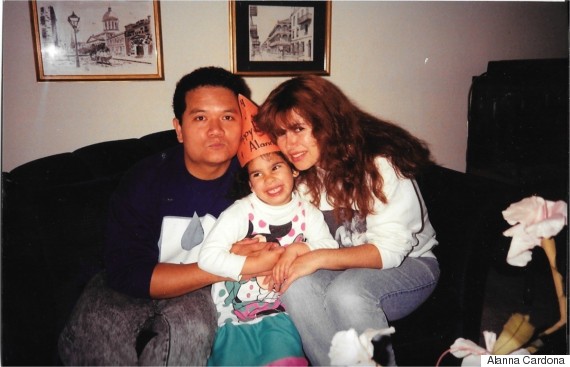 Adulting is challenging enough with having to pay for your own shit, but pile on divorced parents where you can't hide behind the security blanket of child-minded ignorance, and you're left with an insurmountable amount of pressure to make everyone "happy."
It only gets harder with age, especially when your parents hail from two polar-opposite cultures. My mother is second-generation Italian, my father is first-generation Filipino. But only now, as an adult, can I truly comprehend the cultural divide that followed the divorce that I didn't recognize as a child.
My earliest memories of shuffling back and forth from Mississauga to Ajax in my dad's used Pontiac were punctuated with superstitions like holding your breath when passing cemeteries, lifting your feet when driving over railroad tracks and making the sign of the cross when you see a church.
My dad (or papa as we call him) made sure my sisters and I did that last one every time. "Good," he'd say, when we did it on our own without prompting. When we'd pull up to the driveway at my grandma's house, I could barely contain my excitement to see my cousins, my "Filipino side."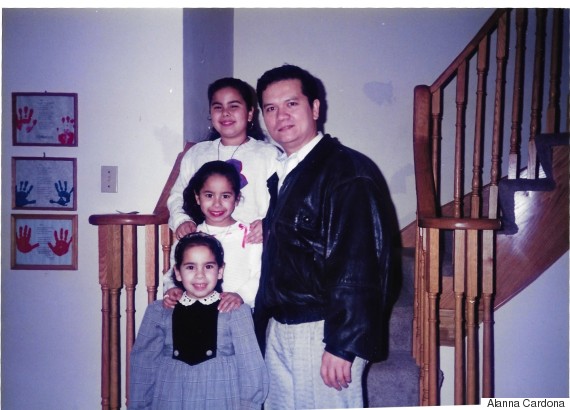 I am grateful for the time I spent with my Filipino family on the weekends papa had us. Unfortunately, he had to work most of the time, but it quite honestly didn't matter to me. I have no recollection of my parents ever being together -- they divorced when I was a wee, little, frizzy-haired thing at the ignorantly blissful age of five. To me, eating cold egg rolls, walking down the street with my cousins to Pennyworth's (today's Dollarama) or climbing up dusty, stacked boxes in the basement like we were mountain goats was an adventure.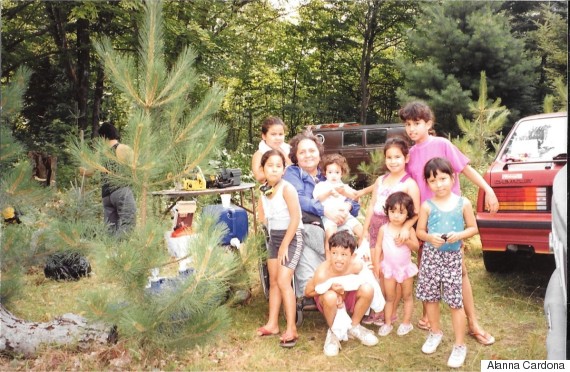 Every other Sunday was "un pezzo di italia" -- a piece of Italy. (Cue song, C'é La Luna Mezzo Mare). I'd give anything to go back and be with my mom's mom, our matriarch, our Italian saint, our nonna. I miss the way her shoulders shrugged when she laughed. I miss her cooking. I miss the scents and sounds of her house. Fresh herbs and bacon fat simmering in tomato sauce would hit my nose as quickly as my ears would hear nonna shouting Italian vulgarities at the TV because Stefano once again betrayed Marlena on Days of Our Lives.
"Lui è il diavolo!" ("He's the devil!")
She'd see us enter the living room.
"Oh, hai mangiato?" ("Oh, did you eat?")
Yes, I did nonna. Quite a bit actually, but I will eat again. And again. And again.
These are pleasant memories for me. This isn't a blog about how terrible my childhood was, because considering I'm a "mudblooded" kid of divorce, my childhood was really good against most standards.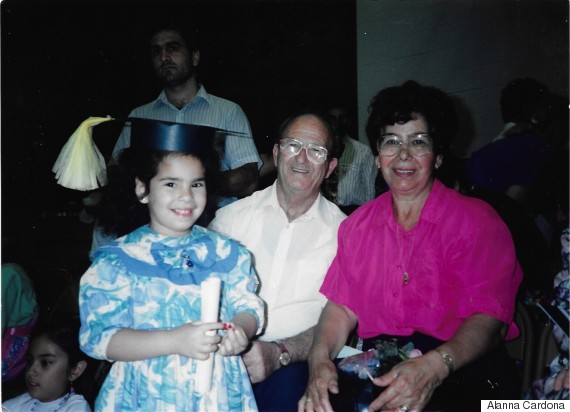 As an adult, my parents are much more frank with me. They share details about their relationship that they shielded me from as a child. They continue to help me to understand why things happened the way that they did. My mom provides comfort when I'm feeling guilty for my dad's situation.
Within the Filipino culture it is almost expected to take in your elders. You have a responsibility to provide for them the way they did for you. This is the challenge I face today. Ever since their separation 23 years ago, my dad hasn't been able to financially stand on his own and has depended on family to help him through. And it's not unreasonable of him to expect it, either. Where he comes from, that's "what families do. We take care of them until we are old and grey and until we die."
But then there's me, who was born and raised in Canada. My background is divided. I lived with my mom during the formative years, the most crucial time for adolescent development, and I have a wealth of Italian/Canadian influences that inform the responsibilities I choose to accept.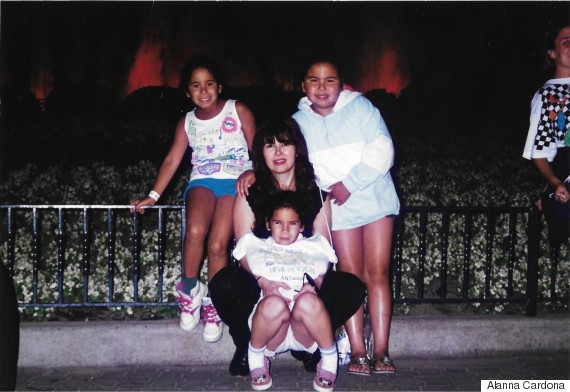 So should I feel guilty for ignoring tradition? Is there a percentage of cultural influence that I should be graphing on a pie chart? Do X and Y always equal Z? How am I supposed to choose what's right?
I think that's the beauty of it all. We all have a choice.
I have a choice to either accept this Filipino duty or walk another path to create my own form of support. And maybe that's the intriguing part about being mixed, it's hard to distinguish the line in the divide.
The question I've been asked consistently throughout my life is, "which side do you identify more with?" I hate this question. You are forcing me to choose between my Italian culture and my Filipino culture. It feels like you're asking me to decide between pasta and puncit. Between gelato and halo-halo. Between my mom and my dad.
How am I supposed to choose? And more importantly, do I have to?
I think it's easy to get caught up in choosing sides, because societal norms dictate dichotomies -- good and evil, yin and yang, black and white.
What I've come to realize is that it's not about choosing one culture over another, it's about embracing them all.
To simplify, I'll provide insight into the little joys I get to experience as a "flop" (Italian Wop/Filipino -- a term coined by super clever kids in elementary school):
1. Tasting the truest form of Italian food because I was blessed with an immigrant nonna
2. Shocking fellow Asians when I tell them I'm Filipino -- who are, almost immediately, noticeably kinder to me
3. Cheering for Italy during the World Cup, but being cool with their loss because Ruy López de Villalobos colonized the Philippines in the 1500s, so technically I can totally cheer for Spain
4. Yelling out Italian profanities (because let's face it, that's all I know) and getting a pass because Italians are "passionate"
And lastly,
5. Sewing the Canadian flag on my backpack and wearing it like a badge of honour
What I've come to realize is that it's not about choosing one culture over another, it's about embracing them all.
Mixed-race people have a unique perspective on identity. Even when we are navigating our way through our parent's divorce, we fit into three or more slots that shape who we are and how we perceive the world around us.
We intrinsically unite cultures, family members and friends who might not otherwise find common ground. It makes us more in tune and empathetic towards those who are marginalized and with those who are not. We can be the voice of reason when there is none. We can see the black and the white, because we are a blend of both.
Born And Raised is an ongoing series by The Huffington Post Canada that shares the experiences of second-generation Canadians. Part reflection, part storytelling, this series on the children of immigrants explores what it means to be born and raised in Canada. We want to hear your stories -- join the conversation on Twitter at #BornandRaised or send us an email at bornandraised@huffingtonpost.com.
Follow HuffPost Canada Blogs on Facebook
MORE ON HUFFPOST:
Countries With The Most Immigrants: 24/7 Wall St.
> Immigrants: 7.3 million > Pct of population: 20.7% > GDP (PPP) per capita 2012: $42,734 > Gov't immigration goals: Maintain Currently, 7.3 million immigrants live in Canada, equivalent to more than 20% of the nation's total population. As 2011, the Canadian government was one of the few to propose policies that would increase the level of immigration for the purpose of family unification. The level of immigration, more generally, was considered satisfactory in the same year, according to the U.N. In spite of Canada's exceptionally liberal immigration policies, there has been concern recently over whether Canada's immigrants are successfully integrating into society. To avoid the potential social tension that could arise from a growing economic difference between immigrants and locals, the Canadian government has restructured its screening process to emphasize factors such as job skills and language fluency. Read more at 24/7 Wall St.

> Immigrants: 7.4 million > Pct of population: 11.6% > GDP (PPP) per capita 2012: $35,548 > Gov't immigration goals: Decrease Just 11.6% or France's roughly 65 million residents are international migrants. According to the U.N. Population division, while the French government promoted some policies aimed at attracting skilled immigrants as of 2011, the governments overall attitude toward immigration was generally negative. As a member of the European Union, France is obligated to support the free movement of EU nationals between the EU nations. In recent years, however, the European Commission has criticized the French government for expelling Roma, popularly called Gypsies, from the country. France's existing immigrant population is older, with nearly 20% at least 65 years of age, compared to just 11.1% globally. Read more at 24/7 Wall St.

> Immigrants: 7.8 million > Pct of population: 12.4% > GDP (PPP) per capita 2012: $36,941 > Gov't immigration goals: Decrease About 7.8 million million immigrants live in the U.K., up from just under 6.5 million as of 2010. This is despite the U.K. government's view, as of 2011, that the large influx of foreigners to the country was somewhat of a problem. The government's policies intended to lower the level of immigration to the country, including high-skilled workers immigration. Only one of the world's eight largest destinations for immigrants, the United Arab Emirates, had a higher average annual increase in immigration that exceeded the U.K.'s 4.0%. Although the country's aging population may actually signal a necessity for more immigrants, British Prime Minister David Cameron has stated that immigration has strained the nation's public services. Read more at 24/7 Wall St.

> Immigrants: 7.8 million > Pct of population: 83.7% > GDP (PPP) per capita 2012: $49,012 > Gov't immigration goals: Decrease A stunning 83.7% of UAE residents are international migrants the most of any country in the world, excluding only Vatican City. Between 2010 and 2013, the emirates let in more than 4.5 million migrant workers, more than any other nation in the world. The UAE is able to attract workers to come there because the country is extremely wealthy, with an economy driven by oil and finance. As of 2012, the nation's per capita GDP exceeded $49,000, on-par with that of the U.S. But despite the nation's appeal for immigrants, the UAE's government as of 2011 considered immigration to be too high. Additionally, the country has been criticized for the poor living and working conditions faced by many migrant workers. Read more at 24/7 Wall St.

> Immigrants: 9.1 million > Pct of population: 31.4% > GDP (PPP) per capita 2012: $31,275 > Gov't immigration goals: Decrease Nearly one-third of Saudi Arabia's population consists of immigrants, while between 2000 and 2013 the number of immigrants rose by an annual average of 4.2% per year, higher than most other nations. Between 2010 and 2013 alone, the number of immigrants to Saudi Arabia rose 24.3% As of 2011, the Saudi Arabian government regarded the overall level of legal immigration as too high and implemented policies to reduce immigration, according to the UN had. Similarly, the government's policies on the naturalization of immigrants were also considered restrictive. Recent news reports suggest immigration policy in Saudi Arabia has only become more restrictive with new measures implemented to prevent undocumented workers from finding employment. Read more at 24/7 Wall St.

> Immigrants: 9.8 million > Pct of population: 11.9% > GDP (PPP) per capita 2012: $39,028 > Gov't immigration goals: Maintain Germany, one of the world's largest economies, is a popular destination for immigrants. Its well-developed infrastructure and top-rate higher education only add to its attraction. Just under 10 milllion of the country's 82 million residents are immigrants. As of 2011, Germany's policies reflected approval of the country's rate of immigration. In 2012, with the eurozone crisis still unabated, a growing number of young workers immigrated from southern Europe to Germany. But Germany has openly recruited high skilled-workers to live and work in the country permanently, especially as the country's population ages and shrinks, according to Der Spiegel. Unfortunately, many such workers fail to stay for even as little as a year, and since 2010 the number of immigrants to Germany has actually dropped. Read more at 24/7 Wall St.

> Immigrants: 11.0 million > Pct of population: 7.7% > GDP (PPP) per capita 2012: $17,709 > Gov't immigration goals: Increase More than 12 million immigrants lived in Russia in 2010 and the Russian government was among the few seeking to increase the number of foreigners entering the country. In 2011, the country's government viewed immigration as too low and oriented its policies towards increasing immigration. However, these policies have failed to attract more net immigrants: as of this year, there are just over 11 million immigrants living in Russia, a decrease of roughly 10% from 2010. Local authorities have not embraced the prospect of single-ethnicity communities for Chinese, Uzbeks, Tajiks and other ethnic groups in Russia ,and have even sought to ban them in some cases, hoping instead to promote integration into Russian society. Read more at 24/7 Wall St.

> Immigrants: 45.8 million > Pct of population: 14.3% > GDP (PPP) per capita 2012: $49,922 > Gov't immigration goals: Maintain The U.S. is by far the largest destination for immigrants, with more than 45.7 million living in the country, according to the UN. As of 2011, the U.S. government's policies toward both immigration and emigration remained effectively neutral. However, immigration reform has been especially prominent in Congress this year. This reform is expected to address issues related to illegal immigration, while determining how, and whether, undocumented immigrants should be able to attain citizenship. Considering the U.S. has one the highest per capita GDPs in the world, at nearly $50,000, its appeal to immigrants is fairly straightforward. It is the world's largest economy, as measured by output, and has the second largest total exports. Also, the U.S. offers well-developed infrastructure and financial markets, as well as quality education. Read more at 24/7 Wall St.
Follow Alanna Cardona on Twitter: www.twitter.com/alannamariajune