How to Help Your Kid Adjust When 'Falling Back'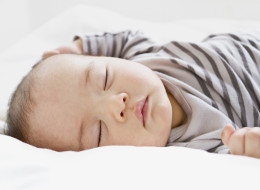 On Nov. 1, we change our clocks and gain an hour of sleep. Sounds dreamy, right? Perhaps it sounded better before we had kids. Ah yes, gone are the days of singlehood where you can bask in slumberville and enjoy that extra hour. Now as the time change approaches, we parents cling to each other in the fear of not knowing how this will affect our child's sleep routine.
With the spring and fall time changes, our body clocks will adjust on their own but there are a few ways that we can help the process.
For those who are a little more sensitive to routine you can begin a gradual shift in their schedule. Starting a few days before the time change shift your child's bedtime and wake time 15 minutes later than usual. Remember when the clocks change, their new 7 p.m. bedtime will actually be an 8 p.m. bedtime according to their body clock, so shifting everything later prior to the change will help reset their internal rhythms making it an easier transition come Sunday night. Continue this shift by 15 minutes each day until you reach the time change. You may want to go as far as shifting their entire routine throughout the day and make naps and mealtimes slightly later as well.
Want to know what I do at my house?
Nothing.
We just change the clocks and start going to bed at the new times and wait for everyone to adjust. If your child isn't super sleep sensitive then you may be able to do the same and just jump to the new times and wait for them to adapt. Consistency is key and it may take them a week or two to adjust but they will. This is always the approach we take in our home. Easy peasy.
It's important to understand that these time changes don't only affect our children. It can also be a tough adjustment for us parents. Where we go wrong in the fall is that we use the "extra hour" as an excuse to stay up later and sleep in more in the morning. The best route to take is to stick to your same routine. To help adjust your own body clock go to bed at the same time each night (even though it will be darker earlier) and wake up at the same time in the morning. It shouldn't take longer than a week for you to adapt.
Sleep tip: All bedrooms should be set up for sleep success. Promote a cool, dark, and quiet environment for both you and your children. Doing so will aid in proper restorative sleep for you and your family.
Hang in there moms and dads. The shift in this new schedule normally takes a week or two for our kiddies to adapt to it. While their bodies may not feel tired during this time change our kids may get cranky that first week while their bodies wait to nap and eat. They will get there! Remember my two favourite words! Persistence and consistency! You will get through this.
Follow Alanna McGinn at Good Night Sleep Site and on Facebook for more family sleep tips.
MORE ON HUFFPOST:
4 Bad Habits That Sabotage Your Sleep
Scientists at the Sleep Disorders & Research Center at Henry Ford Hospital in Detroit found that consuming 400 milligrams of caffeine (equal to two to four eight-ounce cups of brewed coffee) six hours before bedtime reduced sleep by more than an hour. The Fix: Finish your java by 5 P.M. or earlier.

The light that gadgets emit can suppress the sleep-inducing hormone melatonin. The Fix: Dim the brightness of your device to its minimum and hold it at least 14 inches from your face. A Mayo Clinic study found that these two moves can cut light exposure to the point that it shouldn't interfere with your sleep.

When you go to bed with a full stomach, your gut is turning on hormones and stimulating the body when it should be getting ready for rest. The Fix: Eat your last meal three to four hours before you plan to sleep.

Not only do smokers appear to spend less time in deep sleep than nonsmokers, but in one recent study, their total sleep time fell by 1.2 minutes per cigarette smoked. The Fix: Just quit, already!
Follow Alanna McGinn on Twitter: www.twitter.com/GNSleepSite