6 Electoral Reforms For A More Democratic B.C. Election
The provincial election is around the corner. Is it going to be a fair election? Is there going to be a level playing field for all the candidates and the political parties?
I would say no!
Premier Christy Clark has already stated she is open to campaign finance reform after the election, but she has already ruled out replacing private donations with public subsidies.
What does this actually mean?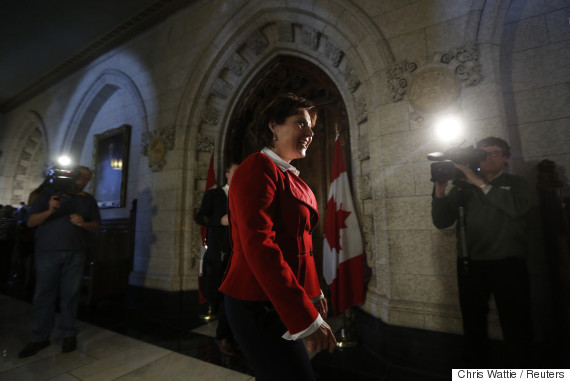 British Columbia Premier Christy Clark. (Photo: Chris Wattie/Reuters)
This means that corporations, the rich, lobbyists and third-party advertisers will continue to have a huge influence on the election outcome.
This skews the election results in favour of the political and economic elite instead of the poor, working and middle class.
By ruling out public subsidies, the political candidates and political parties will have to rely even more on private donations.
No one gives money for nothing. With every donation there is an expectation that certain policies will be enacted.
In other words, our political system is "up for sale" to the highest bidder. The system is set up for special interests to officially rule the people. The citizens are just lucky we have a vote once every few years. And even then the media is usually biased and supporting corporatist political parties.
No wonder the poor don't have a say on anything. They have no money or influence.
I believe there is a way to make politics more democratic, competitive and accessible for the rest of us.
Is it any surprise that we are still the only province in Canada paying for MSP premiums and that disability benefits have not had a significant increase for years?
Of course it's not a surprise.
These issues are not a priority for the government.
The political system at every level is held hostage by big money, partisan politics and special interest groups such as by real estate developers, corporate lobbyists, as well as labour.
There needs to be a direct connection from the citizens to the elected official without all these special interests trying to skew the outcome of the election or trying to influence the voting intentions and platforms of the candidates.
The end result would be elected officials who would be truly independent and can vote with their conscious and what is best for the citizens and their community.
I don't believe in complaining about something without proposing a solution for people to consider.
I believe there is a way to make politics more democratic, competitive and accessible for the rest of us.
Six-step electoral reform plan
It's a simple six-step electoral reform plan that attempts to create a level playing field for all political candidates and would involve the following changes:
Residency
A candidate would have to live in the riding he or she hopes to represent for at least two years prior to the election. This means a candidate who does not know anything about the community cannot be parachuted into the riding at the last minute.
Nomination
A candidate would have to be nominated by 25 citizens who live in the riding he or she hopes to represent.
Deposite
A candidate would pay a deposit to a private bank in exchange for a campaign loan. The loan would be capped at a legislated maximum.
Receipts
A candidate would submit his or her campaign receipts to the bank after the election.
Reimbursement
The elections office would reimburse banks for all official campaign expenses from official candidates up to a pre-set maximum amount, which would be the same for all candidates. The candidate would not have to repay the loan if his or her campaign abides by the rules of the election and did not violate any campaign finance regulations. If the candidate violated the campaign finance rules he or she would forfeit their deposit.
Candidate profiles
The elections office would produce an elections website that would list the biographies, community experience, education, employment and qualifications of all the candidates. This would provide an unbiased source of information for the voters to quickly compare candidates without media influence.
This simple six-step electoral reform plan would essentially eliminate big money in politics!
Politics would shift from the political, economic and corporate elite to the people.
Any citizen, including the poor and working class, could afford to run for office. The elections would be more democratic and accessible.
And there it is!
This six-step electoral reform plan would be a huge step forward in ensuring that the best interests of all citizens are reflected in government policy and decision-making.
It would reduce the influence that big money and corporations currently have on the political process.
Alex Sangha is an award winning social worker and author. He has an MSc in Public Administration and Public Policy from the Department of Government from the London School of Economics. For more information on Alex check out AlexSangha.com
Follow HuffPost Canada Blogs on Facebook
Also on HuffPost:
What A Political Donation Can Buy You
Republican donor and attorney Harry Whittington gave $1,000 in 2000 and $2,000 in 2004 to George W. Bush's presidential campaigns. A small price to make history: on a quail hunting trip in 2006, Bush' vice president, Dick Cheney, accidently shot Whittington in the face.

President Barak Obama has parlayed the star power of his Hollywood supporters into fundraising prizes this campaign season, including a dinner party with Sarah Jessica Parker for $40,000. If you don't have that much cash, $10,000 can get you the chance to shake the president's hand and pose with him for a photo.

Republican presidential nominee Mitt Romney has offered wealthy donors unusual levels of access to both himself and other Republican political stars during this campaign season, the New York Times reported. At a three-day GOP fundraising retreat in Utah earlier this summer, donors who gave $50,000 could sign up for a private seminars with GOP leaders like Karl Rove, Condoleezza Rice and John McCain.

Call it the most expensive hotel in the country. At least two dozen donors who gave a $100,000 or more to President Bill Clinton's re-election campaign in 1997 were rewarded with a sleepover in one of the the White House's most historic nooks, the Lincoln Bedroom.

The ambassador to France gig has always been a tempting reward for party loyalists who give handsomely. As early as 1904, Theodore Roosevelt reportedly used the job as a carrot for helping the Bull Moose candidate raise $250,000 -- $6.4 million in today's dollars -- for his election campaign. More recently, President Bill Clinton gave the job to Democratic donor and fundraiser Pamela Harriman.

Denise Rich (pictured at right) has given generously -- at least $1 million according to Time magazine -- to various Democratic Party causes over the years. And President Bill Clinton did not forget her generosity. On his last day in office in 2001 Clinton signed off on a controversial pardon for her fugitive ex-husband. Denise Rich has since given up her American citizenship and her U.S. tax bill and moved to Europe last fall.

State politics are not immune to donor money: The Minnesota Vikings have spent an estimated $5.5 million in lobbying efforts, giving at least $115,000 to state politicians in the first five months of 2012, to ensure passage of a new $975 million stadium for the NFL team. Much of the cost to build the stadium will be funded by taxpayers.

Casino mogul and heavy-hitting Republican donor Sheldon Adelson has given at least $25 million to GOP super PACs. What's in it for him? The U.S. government is looking into whether Adelson's company has violated the Foreign Corrupt Practices Act in Macau, where the company has been accused of bribing officials and profitting from prostitution.

Between 2000 and 2008, the oil and energy industry paid nearly $400 million to lobby the federal government and more than $82 million in donations to politicians, according to PBS. They got a return on their investment: Passed under President George W. Bush, the 2005 Energy Policy Act rolled back regulations and paved the way to allow widespread fracking.