Here's How One Fit Mama Sets An Example For Her Active Family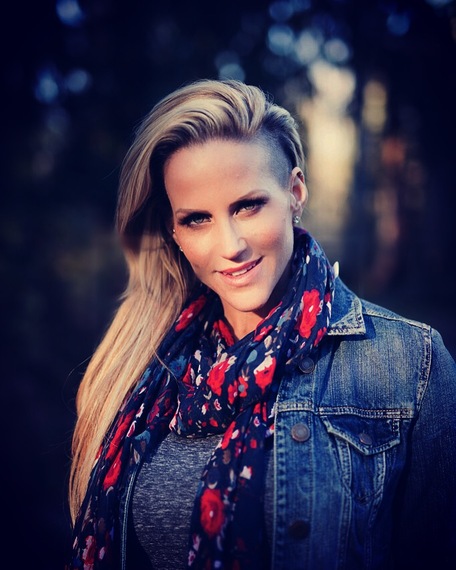 I had the pleasure of interviewing Aeryon Ashlie ahead of her presentation at the West Coast Women's Show on the topic of how to create a fit family. Aeryon is a recovered bulimic who works as a professional in the supplement industry. She is a returning speaker whose talk about moving from bulimia to balance was very well received last year.
Historically, Aeryon was a highly successful fitness competitor and now, as a single mom, she's sharing her wisdom of how she makes it all work with a family. From one mom to another, I appreciated her candour and kindness. These were some of the highlights of our informative conversation:
Exercise self-compassion.

Be kind to yourself, and remind yourself that you are doing the best you can. Don't beat yourself up or judge yourself too harshly. Protect yourself from people who tear you down and reinforce healthy boundaries about what you accept.

Exercise together.
Get active as a family. Working out together is a great way to squeeze your workouts in without squeezing out family time. Even if you're doing a workout you don't particularly love, it's more enjoyable when you're in the company of the people you do love.
Everything in moderation.
Build in cheat days into whatever plan you implement to get yourself feeling healthy. Moderation is so important. Dark chocolate, wine and laying around watching Netflix all have their place, even in the life of a fitness girl. Also, modify the things you love to make them just a little bit healthier -- like skipping less-healthy movie popcorn for homemade popcorn that doesn't have the same additives that add to your waistline. Pay attention to portion sizes -- consider if you need a whole chocolate bar or if a mini-sized one will hit the spot when you're craving something sweet.
Make a plan.
Be prepared so you will stay on plan and achieve your goals. It's like the old adage says -- fail to plan, plan to fail. Keeping healthy food and snacks readily on hand eliminates the temptation to eat things that don't support your desired outcomes. Make healthy eating easy! When you're planning, make sure you use smart objectives so you stay on track and can measure your progress. Start small and build on your successes.
Be a role model. Healthy kids need healthy moms to look up to. As a parent, it's important to be the person you want your kids to be. You can do this by modelling fitness as part of your daily life and normalizing healthy activity. Help your kids create healthy habits.
While exceptionally accomplished and highly knowledgeable in her field, Aeryon was equally gracious and down to earth. Given my own history with eating disorder recovery, I was really looking forward to learning from her perspective.
We discussed the non-linear nature of recovery and the need to exercise self-compassion in the recovery process. She was kind enough to share her advice on maintaining recovery: creating structure, avoiding triggers and recognizing that for many it is an ongoing struggle.
So often you hear of female fitness competitors developing eating disorders on the stage, while her experience was different. She found that competition gave her the structure she needed to stay healthy, then she struggled with rebounding post-show and the lack of structure after. I appreciated her honesty on a highly personal topic and was personally encouraged from the experience of speaking with someone who understands.
You can create a fit family -- and Aeryon speaking at the West Coast Women's Show is a great way to start that journey.
Aeryon is going to be speaking on the Health and Wellness Stage Saturday and Sunday at the West Coast Women's Show in Abbotsford, B.C., which runs from October 21-23, 2016.
You can follow Aeryon on Twitter, Facebook and Instagram.
A version of this post originally appeared on Sparkly Shoes and Sweat Drops.
Follow HuffPost Canada Blogs on Facebook
Also on HuffPost:
Healthy Meal Planning For The Whole Family
With a hectic schedule, it can be tricky eating at the same time every day. But kids like to know what to expect; a consistent schedule is helpful and comforting for them. Getting them involved in scheduling is a good way to introduce new foods in a comforting environment.

If you have a vegetable garden or potted herbs, enlist your kids' help in taking care of it. You can even ask them to suggest ways to incorporate what you're growing into the meal plan to help them understand where the food that's on the table comes from.

Enlist their help early on in the process, and ask your kids to draw a colourful meal-planning chart that you can fill in as a family and post on the fridge as a helpful guide. Being part of meal planning from square one will give your kids a sense of empowerment and encourage them to stay involved.

Arm yourself with 20 or so healthy recipes, and get the family to weigh in on their own favourites. Try setting 15 family favourites to rotate in and out of the weekly dinner slots in the meal chart you made earlier. The kids will be excited knowing that their top choices will be in the rotation, and an excited child is a hungry child.

Once you have identified the family's 15 favourite dinners together, have your kids come up with a weekly plan that everyone will enjoy. From there, you can start to create a shopping list together, and even bring the kids to the store with you so they feel involved in the entire process.
Follow Alison Tedford on Twitter: www.twitter.com/alliespins