This Website Aims to Help Men Struggling With Depression
Depression can be hard to spot through the walls of any thick "Man Box" -- that harmful bundle of stereotypes about how men "should" feel and act that reinforce that asking for help is not "manly."
A new website, Headsupguys.ca, created by the Men's Depression and Suicide Network out of the University of British Columbia is working to change this and make a difference for the 840,000 Canadian men who struggle with depression. The website is the first of its kind in Canada.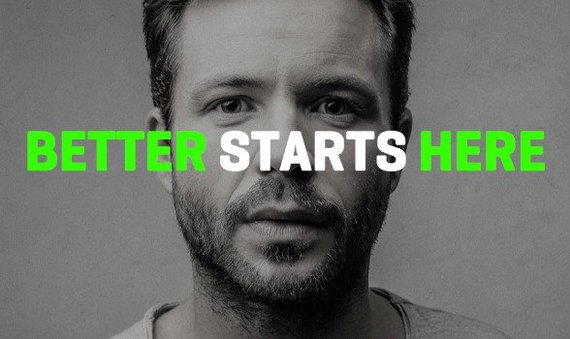 Photo credit Headsupguys.ca
It was developed by a team of clinicians and researchers led by Dr. John Ogrodniczuk, a Professor and Director of the Psychotherapy Program in the Department of Psychiatry at UBC. Initial feedback on the site has been very positive, resulting in good traffic.
It features personal stories that were curated from participants in other initiatives of the Network and they are stories of hope, designed to show it is possible to overcome depression. The tone of the site is intended to be casual and conversational. The intent is to convey that you don't have to be "Mr. Feelings" to admit you have a problem, or to ask a man in your life if he's doing okay.
The initial consultation on the project considered a variety of perspectives and included an environmental scan of other available resources. What the environmental scan revealed were resources in two categories: one that focused on destigmatizing mental health issues but contained very little practical information, and another that was highly academic, forming a wall of text around the reader in an intimidating way.
This website was designed to fill the gap between the two, providing helpful next steps in an accessible, relatable format. Headsupguys.ca features practical tips, advice, and guidance on how to recover from depression. This online resource also includes a tool for users to help them get a quick check on their symptoms, which they can then share with a health care professional.
The premise is that when men are invited to talk about their feelings, generally they will do so. The resources available help provide structure for those conversations for those who don't know how to approach it. The design is clean, sleek and inviting. It discusses emotional content without emasculating the reader in a very cool, practical way. It's an electronic representation of talking to your best buddy who knows a few things about mental health.
I spoke with Mark Goodwin, a project assistant and graduate student from University of British Columbia about the project. He approached the initiative from his area of expertise: library and information science. The site was a natural fit for him because he has always been interested in themes of masculinity and challenging stereotypes, particularly as themes in English literature.
I asked about how parents can support their children in not reinforcing the stereotypes that preclude men from reaching out. While he doesn't identify as a parenting expert, from his experiences in this project he recommends modeling openness around feelings. This demonstrates healthy communication and show that feelings aren't something you need to hold in.
When asked how people can support this project, he requested social media shares and increasing exposure through word of mouth. As to what's next, more blog content is coming, with a particular emphasis in November, as a Movember Foundation funded site.
With so many men struggling with depression in Canada and abroad, Headsupguys.ca is a valuable resource to unpack the "Man Box" and have important conversations. The clear message to the 840,000 Canadian men who are facing this challenge is: You are not alone.
This post originally appeared on Good Men Project. You can find more articles by Alison Tedford on Sparkly Shoes and Sweat Drops or follow her on Facebook.
ALSO ON HUFFPOST:
The Facts About Depression Symptoms
Do you have persistent feelings of sadness or hopelessness that have lingered for at least two weeks and occur throughout the day, every day or nearly every day? Are these feelings interfering with school or work, or your relationships? This is a key symptom of clinical depression. We all have negative thoughts from time to time, and it's natural to be sad when there is a serious event in our lives, like a death. The difference with clinical depression is that the feelings stick around and interfere with your ability to live your life day to day.

Many people with depression find it difficult to get out of bed — and we're not just talking about hitting the snooze button. For some, getting up seems nearly impossible. They may also find themselves spending unusual amounts of time in bed throughout the day, or having trouble with normal activities because of fatigue.

As tired as you may be, if you're depressed you might also have trouble sleeping. Marked changes in sleeping patterns, like insomnia or increased time spent sleeping, is another symptom of clinical depression.

Some people either gain or lose weight when they have clinical depression because of their change in appetite. For some, this means an increase in appetite and possibly weight gain as a result. Others lose their appetite and struggle to eat much at all. In either case, a significant change is worth investigating.

We all have times when we feel a bit more introverted than usual, but when people have clinical depression, they can lose the sense of pleasure they used to get from their favourite activities or from engaging with others. This isolation can make it harder for friends and loved ones to see the other symptoms of depression a person may be exhibiting, which makes it more difficult to know when a person needs help.

It's more often thought of as a symptom of ADHD, but an inability to concentrate or hold focus on one's activities can be a sign of clinical depression. Of course, if someone with clinical depression is also having trouble sleeping, not eating well or has lost interest in regular activities, this symptom can be amplified.

This is the most serious symptom of depression, says Dr. Joe Taravella, a psychologist and the supervisor of Rusk's Pediatric Psychology Service at NYU-Langone Medical Center in New York. "When you're severely depressed, suicidal thoughts can become so prominent, you begin to make a plan for ending your life, as you feel there are no other options." If you are experiencing suicidal thoughts, seek help or tell a trusted person in your life and ask for help — call your doctor, call 911, or go to an emergency room. And never assume that a person who talks about suicide won't do it. If someone tells you they are feeling suicidal or discusses plans to end their life, always take it seriously and get help.

"Many people don't realize that low levels of chronic irritability and anger can mask an underlying depression," Taravella says, "which can be undiagnosed and untreated for years." A study released last year found that more than half of men and women who were experiencing a major depressive episode reported irritability as a symptom. Constant irritability is also a symptom of depression seen in teenagers and children, one that could be written off as normal growing pains or teenage behaviour.

Yes, depression can literally hurt. There is increasing recognition of the physical symptoms of depression, which include headaches, stomach pain, and back pain. One study found half of patients with depression from around the world reported unexplained physical symptoms. But because these physical symptoms are often vague or have no logical explanation, they can be missed as as symptom of depression.

For people with severe depression, basic tasks of self care can seem too overwhelming to undertake, Taravella says. As well, personal hygiene may seem unimportant if you are feeling hopeless or worthless. If someone in your life is showing a marked decrease in personal hygiene, don't assume they are simply lazy.

Going along with trouble with concentration, people with clinical depression often have memory issues that can add to their difficulties in maintaining day-to-day activities. "As a result of these symptoms, they are more likely to become inattentive to their environment and prone to falls and injuries," he adds. A 2013 study found that this could be because clinical depression impairs the process of "pattern separation," which is the ability to distinguish between things and experiences that are similar.

Some people who show signs of depression engage in what Taravella refers to as "externalizing behaviours," which include substance abuse and risk-taking activities. Men are more likely to do it, he says. These behaviours can be a sign of an underlying mental-health problem, particularly if they're out of the ordinary for the individual.

"If you recognize symptoms of depression, take action and immediately seek professional help," Taravella advises. There are valuable resources out there, he says, including psychotherapy and antidepressants. Many people also find some relief with meditation and exercise, often in conjunction with other treatments. It can be difficult to navigate the process of finding the right help, especially if you are having trouble just getting out of bed. Try talking to a trusted friend or family member who can help you research options and even call a therapist for you.

It can take time for depression treatments to start making a difference, which is frustrating when you've taken the difficult step of admitting you need help. But while you work on medication and/or therapy, there are things you can do. Be as active as you can, Taravella says, and try to see friends. "Create small goals for yourself each week but don't put a lot of pressure on yourself," he suggests. While it can take time for depression symptoms to begin to lift, it may be worth seeking different treatment options if you are not seeing any improvement after two months.

"The best way to help someone who is depressed is to be a constant source of support for them," Taravella says. This can sometimes be difficult, however, because people with depression tend to isolate themselves despite your efforts to stay in touch and/or get involved. You may also be able to help someone by making a doctor's appointment for them. It's a simple task to request an appointment, but for someone who is severely depressed it can seem incredibly daunting.
Follow Alison Tedford on Twitter: www.twitter.com/alliespins