4 Insane Things You Can Only Do In Manitoba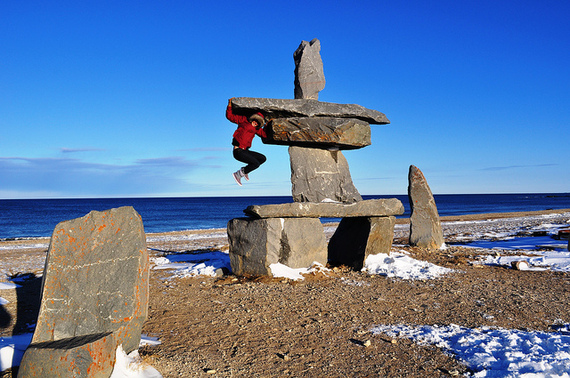 Photo credit: Luna sin estrellas
Manitoba is one of Canada's best-kept secrets. Most travellers have heard about the internationally-acclaimed ski resorts of British Columbia and the rugged Atlantic coastline of Nova Scotia, but few have ventured into the heart of the Great White North -- Manitoba. Bordered by the Hudson Bay, home to some of the country's most fascinating wildlife, and littered with charming cities and small towns, Manitoba is a place that will help you recognize the true heart of Canada.
Discover just how wild this province can be by experiencing these four things you can only do in Manitoba.
Free-Dive with Beluga Whales
The Hudson Bay is home to some of the world's most majestic Arctic creatures. As the ice packs break apart in the summer months, more than 50,000 beluga whales move into Hudson Bay waters to breed, feed and socialize. A number of Churchill-based tour companies, including Big Fish Expeditions and Churchill Wild, will take you on free-diving expeditions into the frigid waters to swim among the world's largest population of beluga whales.
Those who aren't as eager to jump into the iceberg-studded waters can hop aboard a zodiac or kayak to admire the sea creatures from above the water's surface. The whales gather off the coast of Churchill between the months of June and October, making whale-watching a summer and early fall activity.
See the Northern Lights from the Aurora Domes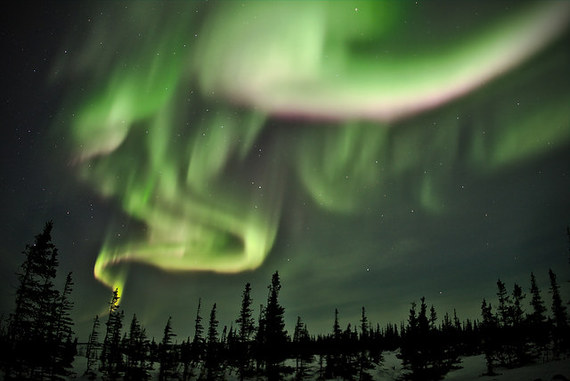 Photo credit: Emmanuel Milou
Churchill, Manitoba, has been named one of the top three places on the planet to see the Northern Lights. There's arguably no better place on earth to spend a winter night staring at the sky than in the warmth and comfort of an Aurora Dome. These unique Churchill-based plexiglass domes provide front row seating to nature's most spectacular light show. The Northern Lights are most visible from late November to late March when the winter skies are clear and eerily dark.
Sip a Beer with Bison
Just 16 kilometres south of the capital city of Winnipeg, visitors will find 258 hectares of picture-perfect prairie land at FortWhyte Alive. Visitors are welcome to roam as free as the bison that call the land home. Summer months are ideal for sailing on the lakes while winter offers kilometre after kilometre of snowshoeing and cross-country skiing trails. Nothing rounds out a long day of paddling, hiking or birdwatching better than a locally-brewed beer on the patio of the Buffalo Stone Cafe -- where buffalo and other wildlife sightings are common.
Watch Polar Bears in the Wild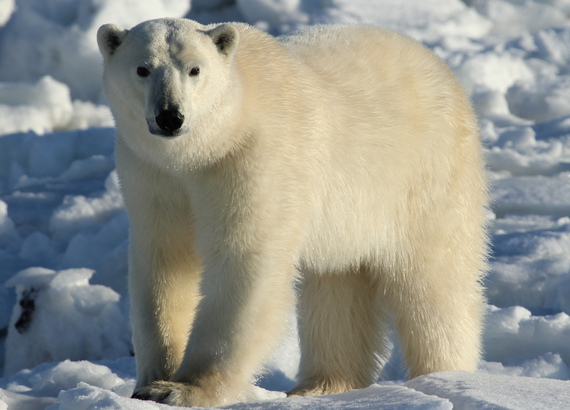 Photo credit: Emma
Churchill is one of few places in the world where polar bears can be seen in the wild just minutes from the homes of the city's residents. It's no wonder that thousands of travellers from around the world come to see the "Lords of the Arctic" every fall. The best times to view polar bears on the tundra is during October and November, but the burly white bears have been seen during all seasons. A recent study stated that there are roughly 1,000 polar bears in the western regions of the Hudson Bay, and a number of Churchill-based companies will help you admire the creatures safely and respectfully.
Follow HuffPost Canada Blogs on Facebook
ALSO ON HUFFPOST:
12 Best Islands In Canada
Fogo Island, Newfoundland and Labrador Prime Minister Justin Trudeau and Gwyneth Paltrow are just two of the famous visitors Fogo Island —a small island off the northeastern coast of Newfoundland — has hosted so far this year. If you make your own trip you can visit in style at the Fogo Island Inn or stay in a refurbished salt-box home. Make sure to visit Brimstone Head, considered one of the four corners of the world by the Flat Earth Society.

Vancouver Island, B.C. Perhaps Canada's best-known island, Vancouver Island isn't just home to B.C.'s capital city. You'll find plenty to do in Victoria including visiting parks, beaches, and lakes. But venture to the less settled parts of Vancouver Island to catch a wave in Tofino, hike the Wild Pacific Trail or whale watch at various points along the coast.

Prince Edward Island One of the country's best islands is an entire province. PEI is a must-visit destination for Anne of Green Gables fans, of course, but also for people who love great beaches and delicious lobster. The island has many spots to camp by the water so you can get the best of wilderness and beach time.

Sable Island, Nova Scotia This long, sandy island is a reserve in the national parks system, so you won't find much in the way of amenities. But on Sable Island you will find the site of an important former settlement in Atlantic marine history, the island's famous horses, and beautiful ocean views.

Cape Breton, Nova Scotia Check out this charming Canadian island before the Trump refugees arrive. On Cape Breton you'll find beautiful golf courses, uncrowded roads for scenic motorcycle rides, lots of options for hiking and kayaking, and interesting European and Indigenous cultural heritage.

Manitoulin Island, Ontario The largest freshwater lake island in the world, Manitoulin Island is a great spot to visit if you want to start exploring Canada's more northerly regions. There are things to do there all year long: hunting, watching live theatre, hiking, and golf are just a few options.

Baffin Island, Nunavut In some of Canada's most northern territory is where you'll find Baffin Island, a remote and sparsely population piece of land that nevertheless offers singular experiences in Canada. On Baffin Island you can view polar bears and northern lights, kayak in warmer months and hitch a ride on a dog sled in colder ones.

Haida Gwaii, B.C. This beautiful island lies off B.C.'s northern coast and is perhaps less well-known than Vancouver Island — but Haida Gwaii is certainly not a lesser destination. Visit ancient rainforests and hike and kayak as you explore this under-appreciated chunk of western Canada.

Toronto Islands, Ontario You might not realize there are islands with beaches, parks, beautiful homes, and a zoo just off Toronto's coast. But all these things are just a ferry ride away from the city's Harbourfront neighbourhood, including Hanlan's Point, a nude beach. Get those buns out!

Bell Island, Newfoundland and Labrador A quick ferry from Newfoundland's capital takes you to Bell Island, a small island with a ton of history. Europeans first arrived in the 1700s but iron ore, not fishing, really built up its population. Today visitors can kayak in sea caves and bird watch, as well as visit World War II sites.

Pelee Island This Ontario island isn't only known for its wine, though that's not a bad thing to be associated with. Pelee Island is also the location of Canada's most famous pheasant hunt, and a waterfront trail makes for great walking if the hikes available aren't suitable.

Wolfe Island, Ontario The largest of Ontario's Thousand Islands, Wolfe Island sits where Lake Ontario ends and the St. Lawrence starts. Visitors who arrive on the ferry from Kingston can enjoy the island's famous sunrises and sunsets, get around the island by bicycle, and visit Big Sandy Bay's beach.