6 Canadian Destinations That Are Drastically Cheaper In The Fall
Don't let the end-of-summer blues rule your fall. Afterall, autumn is one of the most precious seasons in the Great White North. Warm summer temperatures linger while leaves paint colourful backdrops and tourists flee from some of our country's most popular tourist destinations.
Fall also means lower accommodation prices. Resorts, hotels and Airbnb rentals that were out-of-budget in the summer months become drastically more affordable for those who are able to get away in September, October and November. The following six destinations, big and small, are ones that will wow you with lower prices and uncompromised fall fun.
Muskoka, Ontario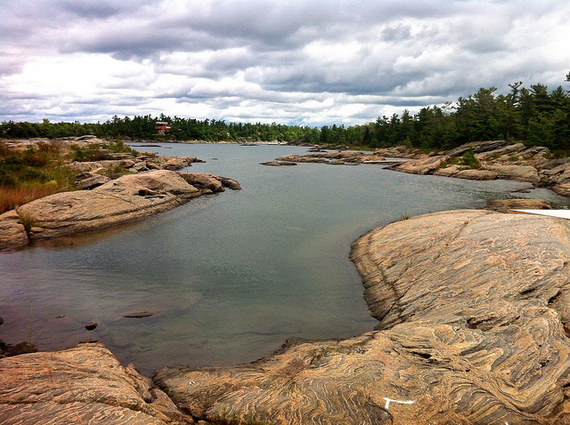 Photo credit: mathewingram
Muskoka may not be on everyone's travel radar, but the picturesque town's repeated recognition from National Geographic Traveller and other popular publications has made it a favourite pick in the warm summer months. However, Muskoka really shines when the crowds head home and the leaves change colours.
The area, known for its pink granite outcrops, becomes even more colourful when the shores of the Georgian Bay Islands turn glittering shades of reds, oranges and yellows. Even better, costly summer rentals (including paddleboards, kayaks, ATVs and more), resorts, bed and breakfasts, spas and golf courses drop their rates in this shoulder season.
Vancouver, British Columbia

Many Canadian travellers are convinced that every visit to Vancouver is an expensive one. But the trendy West Coast city sees a huge drop in tourism when September hits. Travellers will notice popular hotels cutting rates by 15 to 20-per cent in September and offering perks like free parking, loaner bikes, complimentary breakfast and transportation to downtown. Vancouver's average temperature in September is 18-degrees Celsius, which means you don't need to don your winter gear for deep discounts.
Whistler, British Columbia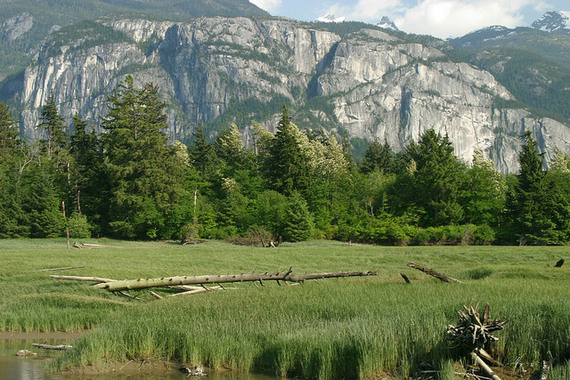 Photo credit: Jason Gain
Dissimilar to other popular travel destinations around the country and the world, winter is one of Whistler's busiest seasons. Late September and early October are the best times to watch the leaves change colour, and they're also prime times to enjoy lower prices before the winter tourist crowds arrive. This season is also ideal for visiting Whistler's famed hiking trails, beaches and lakes in a more laid-back (and scenic) atmosphere than summer.
Lake Louise, Alberta

Similar to Whistler, fall is the shoulder season in Lake Louise -- a favored summer and winter destination. This means one of Canada's most sought-after destinations, with its snow-capped mountain peaks, turquoise lakes and towering pines, becomes remarkably more affordable. Hotels and vacation rentals drop their peak summer rates in September, and they continue to drop even farther in October and November before the winter rush. Best of all, visitors can hike, bike, canoe and soak in the area's natural beauty without the usual hoards of tourists.
Lunenburg, Nova Scotia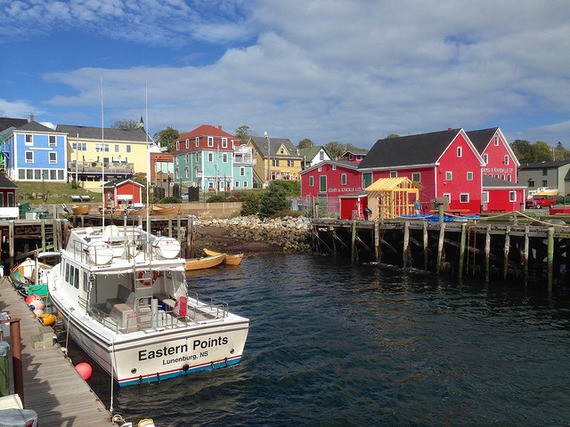 Photo credit: Andreal Vail
UNESCO World Heritage listed Old Town Lunenburg is known as the best remaining example of a British colonial settlement on the continent. The historic town, established in 1753, exhibits most of its original appearance and layout, wowing visitors with architectural tradition, historical importance and delicious seafood. Lunenburg gives fall travellers an opportunity to experience European culture and heritage without leaving Nova Scotia and without emptying their wallets. Fall accommodation rates are often less than $99 per night (for a cozy stay overlooking the water), while tours and museum tickets hover around $10.
Toronto, Ontario

Our country's largest city never seems to slow down, but those who are in the know search for unbeatable downtown deals in fall. The Delta Toronto knocks roughly 25 per cent off of their lowest rate for fall visitors attending cultural or sporting events downtown. Similarly, museums and theatres offer discounted or even free tickets to certain performances, tours and exhibits. The city certainly never empties, but the slower back-to-school season always brings perks for those who have a chance to get away in autumn.
Follow HuffPost Canada Blogs on Facebook
ALSO ON HUFFPOST:
20 Best Beaches In Canada
Long Beach, British Columbia Located in beautiful Tofino, Long Beach is perfect for surfers and long walk takers, especially those with dogs (so long as they're leashed). It can get quite windy on the beach but it's worth it for the potential whale sightings. The surrounding areas are home to bears, wolves and cougars and sometimes sighting warnings are issued. More information can be found here.

Rathtrevor Beach Provincial Park, British Columbia During low-tide, the ocean recedes enough for about one kilometre of sandy beach to explore on this beautiful park, located in Parksville on Vancouver Island. Visitors to the family-friendly park often picnic, bird-watch and beach-comb. Camping is quite popular at this site so be sure to book early. More information can be found here.

Lesser Slave Lake Provincal Park, Alberta Located 2.5 hours north of Edmonton, it's a popular spot for fishing — both sport and recreational. Visitor beach favourites are Devonshire Beach and Marten River where kayaks and canoes can be rented. A warning to boaters: the water is shallow and the wind can create big waves quickly. More information can be found here.

Sylvan Lake, Alberta This family-friendly beach is one of the most visited in Alberta. Off of Highway 11, west of Red Deer, the beach plays host to a variety of water sports like wake-boarding and water-skiing and has water slides for families to enjoy. More information can be found here.

Manitou Beach, Saskatchewan Nicknamed the "Dead Sea of Canada," Little Manitou Lake is said to have healing powers. The water is so rich in minerals that you can effortlessly float on your back. The lake is pretty centrally located in the province and is family- friendly. More information can be found here.

Prince Albert National Park, Saskatchewan The beach is by Waskesiu Lake, the town at the centre of the park where you can do a little shopping between outdoor adventures. Visitors can wake-board, water-ski and go boating or stroll along the forest-lined beach. More information can be found here.

Gimli, Manitoba This little gem is steeped in Viking tradition, which can be witnessed at the annual summer Icelandic festival hosted by the lakeside town. Gimli is also host to a summer movie festival. Between all that, if you have time, you can head to the beach for a stroll or to build a sandcastle. More information can be found here.

Grand Beach, Manitoba This white sandy beach is quite the hot spot for Winnipeggers. Some visitors have gone so far as to call it a paradise and a "Hawaii in Manitoba." All manner of beach activities can be done here but be warned, it can get quite crowded. More information can be found here.

Sandbanks Provincial Park, Ontario The world's largest freshwater sand bar sits almost 100 kilometres west of Kingston. This beach, which backs on to Lake Ontario, is perfect for a whole host of family-friendly activities. It's also a bird watcher's heaven. More information can be found here.

Wasaga Beach, Ontario One of Ontario's favourite beaches is also the world's longest freshwater beach and was the first Canadian beach to be awarded a Blue Flag for adhering to international environmental standards. It's a family-friendly space but the beach area boasts an active nightlife as well. More information can be found here.

Sept-Iles, Quebec Whether it's heading to Gallix beach or cruising through the archipelago, Sept-Illes gives you a taste of both nature and city. Home to a diverse marine and bird life, be sure to spend time exploring the wildlife in the area. More information can be found here.

Havre Aubert, Quebec This pebbly beach, located in the Magdalen Islands, is part of an island with dense forests and is perfect for fishing and yachting. More information can be found here.

Ingonish Beach, Nova Scotia The beach, located off of the Cabot Trail, is a local favourite because of its warm water. A natural rock formation that separates the lake from the ocean allows visitors to choose to swim and fish in salt or fresh water. Or you can take a tour to catch a sight of whales, seals and leatherback turtles. However, it can get crowded as the beach is on the smaller side. More information can be found here.

Crystal Crescent Beach, Nova Scotia No, this is not a picture of a Sandals resort — this is indeed a beach in Canada. Crystal Crescent is actually three beaches and only about half an hour away from Halifax. The oldest surviving lighthouse in North America, the Sambro Island lighthouse, can be found on this beach. Take a stroll along the boardwalk or do some bird-watching. More information can be found here.

Sandbanks Provincial Park, Newfoundland And Labrador Located in the island portion of the province, the beach is known for its shifting sands and flatland. The usual activities of swimming, beach-combing and sandcastle building can be found. The park is also home to the endangered Piping Plover bird so caution must be exercised. More information can be found here.

Lumsden, Newfoundland And Labrador According to a CBC poll, Lumsden was voted the best beach by Newfoundland locals. There are both fresh water and salt water beaches perfect for salmon fishing, picking berries and walking. More information can be found here.

Basin Head, Prince Edward Island Located near the eastern tip of the island, the phenomenon known as singing sands can be found at this beach (the sand squeaks when stepped on). Other than the usual relaxing and beach activities, the day-use park also has many fishery related tours available. More information can be found here.

Cavendish, Prince Edward Island Between the red sandstone cliffs, sandy dunes and clear blue water, Cavendish is like a little oasis. If the beach, located on the north shore of P.E.I., isn't enough for you, there are music festivals and of course Anne of Green Gables to become kindred spirits with. More information can be found here.

Parlee Beach, New Brunswick Not only does Parlee boast Canada's warmest salt water, but it also has the world's largest Lobster sculpture. It's also home to both whales and bears among other wildlife. The beach is stacked with full amenities but watch out — according to some visitors there may be jellyfish in the water. More information can be found here.

Hopewell Rocks, New Brunswick Hopewell Rocks experiences the highest tides in the world but when it's low tide you can actually walk on the ocean floor. Be sure to check tide times but if you have a day to spare, spend it here so that you can experience both sides. The season runs from mid-May to mid-October. More information can be found here.