Organize Your Way Out From Under The Holiday Clutter
I love, love, love the holiday season, but I do not enjoy all the additional stuff it brings into my home. If you're looking to spread the holiday cheer without adding clutter I put together some great alternatives to traditional gifts that you can find here.
However, if you are past that point and know that you, your kids, your dog and your gerbil will be receiving an insane amount of presents this year, you're going to need a strategy to deal with all of those things without your home looking like a department store.
Trust me, I feel your pain. I know I've mentioned this before but since we celebrate both Hanukkah and Christmas the amount of new items that find their way into my home can be a bit overwhelming. Especially with three kids in the mix.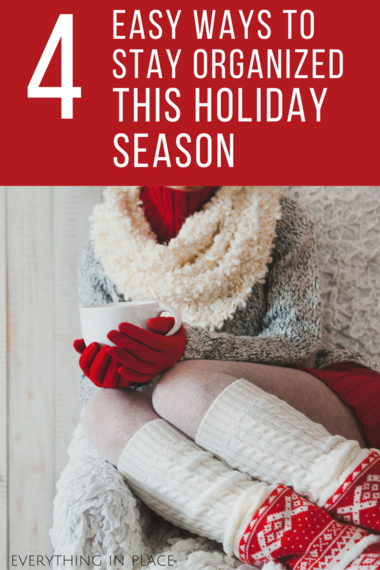 One In One Out
Tough rule, I know. But it doesn't matter how organized you are, if you have too much in your home you'll never be able to maintain it and it will always feel disorganized.
However this can be a great way to help your children learn the value of charity. I try to frame it that they are so lucky to be getting all these new toys, but other kids are not so lucky, so we pick some toys that we aren't playing with anymore so that other kids can have a chance with them. Look in your area for places that will accept gently used toys and donate them.
Unfortunately you need to apply the same rule to the adults in the house; while that new scarf is super soft and beautiful I bet you have at least one in your collection that has either seen better days or that you don't wear anymore. Get it out of there.
Put It Back
One of the most important steps in maintaining an organized space is to put it back. I go into it in more detail here, but it is a step that can be easily overlooked during the holiday season. We are so excited to try on our new clothes or play that new video game or test out that new toy that before we know there is just stuff. Everywhere. Enjoy your new additions but don't let all of the excitement get the best of you. Once you're done, put it back.
Find A Home For It
This one goes hand in hand with the "put it back" rule, but sometimes it can be really hard to put something away if you don't know where it goes. Find a spot that makes sense for you. Especially if this new item is something that you will use frequently in the coming weeks. You want a space for it that is accessible and works with your routine. This may require you to go through some of your existing stuff and declutter a bit. I know you want to use that fancy new mug with great mouth feel that you just received but if your cupboard is already bursting at the seams you won't have a place to put it.
Re-gift It
I can already hear the groans and gasps at this suggestion. As good as the gift giver's intention may have been, sometimes they just miss the mark. Think of the space in your home as valuable real estate. Why waste that space on something that you don't want, need or love?
There is nothing wrong with repurposing that gift for someone else. As long as you do it right:
Put a little Post-It on the bottom of the gift with the name of who gave it to you
Only re-gift items that are in their original packaging and have not been opened
Only re-gift it to someone who you genuinely feel will appreciate it
Put it in a new gift bag/re-wrap it. Nothing says "I re-gifted this" like a ratty gift bag and crumpled tissue paper.
Tell the recipient. If you're really feeling bad about re-gifting it then simply give it to someone that you feel would appreciate it and let them know where it came from. "My aunt Sally got my this beautiful colouring book, but it's not really my thing. I thought you would enjoy using it." Simple. Honest. Easy.
Donate it. If all else fails, get it out of your home and donate it.
Do you have an organizing issue you need to tackle? Get in touch with me here and tell me about it. Don't forget to follow my blog for the latest organizing advice.
Happy Holidays and Happy Organizing!
Follow HuffPost Canada Blogs on Facebook
Also on HuffPost:
Giving away a boring easy listening CD to your 12 year old niece, or a bottle of scented lotion to your uncle just doesn't make sense. Be sure that the regifting item in question will be appreciated and used by its recipient. You need to be as thoughtful with a regift as you would be with a new one. It isn't the gift that is important; it's that the recipient feels honored and appreciated when he or she receives it. If you're broke as a joke, you're better off giving homemade cookies or a small houseplant than a crummy gift item that's sitting in the back of your closet. Never, ever regift a fruitcake.

You should only regift things that look like they came straight from the store. Tags need to be intact and boxes should appear unopened (note our strategic use of italics).

If you're speed-regifting a present you just got, take the time to cover it with fresh wrapping paper or place it in a new gift box or bag. Also make sure there is no evidence of it's original wrapping paper. Let's try to show a bit of effort here! Again, the goal is for the recipient to feel honored and respected. A knock out wrapping job can elevate a humble, small gift, while even a brand new iPod tossed on a table unwrapped says, "I didn't take the time to present this to you nicely."

Keep track of who gave you the present you are about to pass on. It's a holiday nightmare to end up giving back a gift to the person who gave it to you in the first place. Try to circulate regifts into different social circles if possible. This is where Facebook stalking comes in handy. Check that the coworker you are about to regift the item to is not connected to the friend who gave it to you.

For the most part, it's best to keep quiet. If you're following tip #2, no one will be able to tell. In the case of special items with a history, it's OK to share the story. For instance, if you are giving a family heirloom as a gift, the story makes the gift special. However, if you're cleaning off your "junk I don't use" shelf for the company gift exchange, keep mum.
Follow Allison Weigensberg on Twitter: www.twitter.com/organizer_alli