5 Tricks For A Highly Organized, Super Relaxing Summer
Maybe its that I have it hardwired into my brain from having the summer off of school as a child but my mind definitely forms a direct line between summer and relaxation. Unfortunately, my brain has yet to catch up with my reality.
With soccer for the kids four nights a week (at 6:15 p.m.!), daily multi-location drop-offs and pick-ups, clients wanting their spaces organized, oh, and a four-month-old baby, there has not been a lot of downtime this summer.
I'm definitely one of those people that is way more relaxed when my space is clean and organized. In fact, it's the only way I can actually keep my sanity when things get super busy. Here are some of my favourite summer organizing tips that will help keep you feeling like you can conquer this summer, too.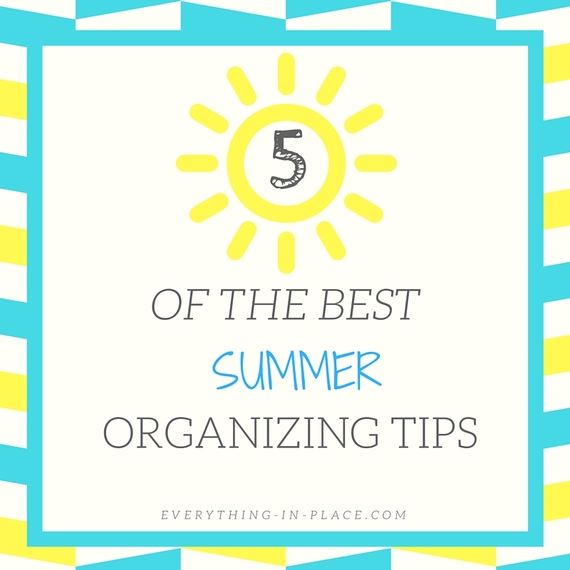 Stop Cooking
OK, I obviously don't mean stop cooking entirely thereby letting yourself/partner/kids fend for themselves and consequently die of starvation. But I do mean to take a break from the same type of cooking you would do during the rest of the year. The key to this one is really to plan your meals and try to re-use what you have.
If you're marinating chicken for the BBQ, double up the recipe and throw the rest in the freezer for an easy meal next week. Opt for no-cook meals that can be thrown together in minutes. Our family fave is "make-your-own-burritos." I even joked that because of the whole soccer-all-week-during-dinnertime thing that I was instituting a summer-long "sandwich only" policy for dinner. Then we actually had sandwiches only for a whole week. It was unpleasant. But sandwiches once a week are OK.
Either way, try to scale down the cooking and keep it simple. If you need more inspiration check out Pinterest. I always find great dinner ideas there.
Plan For The Morning Chaos
Summer = Sunscreen. Every morning. On every child. So make it easier on yourself and set up a sunscreen station wherever it makes sense for your routine. For us, we have two open baskets in our entryway. One has hats and the other has sunglasses, sunscreen and bug spray. The kids can grab what they need and we can help with the sunscreen application on our way out the door. Once it becomes routine it becomes easier.
The other scramble in the morning is planning for special day camp/daycare activities. Whether it's remembering a bathing suit, craft project or running shoes. A good way to avoid this is putting the schedule or special note on the back of the door. If you are forced to look at it before you leave the house you are more likely to remember what you need.
Summer Car Kit
SO MUCH TIME IN THE CAR. Ugh. Best to be as prepared as possible. Folding chairs for soccer, picnic blanket, paper towels, emergency snacks, wipes, sports gear, bug spray, bubbles (for bored toddlers); whatever your summertime essentials are, try to do a bit of pre-planning prep work and keep them in the car. There is no sense in taking them in and out all of the time if you don't have to. Be Prepared.
Drop Zone
I don't know what it is about kids and dropping all their stuff the second they come in the door but they do. Backpacks, lunch bags, towels, rocks (why do they even need to come in at all?), toys. Everything gets thrown on the floor in the front. At least in my house it does. Even though we have hooks and a bench, the gravitational pull once they walk through the door is just too strong and it all hits the floor. To combat this phenomenon try putting a large bucket in the front (or some type of bin, heck, even a laundry basket would work). The goal is to have one place to put all the crap that you can then grab and put away in one trip.
Go Bag
Whether you are heading out to the pool, park, or just to a friend's house, have a "go bag" ready. It's like the older kid version of a diaper bag. Change of clothes, spare bathing suit, extra hats, suntan lotion, water, snacks, all of the essentials. Nothing is worse than having the kids all ready to leave while still running around prepping the gear. If you miss that very small window when their sandals are on and they're not trying to kill each other you may never get it back. If you let one kid go back for "one more toy", your whole schedule goes out the window. Go Bag. Trust me.
Wishing You All A Happy And Organized Summer!
Follow HuffPost Canada Blogs on Facebook
MORE ON HUFFPOST:
20 Best Beaches In Canada
Long Beach, British Columbia Located in beautiful Tofino, Long Beach is perfect for surfers and long walk takers, especially those with dogs (so long as they're leashed). It can get quite windy on the beach but it's worth it for the potential whale sightings. The surrounding areas are home to bears, wolves and cougars and sometimes sighting warnings are issued. More information can be found here.

Rathtrevor Beach Provincial Park, British Columbia During low-tide, the ocean recedes enough for about one kilometre of sandy beach to explore on this beautiful park, located in Parksville on Vancouver Island. Visitors to the family-friendly park often picnic, bird-watch and beach-comb. Camping is quite popular at this site so be sure to book early. More information can be found here.

Lesser Slave Lake Provincal Park, Alberta Located 2.5 hours north of Edmonton, it's a popular spot for fishing — both sport and recreational. Visitor beach favourites are Devonshire Beach and Marten River where kayaks and canoes can be rented. A warning to boaters: the water is shallow and the wind can create big waves quickly. More information can be found here.

Sylvan Lake, Alberta This family-friendly beach is one of the most visited in Alberta. Off of Highway 11, west of Red Deer, the beach plays host to a variety of water sports like wake-boarding and water-skiing and has water slides for families to enjoy. More information can be found here.

Manitou Beach, Saskatchewan Nicknamed the "Dead Sea of Canada," Little Manitou Lake is said to have healing powers. The water is so rich in minerals that you can effortlessly float on your back. The lake is pretty centrally located in the province and is family- friendly. More information can be found here.

Prince Albert National Park, Saskatchewan The beach is by Waskesiu Lake, the town at the centre of the park where you can do a little shopping between outdoor adventures. Visitors can wake-board, water-ski and go boating or stroll along the forest-lined beach. More information can be found here.

Gimli, Manitoba This little gem is steeped in Viking tradition, which can be witnessed at the annual summer Icelandic festival hosted by the lakeside town. Gimli is also host to a summer movie festival. Between all that, if you have time, you can head to the beach for a stroll or to build a sandcastle. More information can be found here.

Grand Beach, Manitoba This white sandy beach is quite the hot spot for Winnipeggers. Some visitors have gone so far as to call it a paradise and a "Hawaii in Manitoba." All manner of beach activities can be done here but be warned, it can get quite crowded. More information can be found here.

Sandbanks Provincial Park, Ontario The world's largest freshwater sand bar sits almost 100 kilometres west of Kingston. This beach, which backs on to Lake Ontario, is perfect for a whole host of family-friendly activities. It's also a bird watcher's heaven. More information can be found here.

Wasaga Beach, Ontario One of Ontario's favourite beaches is also the world's longest freshwater beach and was the first Canadian beach to be awarded a Blue Flag for adhering to international environmental standards. It's a family-friendly space but the beach area boasts an active nightlife as well. More information can be found here.

Sept-Iles, Quebec Whether it's heading to Gallix beach or cruising through the archipelago, Sept-Illes gives you a taste of both nature and city. Home to a diverse marine and bird life, be sure to spend time exploring the wildlife in the area. More information can be found here.

Havre Aubert, Quebec This pebbly beach, located in the Magdalen Islands, is part of an island with dense forests and is perfect for fishing and yachting. More information can be found here.

Ingonish Beach, Nova Scotia The beach, located off of the Cabot Trail, is a local favourite because of its warm water. A natural rock formation that separates the lake from the ocean allows visitors to choose to swim and fish in salt or fresh water. Or you can take a tour to catch a sight of whales, seals and leatherback turtles. However, it can get crowded as the beach is on the smaller side. More information can be found here.

Crystal Crescent Beach, Nova Scotia No, this is not a picture of a Sandals resort — this is indeed a beach in Canada. Crystal Crescent is actually three beaches and only about half an hour away from Halifax. The oldest surviving lighthouse in North America, the Sambro Island lighthouse, can be found on this beach. Take a stroll along the boardwalk or do some bird-watching. More information can be found here.

Sandbanks Provincial Park, Newfoundland And Labrador Located in the island portion of the province, the beach is known for its shifting sands and flatland. The usual activities of swimming, beach-combing and sandcastle building can be found. The park is also home to the endangered Piping Plover bird so caution must be exercised. More information can be found here.

Lumsden, Newfoundland And Labrador According to a CBC poll, Lumsden was voted the best beach by Newfoundland locals. There are both fresh water and salt water beaches perfect for salmon fishing, picking berries and walking. More information can be found here.

Basin Head, Prince Edward Island Located near the eastern tip of the island, the phenomenon known as singing sands can be found at this beach (the sand squeaks when stepped on). Other than the usual relaxing and beach activities, the day-use park also has many fishery related tours available. More information can be found here.

Cavendish, Prince Edward Island Between the red sandstone cliffs, sandy dunes and clear blue water, Cavendish is like a little oasis. If the beach, located on the north shore of P.E.I., isn't enough for you, there are music festivals and of course Anne of Green Gables to become kindred spirits with. More information can be found here.

Parlee Beach, New Brunswick Not only does Parlee boast Canada's warmest salt water, but it also has the world's largest Lobster sculpture. It's also home to both whales and bears among other wildlife. The beach is stacked with full amenities but watch out — according to some visitors there may be jellyfish in the water. More information can be found here.

Hopewell Rocks, New Brunswick Hopewell Rocks experiences the highest tides in the world but when it's low tide you can actually walk on the ocean floor. Be sure to check tide times but if you have a day to spare, spend it here so that you can experience both sides. The season runs from mid-May to mid-October. More information can be found here.
Follow Allison Weigensberg on Twitter: www.twitter.com/organizer_alli