A Mother-Daughter Getaway To Playa Mujeres (The Beach Of Women)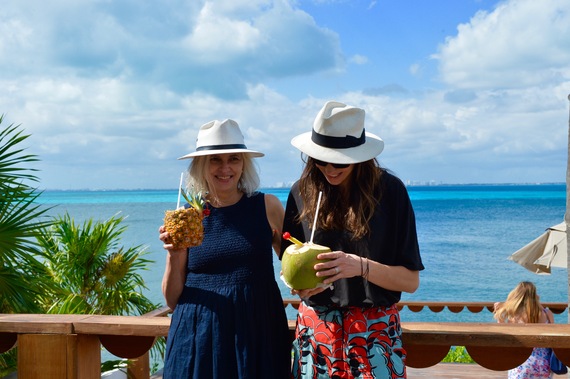 Feminism, Sisterhood and girl power are all part of the modern-day vernacular. But on a miniature tropical island barely 650 meters wide and seven kilometres long, the locals have been worshipping women for centuries. Purportedly, Isla de Mujeres earned it's name thanks to the Spanish pirate who after being rejected by one of the many beautiful Mayan female inhabitants, named it such (and then famously died of heartache shortly thereafter.)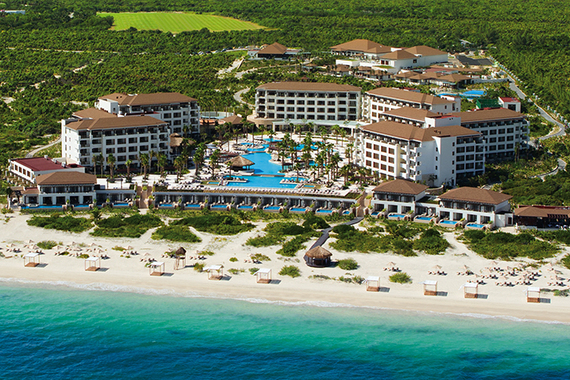 Fittingly, more than 10 centuries later, I find myself here on a recent girls weekend. I snuck away from winter to meet my mother along the Mayan shores of this breathtaking beach. Cancun, the closest airport, is a short four-hour direct flight from Toronto.
Mi mama, a retiree, is now spending her winters under the Mexican sun, what better way to log some quality time together? The plan was hatched and we both booked flights to arrive as close together as international and internal flights would allow.
We checked-in to the Preferred Club at Secrets Resort in Playa Mujeres -- a pristine stretch of sand 30 mins north of Cancun directly across from the Island of women, Isla de Mujeres. The property is on the edge of a vast jungle, neighbouring an empty beach of protected land. In fact the whole development takes the pursuit of preservation very seriously. The beaches are unspoiled and much less groomed than most typical resorts thereby preserving the beautiful white sand beaches from erosion and protecting all the natural plant and sea-life below. A huge plus in both our books.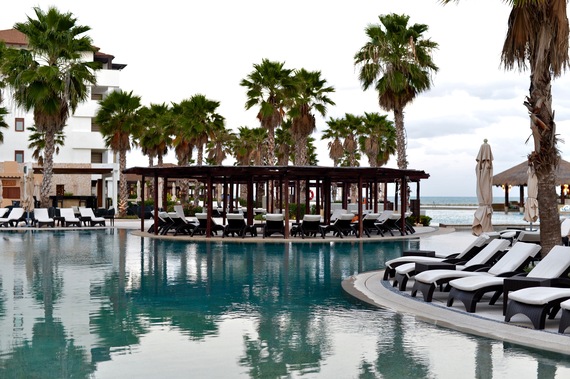 As a mom of two busy little boys, this retreat was all about pampering myself. Having left behind my 17-month-old who was teething like mad, and my busy little preschooler, the biggest reward for me were the full nights of sleep in a deliciously comfortable bed -- well that and being waited on hand and foot by the most attentive staff -- but more on that later.
A late afternoon check-in meant I had time to swim, relax and shower before my moms arrival and our dinner, which was served in the private wine cellar at Bordeaux restaurant. The courses were each more delicious than the last and the white Chilean Antares Chardonay tasted rich and luxurious -- I may have over-indulged -- same with the dessert. But no matter, I had my heavenly bed, optional pillow menu and comfortable quarters to look forward to retiring to. Had we had more energy, we could have taken in the expert magic show or had a glass of champagne at the little ride-up Veuve Cliquot bar, but we were just excited to be reunited and happy to collapse into bed for some girl talk!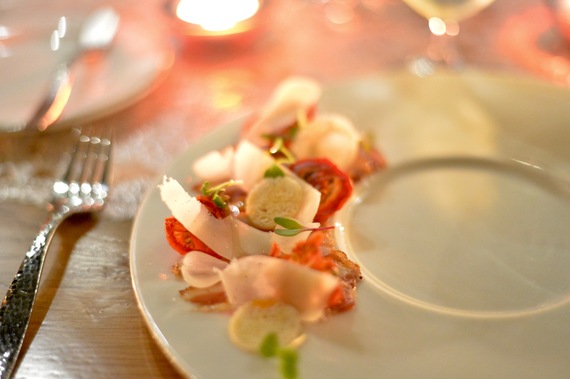 I had the best intentions of partaking in the 8 a.m. Pilates class the following morning -- held under a breezy palapa by the pool, but after enjoying the superb sunrise, and comfortably ensconced in the luxury of our terrace (complete with a private swim-up pool) my robe was too comfortable and the views too dreamy, so instead we ordered eggs and coffee from the 24-hour room service and dined alfresco.
It would have been easy to wile away the day poolside but we were booked into a golf lesson at The Secrets Playa Mujeres golf course. The majestic setting amidst mountains and the turquoise sea took my breathe away -- having just arrived from a cold and barren winter landscape. Our instructors were sweet and patient and we had fun trying to pick up a few tips while practicing our Spanish vocabulary (mine much more limited than my mother's).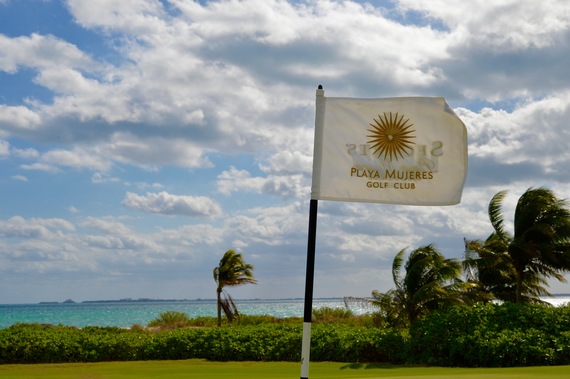 I love travel and vacationing for the opportunity it provides to dine on local specialties, taste new flavour combinations and inspire my own menus upon returning home. I was pleasantly surprised by the gourmet offering at Oceana. Many local dishes I had never come across on my Mexican travels and of course some old favourites, all served with fresh caught seafood from the salty ocean just in front of us.
We decided to spend the remainder of our day at the beach. The water was refreshing and we scored a sweet little palm leaf umbrella with two loungers. In and out of the sea, then painting the view with our portable water colour sets, trying to translate the azure sky and Aqua waters into picture perfection, but of course nothing is quite like the real deal!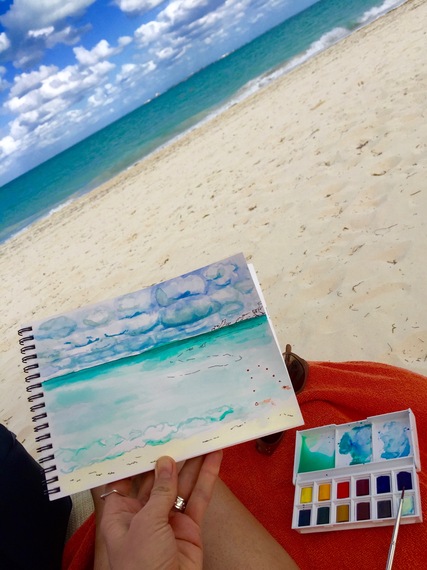 With nightfall came another amazing meal -- this time a teppanyaki at Himitsu. The chef's showmanship and artistry made for an entertaining evening and the food was delicious, washed down with a lovely house blend of Cabernet Sauvignon-Merlot, 2014 Vistaña. Not having to worry about meal prep or bedtime felt like such a luxury, it also meant my mother and I could enjoy each others company without the external everyday stressors of family life.
One day we had the great pleasure of boating over to the Isla de Mujeres, for a tour via golf cart no less. The vibrant vistas of the blue-green hued ocean had us repeatedly grabbing for our cameras and a special lunch at Villa Rolandi was certainly a trip highlight. The chicest all white open-air dining room jutting over the sea brought visions of Capri, Italy to mind. And the Italian-born chef further endeared himself to us with platter after platter of the freshest local seafood, prepared according to his strong Swiss and Northern-Italian roots.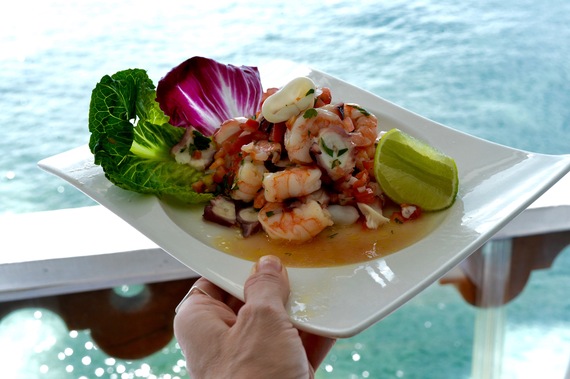 In the spirit of women supporting other women, we had the uplifting opportunity to visit Casa Hogar, a home for girls run by a group of incredible nuns. Secrets Resort supports the residence as part of their charitable initiatives offering up maintenance staff, food, furnishings or other support as necessary. Our timing was felicitous as the home needed help to repaint their chapel after some rain and environmental damage. We donned some spare t-shirts that were offered to us and spent a couple hours painting and getting to know the girls. It made me miss my babies and feel an overwhelming sense of gratitude for all we have.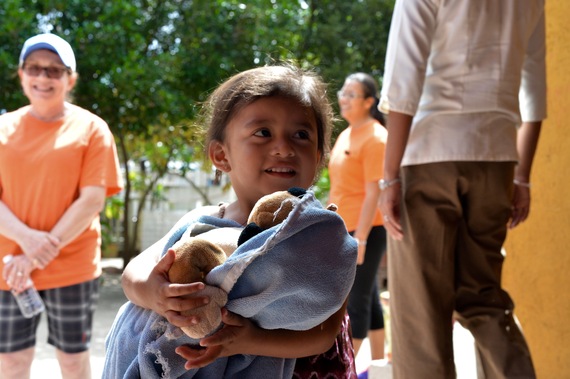 Not surprisingly, the days passed quickly in a haze of salty sea air, (too much) great food, sandy toes, mini bar raiding, beach frolicking, and so on. I was able to indulge in a daily bubble bath in our hydro-tub (thanks to the luxurious bath salts that the Secrets housekeeping staff replaced daily), spend some uninterrupted one on one time with my amazing mother and most importantly, put myself first, which doesn't happen as often these days.
I look forward to a return visit to Playa Mujeres -- as wonderful as it was to have some kid-free time, I kept thinking how much my boys would enjoy the magnificent beaches, tropical climates and local wildlife. Maybe next time I'll bring them along;)
Follow HuffPost Canada Blogs on Facebook
ALSO ON HUFFPOST:
Best Travel Destinations For Canadians
Best time to travel: April, May, September, October Average price: $700 to $900 Why you want to go: Even if the Euro scares you more than the U.S. dollar does, Spain is still considered a budget-friendly country with low accommodation costs. "Spain has something for every traveller's needs whether it be a relaxing beach vacation in Malaga, exploring the Alhambra Palace in Granada or visiting the famed Sagrada Familia in Barcelona. Spain is also famous for their tapas and you can get tapas and drink for $5," says Rishi Modi of travel deal site Next Departure.

Best time to travel: April, May, September, October Average price: $700 to $900 Why you want to go: For Canadians, Lisbon is one of the cheaper European cities to fly into. "It's a lively city with delicious seafood and cheap drinks. Take advantage of its inexpensive public transit to visit the historic Sintra, go to a winery in Porto and enjoy the Mediterranean weather on a beach in Faro."

Best time to travel: December to March Average price: $900 to $1,200 Why you want to go: Getting to Thailand can be pricey depending on the time you go, but once you're there, everything can fit into your budget. "Food from street vendors and markets costs you $4 to $5 and accommodations can run you as low as $20 a night [depending where you stay]. Thailand has tons of attractions to offer travellers, from trekking in the jungles of Chiang Mai to relaxing on tropical islands like Ko Samui."

Best time to travel: October to May Average price: $900 to $1,200 Why you want to go: Marrakech was named Tripadvisor's number one destination in 2015, according to travellers. "Explore the ancient palaces, shop in the markets of Marrakech and stay overnight in the Sahara desert. Food is inexpensive in local restaurants and street stalls, while accommodations are reasonably priced."

Best time to travel: Depending if you go north or south, you want to avoid cold or rainy seasons. Late December is usually the best. Average price: $900 to $1,100 Why you want to go: If you're an urban explorer or nature lover, Vietnam offers both. "Vietnam is another South Asian destination that continues to be budget-friendly with beautiful sights, including cruising along Halong Bay and visiting the rice terraces. Food is remarkably cheap — a meal and beer can cost under $3."

Best time to travel: April, May, September, October Average price: $900 to $1,100 Why you want to go: If you want to go to Europe and still have spending money, Modi suggests avoiding popular destinations like France and Italy and opting for Eastern Europe instead. "From Hungary to Romania to Bulgaria, these Eastern European countries are rich in diverse culture and its modern and historical architecture."

Best time to travel: April, May, September, October Average price: $700 to $900 Why you want to go: "Peru is known for its geographic diversity, from exploring the vast Amazon jungle to hiking the Inca Trail to relaxing on the beach coast," he says. But Peru's most famous attraction is the ancient site of Machu Picchu — a must-see if you decide to go to this South American country.

Best time to travel: April, May, September, October Average price: $1,000 to $1,200 Why you want to go: Indonesia has thousands of islands and Bali is one of the most luxurious and popular ones. "Food and hotels are extremely cheap, where you can enjoy tasty meals from $1 to $2 and spend as little as $20 per night on accommodations." However, if you do plan on renting out a villa or eating on Seminyak's main tourist strip, it can feel like dining and living in a major Canadian city.

Best time to travel: January to March; September to November Average price: $600 to $1,000 Why you want to go: If you haven't been to Cuba, you probably know several Canadians who have — the Caribbean island is one of the most popular beach destinations for Canucks. "All-inclusive packages are affordable and offer a bang for your buck. If you're really flexible, you can often find last-minute cheap deals on flights and all-inclusive packages."

Best time to travel: January to April; September to December Average price: $350 to $650 Why you want to go: We're not saying you should head to pricey destinations like Hawaii or Las Vegas, but some U.S. spots have taken advantage of our falling currency. "Myrtle Beach, Kissimmee, and Scottsdale are starting to offer deep discounts — around 20 to 30 per cent off accommodations, free meal vouchers and discounts off activities. Also, expect major airline carriers alongside the low-cost carriers stateside such as Allegiant and Sprint to offer discounts and seat sales as well." And when you look at your budget as a whole, many U.S. destinations tend to be cheaper than leaving the continent.
Follow Amanda Blakley on Twitter: www.twitter.com/amanda_blakley