Weeknight Meals Made Easy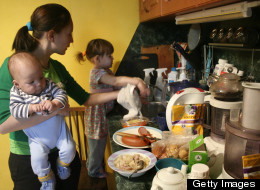 Weeknight dinners can be stressful to plan, especially if you work late or have kids' schedules to work around. We have all been there and it's tough to make a fresh and delicious meal on those crazy days. A busy schedule has made me realize more and more that having simple meals is the real answer to the stress of weeknight dinners. Also looking for dinner options that use just a few ingredients, makes life easier. In this case we like to call it the half-homemade approach.
The half-homemade approach is just great dinners that are easy to throw together because half of the work is done! In these recipes we used Summer Fresh's refrigerated sauces, like Mushroom Marsala and Chicken Butter, alongside fresh cut veggies to help add flavour to these simple weeknight meals.
By using the half-homemade approach you can save time and spend more of your evening outside the kitchen catching up with your family or just watching your favourite TV shows. These easy recipes will keep meals from being stressful and keep you out of the kitchen longer!
Quick Weeknight Meal Ideas
Mushroom Marsala Fettuccini is a delicious and hearty meal that you can enjoy any weeknight!

Thai Curry Pork Tenderloin is a gourmet meal, but without all the prep work!

Butter Chicken Sauce Naan Pizza is a delicious weeknight dinner solution for anyone's busy schedule!

Broiled Strip Loin with 3 Peppercorn Sauce is an easy gourmet meal for your special someone!

'One Pot' Turkey Roast is a simple and savoury meal for any day of the week!
Follow Amanda Riva on Twitter: www.twitter.com/thehotplate