BlackBerry and Apple: A Tale of Two CEOs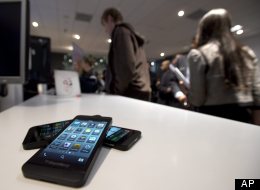 The unthinkable has happened -- Apple's brand value has dropped for the first time; demand for the iPhone is waning; share prices have declined; and Apple seems to have lost the its spot as the World's Most Valuable Company. Meanwhile, equally improbable, RIM (now BlackBerry) is seemingly rising from the ashes. Shares of BlackBerry have gained 26 per cent this year . Even its toughest critics believe it may be making a comeback. Yet, for their differences in fortune, the fates of both companies have been inextricably linked to the role played by CEO succession.
Both organizations can be commended for choosing to promote from within -- a move typically considered to be "best practice" and associated with the World's Most Admired Organizations. Both organizations can be commended for having a successor named at the ready, eliminating an extended period of uncertainty. This is where similarities stop.
Steve Jobs: the Rockstar
Apple was in the unenviable position of having to replace a rock star CEO, at the top of his game, whose power and status overshadowed likely successor's. It appears, at least publicly, that not much had been done to prepare the investor community for a successor. Back in 2011, I reflected on one potential gap from a succession planning perspective, and with more than one year under Tim Cook's belt, it's worth a revisit to see if it played out as I expected.
At the time, I believed there may not have been careful consideration of the role requirements. While Cook clearly was accomplished, there was a potential shortcoming in what he brought to the table for the role. A key strategic requirement for Apple is innovation. Yet Cook, by all accounts was not, and is not, primarily an innovator. He had defined himself in terms of operations -- a keeper of the vision, not the developer of a vision.
At the time, I pointed out that it may be enough over the short term, with innovations already in the funnel and a vision that was well-established, but I questioned whether it would be enough over the longer term. Is this bearing out? Per Lindberg, an analyst at ABG Sundal Collier in London, wrote in a recent research report: "The iPhone is no longer unique, fashion fatigue will transpire and the rich price premium will be impossible to sustain." Similarly, Jim Cramer of CNBC's Mad Money, points out (Jan 23, 2013) that,"right now the street isn't convinced that there is a knock-out product in the pipeline."
Thorsten Heins: the Face of Change
Meanwhile, back at BlackBerry, shares have rallied. It may be that there was nowhere to go but up for the troubled tech giant, but there are signs that BlackBerry may actually be making a comeback. While it is difficult to pin it on just one event, it is useful to revisit succession here as well. Thorsten Heins did not face the same challenge confronting Cook -- having to overcome Jobs' popularity -- but he did face his own challenges. Back in early 2012, almost a year to the day, I noted that Heins would need to show the investor community that he wasn't more of the same. He would have to retain what's good and stay true to BlackBerry's values. He would also need to recognize that the time has come to make serious changes, even if they may not be popular internally.
His success here has been mixed, but by all accounts change has come, and within his first year Heins showed an openness to selling off hardware and overhauling BlackBerry software.
The lesson learned from these two similar-but-different cases -- think about role requirements, not just immediately, but down the line and make sure that any successor has the core capabilities to capture your company's vision.
This is BlackBerry's attempt to better marry communication — the area in which it has excelled — and usability, where it needed serious improvement, especially in the use of third-party apps and browser experience. At first, it's a little difficult to navigate which gesture does what (swipe up from the bottom to close an app, bottom to right to "peek" in at your hub and left to see the apps). But like any device, spend a few minutes with the phone and you get the hang of it. The peek function is pretty key because it allows you to check quickly on another app without closing the main one you're working on. You can also minimize apps in a dashboard that lets you scroll between different programs to view and easily close open ones. Switching from app to app is fast and seamless. Browsing the web is really easy and quick. The phone remembers your recent and most frequently viewed websites, which pop up and are ready to be tapped when you open the browser. First impressions suggest the phone is even faster at opening the browser and other programs than the iPhone 4S, against which we compared the Z10. Reminders for upcoming events pop up on the screen when you turn it on. There's also a handy sleep option in which you pull down a black screen like a blind, and that pesky red light that notifies you of new messages will stop flashing while you're catching some 'z's.

For socialites, this may be the coolest feature distinguishing BlackBerrys from other devices on the market. It allows the user to briefly interrupt whatever they're doing — reading a document or playing a game— to take a look at what's going on in various email accounts, calendars, Twitter, Facebook or LinkedIn. You can either view these all as part of one list by leaving the hub open or tap on one of them to streamline what you're viewing. And don't worry, it's still got that famous red light that blinks when you've got any type of new message.

Those used to making typing mistakes on their iPhone, or having auto-correct overzealously make the mistake for you, should find themselves very impressed with the keyboard functionality on the new BlackBerry. The keys are fairly spread out so you don't end up mashing your thumb on two or three keys at once. The whole interface, and especially the keyboard, is designed so that you can do a lot with just one hand, which is awesome for those multi-taskers who like to order coffee or open doors while texting. Perhaps the best part of the keyboard (and of any smartphone keyboard we've seen) is the super advanced predictive texting. This isn't like on an iPhone where it will choose for you unless you press the 'x' to cancel it, a process that can be quite frustrating for those sending a lot of messages. The BlackBerry 10 actually anticipates not only the next letter you are going to text to suggest a word, but after you choose that word, it will predict another word that is likely to follow. The words appear in little white letters above the key (which could be difficult for people with impaired vision) and the user simply "flicks" the word up into the text area if its the one she wants to use. For example, say you're asking someone to dinner. When you type "Are," the phone will suggest "you" followed by "going" followed by "to" then all you do have to tap 'd' and it will suggest dinner. Voila! You've actually typed about two or three letters and your sentence appears. Pretty nifty for adlibs too. Oh, and it will also recognize different languages for those multilingual users. After a few uses the phone will start to customize to your preferences and will recognize personal information like your friends with unusual names or your Twitter handle so you don't have to type it all out in text.

A lack of big name apps is the most disappointing thing about the new BlackBerry. The BlackBerry World store is significantly improved over the last generation — a crucial development if the company hopes to ramp up its appeal in the consumer market. The store has about 70,000 apps available, which seems like a lot but is about one-tenth the number available from Apple's iTunes store. Apps like Facebook, Twitter and Songza are easy enough to find and both function very similarly to how they do on the iPhone. But some really popular apps like Instagram and even YouTube are not available. And none of the big Canadian banks seem to have apps up and running for the phone — though it does have the popular Tim Hortons finder TimmyMe. And alas, there is not yet a Huffington Post app. Overall, the quantity of apps does not make up for the major ones that are missing, though in the phone maker's defence, it does say more apps are on their way. The BlackBerry map app that comes installed on the device, while looking and sounding similar to that GPS you'd have in your car (and not appearing to send you dangerously off track like Apple's embarrassing map app), is nowhere near as good as Google Maps. It takes a while to load and doesn't have step-by-step directions, nor does it have the option to choose between modes of transportation. You can download Google Maps, but it's going to cost you.

The phone's software contains some pretty innovative features. Users can now use video messaging through BlackBerry Messenger, similar to Apple's FaceTime feature. There's also the Alicia Keys-hyped Story Maker feature that allows users to make a multimedia video montage. Cool. But for those of us who aren't artsy, we're not sure how useful this will be. It also has some handy document-storing features like the "Print To Go" app that allows you to send files wirelessly from a computer to your BlackBerry. There you can keep important files like hotel web confirmations, airplane tickets, maps or Groupons in one easily accessible file. Sounds good for a trip. One of the most buzzed about features is the BlackBerry photo editor. It's built in to the operating system, so users don't need to download another app like Photoshop to get filters or adjust brightness. But the coolest feature is the time-shift camera that allows the user to scroll back and forth between a few seconds in time to correct for someone blinking or making an ugly face. As for music, you can link the phone to your computer to sync into its music program or you can download albums or individual songs from the app store at comparable prices to the iTunes store. But good luck finding podcasts.

The phone is put together in two pieces. The back is really thin and easy to peel off, unlike the iPhone, which is pretty much impossible to open. A replaceable battery means users can upgrade to a new one when battery life gets too low. The phone has a front and back camera that have specs similar to the iPhone. It's got an easy-to-use face capture mode, but has trouble focusing in low light. It's also got a Siri-like voice control feature for texting or emailing or searching through your phone or internet. It's got the same USB charger as past BlackBerry models which is handy because you can use the USB from a lot of other devices to charge the phone if you can't find the specific Z10 cord. Sleek black headphones provide decent sound and a volume control (that didn't seem to affect volume so much), but there's no speaker like on the newest version of the Apple earbuds. It's also worth a mention that there's no physical "home" button like on the iPhone or the Samsung Galaxy S III.

The phone's interface and user experience — how fast you can browse and transfer between apps — are a significant improvement over the older BlackBerrys and at least equal to, if not surpassing, that on the iPhone. The lack of apps is definitely a downer, but it's at least one that is easy to remedy over time. As mentioned, there are still a few kinks with the software. At one point, the headphone volume icon wouldn't leave the screen, so the phone was shut down and restarted. A glitch in the Story Maker program makes it difficult to exit that program and the function allowing you to turn the screen from a vertical to horizontal view can be slow and unwilling to switch back at times. The kinks, like the lack of apps, are setbacks that are likely to be ironed out through software upgrades. The device itself can definitely stand up to the best in class smartphones currently on the market. But convincing people to come back to the tarnished brand could prove to be the real feat.